Del Mar and New Zealand lifeguards share a productive friendship

By Rob LeDonne
In the midst of the Pacific Ocean, slightly south of the continent of Australia, lies New Zealand, a country known for its beaches and a lush green countryside famously showcased in the "Lord of the Rings" films. However, even though the country is thousands of miles and a 15-hour plane ride away from the North County, there's a very strong local connection. The lifeguards of Del Mar have a unique bond with their contemporaries in New Zealand, and there's a sort of exchange program between the two outfits of not just people, but ideas and equipment as well.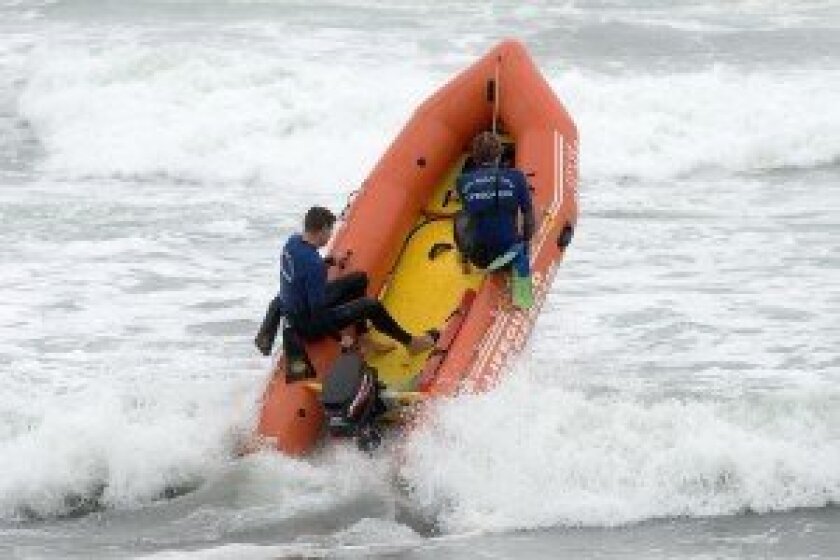 "We operate informally through a close friendship," explained Jon Edelbrock, the Community Service and Lifeguard Lieutenant for Del Mar.
"New Zealand selects two people every year to come over here during our summer and do a month-long tour of our beaches. They don't directly work, but they do little bits of stuff [with us]," Edelbrock explained. "There's an established brotherhood between the two countries... it's a mutual respect type of situation."
Aside from an official exchange program which is run in part by the U.S. Lifesaving Association, Del Mar's specific relationship with New Zealand runs much deeper. Veteran lifeguard and Del Mar resident Tyler Grant first visited New Zealand when he was 20 years old with a group of six other lifeguards. Grant, who's been back to New Zealand at least seven times, calls that first trip "life-changing. It was amazing. It's a different lifestyle over there; traveling opens your eyes to how people live and work around the word. It was invaluable to learn their rescue techniques, and see how they (conduct everything) down there. It makes your waterman skills a lot better by going there as well."
Del Mar Lifeguards also travel to New Zealand to learn how to use inflatable rescue rafts, which are widely used in the country and have diminished popularity in the U.S.
"Most agencies here have moved toward personal watercraft like jet skis," explained Edelbrock. "We, for many reasons, have chosen to stay with inflatable rescue boats, and the only place to get good inflatable rescue boats is New Zealand; they still make them."
Training how to use the boats in New Zealand is ideal, says Edelbrock, since surf there is much choppier than on the California coastline. "It's much more rigorous and difficult to operate there, because of a tighter, larger surf, which leads to much more strenuous situations when it comes to operating the boat," notes Edelbrock. "When our guys travel there, they have very stringent testing and training."
All of the inflatable rescue boats currently in use in Del Mar were manufactured and imported directly from New Zealand.
In addition, Edelbrock explains: "It's a less controlled, less-under-the-microscope environment [in New Zealand]. Here, if we try to do training at that level, we'd generate complaints and problems. Over there, you get to test the limits." That all adds up to stronger, more capable and knowledgeable lifeguards, he said.
However, all of this traveling comes at a cost.
"The first time I went out there in 2000, plane tickets alone were around $1,000 round-trip. Since then, they've doubled," explained Grant. A [small] portion of the travel expenses are covered by the Del Mar Lifeguard Association, but the lifeguards pay for the vast majority of the expenses themselves.
Says Edelbrock: "We'll raise some money and give a grant donation to go down there, but it's only a small percentage. In addition to training, guys go out there for a vacation and to travel as well, so it's mutually beneficial. We have a lot of contacts over there and help them all get set up with a place to stay. A lot of these guys create their own relationships with the exchange guards."
Matt Becker, another Del Mar veteran, is currently in Australia after a stint in New Zealand and is chasing an endless summer, a common quest among lifeguards and surfers alike to experience ideal beach conditions year-round.
Everything switches this July and August when it's winter on the other side of the world, and Del Mar welcomes a new crop of New Zealanders.
"Since they're so far away, they appreciate anyone who goes out there. When you're in their little clique, they let you into their homes and are very welcoming," notes Grant. "When it's summer here, we exchange the favor and reciprocate."
Overall, the bond between Del Mar and New Zealand is a special one. Sums up Grant: "Everything about it is great."
For more information Del Mar Lifeguards, visit https://www.delmarlifeguard.com/
---