Del Mar author molds German family manuscript and research to tell 'overlooked' WWII story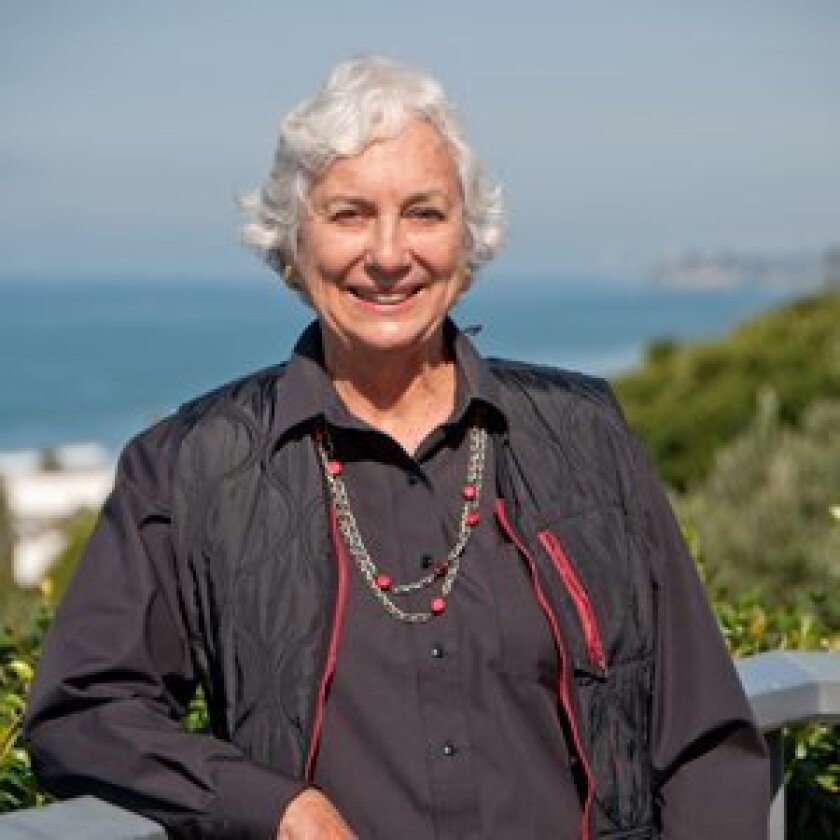 By Claire Harlin
What began nearly 70 years ago as an overseas pen pal relationship ended up being a lifelong friendship for Del Mar resident Arlene Lighthall, as well as the true story inspiration behind her new book, "Tomorrow, My Son."
While many accounts of World War II detail the suffering and killing of Jewish people as victims of the Nazis, a lesser known truth is that millions of Germans suffered too. Lighthall has, for much of her life, been determined to tell that story — a story she knows from following one German family for decades, and even learning to speak German in order translate a manuscript given to her by the family's father.
"I researched whether that story had been told before and I found only two books that dealt with it at all, but no day-by-day accounts," said the author, who has lived in Del Mar for about 45 years and taught literature at MiraCosta College for 22 years before she retired. She began writing "Tomorrow, My Son," her first published work, about four years ago, which she said was a lifelong and very personal feat.
The story began for Lighthall when she was a teenager in the 1940s in Northern Indiana. Her junior high school teacher encouraged the class to send care packages with warm clothing to European refugees at the end of the war. Lighthall sent a pair of her father's galoshes, and she later received a thank-you note from a German professor who had received the footwear and found an address inside.
"He was so grateful," Lighthall remembered. "He said he had large feet and often things didn't fit him."
The professor mentioned he had a son, and Lighthall's family also sent clothing for the little boy, Manfred, who was a few years younger than Lighthall.
"His wife also wrote to thank us, and my mother thought, 'Well, she needs some clothing,' so we sent women's clothing too," said Lighthall.
Correspondence between the families continued, mainly between Lighthall and Manfred, and the German father also kept a journal to send Lighthall, which detailed everything the family and other German residents experienced while being pushed out of their homes in East Germany by the Russians.
Not only did those German residents face possible repercussions for their beliefs — no matter what side they were on — but they were victims of looting, violence and starvation, Lighthall said.
During that time, these European refugees knew that the Jews had moved out of town and their stores had closed, however, they didn't know what was going on, Lighthall said, and they especially were not aware of the Holocaust or concentration camps.
"The family was against Hitler, but they couldn't say a word in public," she said. "They could have been shot just for listening to any of the propaganda."
Lighthall said the professor wrote in his manuscript that in one day he had to help bury 300 people found dead on the road. The forces used him to help identify bodies of fellow citizens.
During her college years at Ball State, Lighthall started taking German classes so she could someday translate the detailed 80-page manuscript. She held on to it for decades before finally translating it in the 1970s, and the path to her book project really started taking form when she met a detective on an airplane, whom she asked to help her find Manfred — and he did.
Lighthall contacted the family and made a visit to Germany soon after. The father had passed away, the mother was elderly and Manfred was in his 30s at the time.
"I got to spend time with the mother and she was so delightful," said Lighthall. "If it hadn't been for that manuscript, I don't think I would have learned German, and I wouldn't have been able to talk with her when I was there."
Decades passed and Lighthall kept in touch with Manfred, but it was the time spent with his mother on that trip that resonated with Lighthall and provided the much-needed source of inspiration for her novel.
"The manuscript wasn't well rounded enough to be a book itself. It was all cold, factual notes," said Lighthall. "But then I got the idea to write the book from the mother's point of view, and because I had met her and spent time with her, that was possible."
Lighthall said it was like a trance getting into the character, and she additionally emerged herself in German history and culture to provide accurate details. By the time Lighthall started writing, however, the mother had passed away, so some unknown parts of her life had to be created as fiction.
"One time when I visited, we took a walk and she told me so much about her life and it was all in German — I wish I had written it down," she said. "It was fascinating."
She said that during the writing process she would take long mental trips to Germany, adding details such as German expressions and foods — even German poetry.
"When I sat down to write, I wasn't Arlene Lighthall writing," she said. "I was the woman in my book."
Lighthall still keeps in touch with Manfred, who went from being in a refugee camp after the war to starting his life over as a teacher. He has two sons, has survived cancer and has always had an enthusiastic affinity for boating.
"Tomorrow, My Son" is available for purchase on Amazon.com. Lighthall was thrilled to see that the first person to review the book on the website was Manfred himself.
"I was 8 years old and, 67 years later, I remember having had a large adventure, though we had suffered from hunger, danger and anger," he wrote on the book's Amazon page, signing his name "Manfred the son."
To contact Lighthall or to order a book, email tomorrowmyson@gmail.com.
---