Del Mar Bodysurfing Club's Wiedermeyer wins second championship in 2 weeks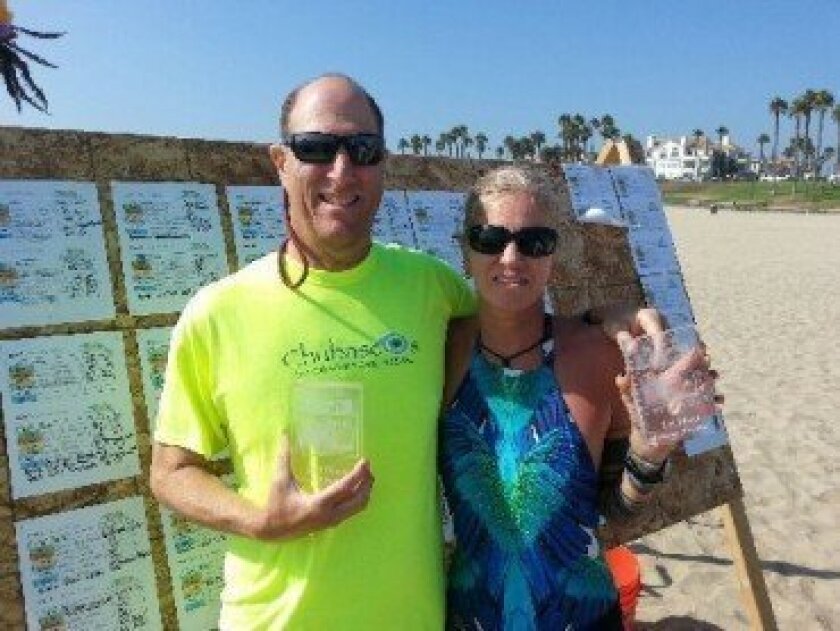 Briguitte Linn Wiedemeyer of the Del Mar BodySurfing Club captured her second first-place finish in as many weeks at the Huntington Beach Bodysurf Championship this past Saturday, Aug. 9.
She won the gold medal in the Womens division of the International Bodysurfing Championship in Manhattan Beach on Aug. 2.
Dr. Bruce Robbins, a founding member of the club, won second place in the Mens Masters division (60 and over) at the Huntington Beach contest. Tim Barnes and Jeffrey Robbins (a former Del Mar Lifeguard) both advanced to the semifinals of the Mens 20-39 age division.
Other DMBC members represented at the Huntington contest were Morgan Launer, Ray Sullivan and Vince Askey.
Wiedemeyer nearly missed the Huntington Beach Championship. Weather conditions because of Hurricane Iselle in Hawaii delayed her flight to LAX on Friday night. She arrived in Huntington Beach just hours before the 7 a.m. contest check-in on Saturday and had to sleep briefly in her rental car at the beach. Lack of sleep did not keep her from winning her second contest in two weekends.
A resident of Brazil, Wiedemeyer comes to southern California most summers to pursue competitive bodysurfing. On Aug. 16 and 17, Wiedemeyer, Robbins, and many from the DMBC will compete in the World Bodysurfing Championships in Oceanside.
The Del Mar Bodysurfing Club congregates at 9 a.m. every weekend on the beach in front of the Del Mar Motel to enter the waves for about one hour. The club, formed in late 2012, has raised a fund to help promote the sport of bodysurfing.
Recreational and competitive bodysurfers are encouraged to participate with the DMBC! The club plans to take members on exchange programs to several countries, including Australia in March of 2015. Visit
.
For more on the club, email DelMarBeach@aol.com, visit the Facebook page of Del Mar BodySurfing Club or contact Vince Askey at 858-755-1016.
---