Del Mar- Carmel Valley Sharks GU16 Elite are National League Champions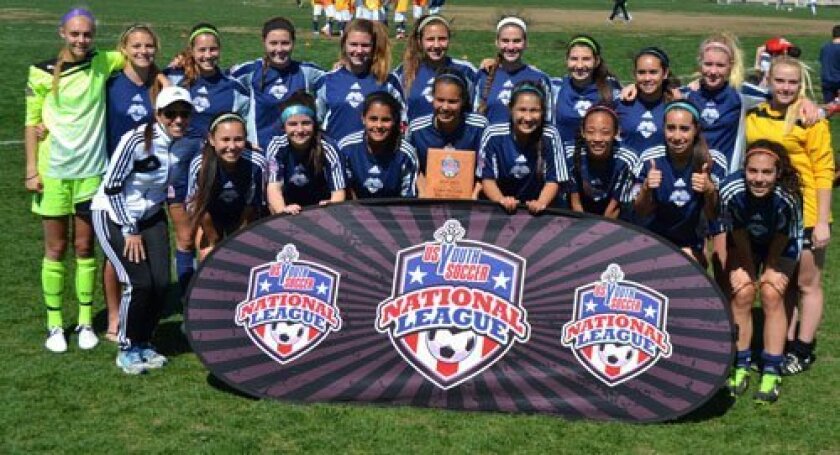 The Sharks Girls U16 Elite team last played soccer together in December in NC where they played and won four games of their seven National League games. Then the 20 girls went on to play high school soccer at 10 different schools through out the county. This past weekend, just two weeks after all the girls were back with the team, they traveled to Las Vegas to play three games thus completing their National League schedule.
The Sharks sitting on the top of the division with their four wins, were facing tough competition from 2012 National Champion runner up team, Kings Hammer Academy from Ohio in their first game. The game ended in a draw, nil-nil with both teams battling hard. The Sharks won their second game against FC Alliance from Tennessee and third game against Pride Predators from Colorado locking up the National League title "Champions."
Coach Felicia Kappes could not be happier, "I am so very proud and inspired by this group of young ladies and what they have accomplished in their first year of competing in the National League. To go undefeated in league play and to capture the Division Title Championship was amazing, especially given the fact that they have just returned from their high school break.
It will take us a couple of months to get back to the level we are accustomed to playing. However, they have refused to lose mentality and overcame very poor field conditions to win this title. We set several teams goals this year and one of them was to win a National Championship. Now we have an opportunity to do just that by winning the National League and qualifying to compete in the National Championship Tournament at the end of July in Kansas. We are excited about this challenge and look forward to enjoying this journey as we compete and prepare for this lofty goal."
The National League is an extension of U.S. Youth Soccer Regional League. It provides teams with matches against top competition from across the country over two weekends. Collegiate and US National team coaches attend each weekend to see players competing at high levels to earn their spot in the US Soccer National Championships, the oldest and most prestigious youth soccer national championship.
The top two teams in each division earned a place at the National Championship, July 22-28 in Overland Park, Kansas and an automatic
spot to compete in the league again next season.
---