Del Mar Carmel Valley Sharks launch Safe Fields Campaign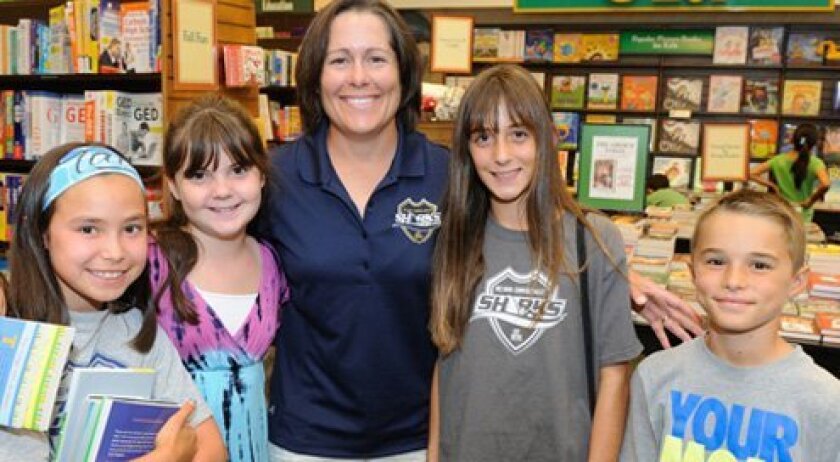 1/7

DM Carmel Valley Sharks
2/7

DM Carmel Valley Sharks
3/7

DM Carmel Valley Sharks
4/7

DM Carmel Valley Sharks
5/7

DM Carmel Valley Sharks
6/7

DM Carmel Valley Sharks
7/7

DM Carmel Valley Sharks
The Del Mar Carmel Valley Sharks (DMCVS) Soccer Club recently announced the Safe Fields Campaign, an initiative to ensure DMCVS continues to secure an adequate number of the safest and best maintained fields for more than 3,000 children playing soccer in the North County community.
DMCVS kicked off the Safe Fields Campaign on Sept. 29 with a Book Fair at Barnes & Noble located at the Del Mar Highlands Town Center. Barnes & Noble will donate a percentage of all sales to DMCVS through Sunday, Oct. 5.
Online purchases can also be made to support the initiative. DMCVS Club Director, Women's World Cup Champion, and Olympic Gold and Silver Medalist Shannon MacMillan attended the event to read "Where the Wild Things Are" and to sign books purchased to support Safe Fields. In addition, donations can be made anytime directly to DMCVS by visiting www.dmcvsharks.com/Safefields.html.
The DMCVS Safe Fields Book Fair will end Sunday, Oct. 6, from 1:30-2:30 p.m. at Barnes & Noble with a celebration of the DMCVS Girls Under 16 Elite Team, which recently clinched the U.S. Youth Soccer National Championship. San Diego City Councilmember Sherri Lightner will present a proclamation to the team, who will be available for book signings.
Visit
for more information.
Photos/Jon Clark
---