Del Mar celebrates completion of North Torrey Pines Bridge retrofit and rehabilitation project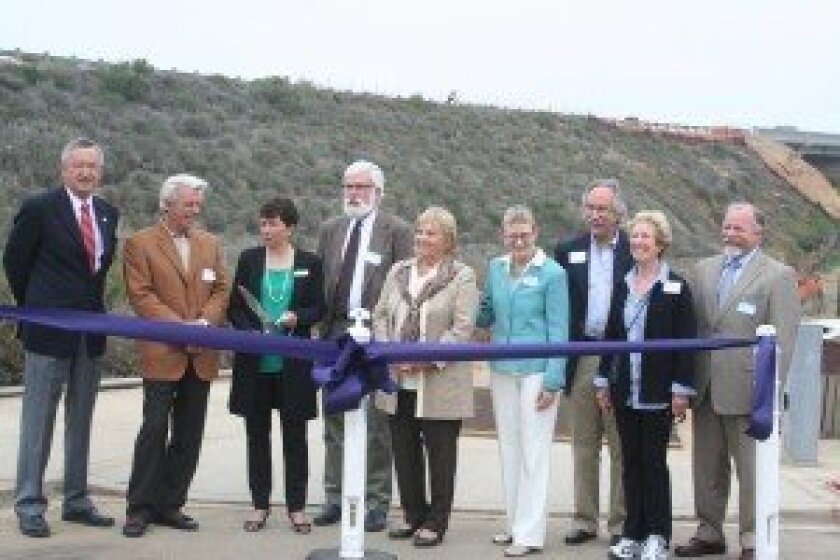 By Kristina Houck
More than three years after holding a groundbreaking ceremony at the same spot, city officials and community members gathered to celebrate the completion of the North Torrey Pines Bridge retrofit and rehabilitation project April 15 at the Torrey Pines State Park/Beach parking lot off Carmel Valley Road.
"Today we're celebrating not only the completion of a construction project, we're celebrating the much-improved safety of the bridge," said Del Mar Mayor Lee Haydu during the ribbon-cutting ceremony. "We celebrate that we were able to preserve our important piece of history, we look to the future ensuring that this landmark structure lasts at least another 50 years, and we celebrate all the many hours that were invested by so many people in making completion of this project a reality."
Built in 1933, the bridge connects Camino del Mar with North Torrey Pines Road and borders the city of San Diego. Prior to reconstruction, it was deemed one of the worst in the state as far as its ability to withstand an earthquake.
The $21 million project strengthened the existing bridge, enhancing its ability to survive major seismic activity. The project also extended its life for another 50 years — all while maintaining the historic character of the structure, which San Diego sold to Del Mar for $1 in 2000 when the two cities couldn't agree on whether to replace or restore it.
"It might look like a simple, straightforward project; however, there were many, many challenges that had to be overcome," said Zylkia Martin-Yambo, a transportation engineer for the Federal Highway Administration. "It's located in an environmentally- sensitive area. There's a train that goes under it. … On top of that, it's a historic bridge.
"A lot of coordination had to be put into it, a lot of detail, a lot of effort."
"What a tremendous occasion," added Gary Vettese, a representative of Caltrans. "I think it's just a great example of the things that are hard are really worth doing."
Initially called the "Sorrento Overhead" and constructed as an overhead railroad crossing, the bridge is more than 550 feet long and 49 feet wide, which is equal to the size of two football fields and as tall as a six-story building. In 1996, Del Mar renamed the bridge the North Torrey Pines Bridge.
Primarily funded by a combination of federal and state funding from Caltrans and the Federal Highway Administration, the North Torrey Pines Bridge was named "Project of the Year" by the local chapter of the American Public Works Association. The project also received awards from the local chapters of the American Society of Civil Engineers and Construction Management Association of America.
During the ceremony, representatives from Rep. Darrell Issa (R-Calif.) and state Sen. Marty Block's (D-San Diego) offices also presented commendations to city officials and project supporters.
"This beautiful span is not only the southern gateway into our city, it is a historic landmark," said Haydu, who noted the bridge was built when construction began on the Golden Gate Bridge. "It is one of the few remaining examples of coastal cast concrete bridge in California."
---