Del Mar design business thriving off America's newfound dance craze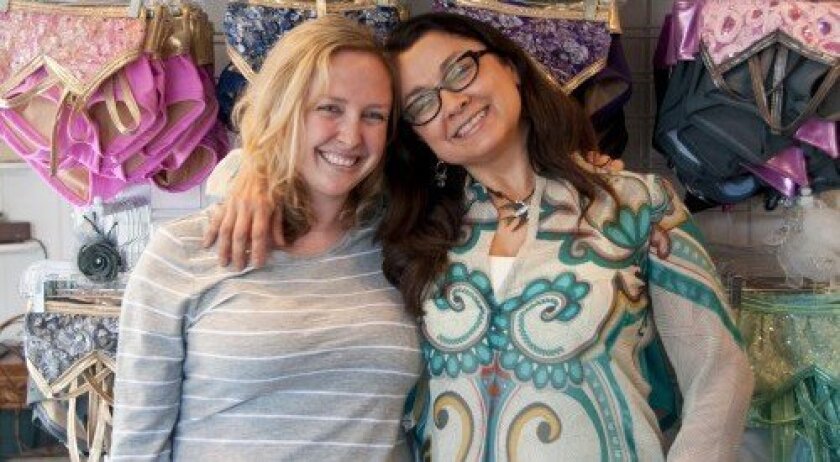 By Claire Harlin
What began with a generous mom volunteering to fix costumes for her daughter's dance team more than 20 years ago has grown into a thriving Del Mar business specializing only in kids' costume design — an industry that has exploded in the past year as a handful of popular TV shows about dancing have emerged.
"I was just an innocent dance mom minding my own business, taking home costumes because I knew how to sew, and now this business has a life of its own," said Darlene Langford, owner of Details Dancewear, located at 226 12th St., Del Mar, 92014.
Langford said the growth has almost been hard to handle since 10-year-old Sophia Maria Lucia, a Poway dancer and star of the Lifetime series, "Dance Moms," started sporting her designs on TV.
Alina Langford, Darlene's daughter, has postponed her career in marine biology to tend to her mom's business and has been helping out by accommodating the deluge of online orders. She said it's not out of the ordinary for one post on Facebook featuring Sophia Lucia in a Details costume to generate a healthy number of online orders for the same outfit.
"We're getting orders of one suit, and then they see the quality and then they buy custom-made suits for the whole team or the whole studio," said Darlene, adding that one costume generally costs between $150 and $300.
Alina added, "And that's not even with the rhinestones you can add."
Darlene moved into her tiny Del Mar boutique space, which only adds up to about 300 square feet, about two years ago after her husband, who had been teaching guitar lessons there, moved to a bigger location. Before that, she had been doing costume design out of her home, mainly for one studio, for about 20 years. After pulling away from that studio, she said, "the floodgates opened," and Details Dancewear has garnered clients from the Bay Area to Australia to Tennessee.
Youth dance is a culture all in itself, Darlene said, and "everything is a competition, including the costume." It's a way to stand out in a competitive environment in which scholarships and success are at stake for young dancers, she explained, and girls within teams both compete with each other but also against each for individual titles.
"One girl wears a California outfit in a Tennessee studio and they all want one," she said, adding that girls often cut the tags out of their costumes so other dancers can't see where they bought it. That exclusivity factor helps Darlene's case even more, when considering that her boutique is off the beaten path, tucked behind Camino Del Mar and between several other small businesses on 12th Street.
But Darlene said she's been having a hard time accommodating such fast growth, because she sews each outfit by hand and would need skilled designers on her team that can handle complex and delicate materials.
"It sets me apart from being mass-produced, but at the same time, I can't do more than 10 at a time," said Darlene.
Alina added, "The dance costume world is also so complex. Not just anyone can do it, understand the fabrics, the competitions, the dancers, the choreographers, and dance moms. And you'd be surprised; We have a few dance dads who come in here too and they are very particular."
For more information or to place an online order, visit
; 858-225-1234.
---