Del Mar Foundation supports 'Birdwing' project with $20,000 grant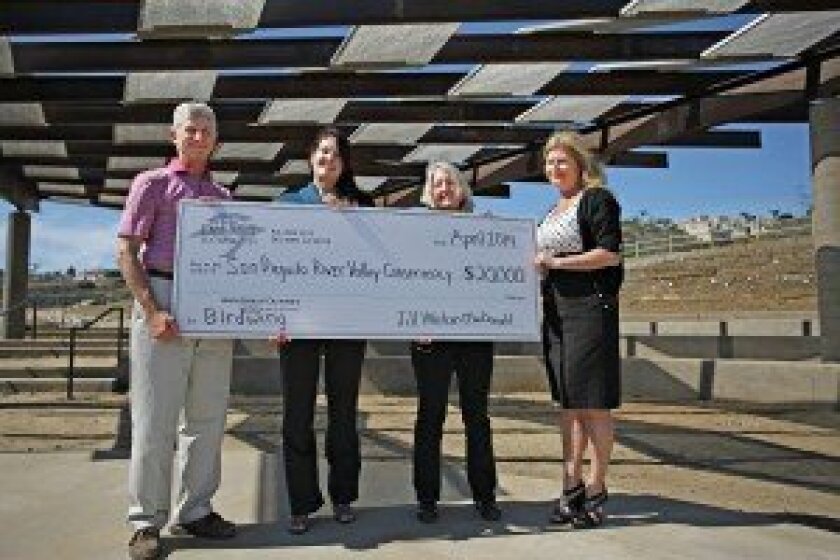 The Board of Directors of the Del Mar Foundation voted unanimously to approve a $20,000 grant to the San Dieguito River Valley Conservancy and the San Dieguito River Park, sponsors of the Birdwing Open Air Classroom project. The project, called "Birdwing" for its architecturally dramatic shade structure, is an amphitheater-style outdoor space along the Coast-to-Crest Trail just off I-5 and Via de la Valle. It will allow the San Dieguito River Park to expand its school programs and serve as a gathering place for all people to learn about and enjoy lagoon habitats. The grand opening of Birdwing will be held on May 13.
Anyone wishing to make a donation toward this project may contact the Del Mar Foundation at 858-635-1363.
The Del Mar Foundation has a longstanding commitment to the San Dieguito Lagoon. This includes management of more than $600,000 in endowment funds. These funds ensure future maintenance of the Lagoon's recent wetlands restoration, and enables grants for educational programs to help children and adults alike appreciate this key Del Mar open space and its vital importance to our region's ecology.
The Del Mar Foundation promotes community cohesiveness, raises and grants funds, preserves open space, improves beaches and parklands, sponsors diverse cultural programs, and manages $2 million in endowment funds to benefit the greater Del Mar community and the San Dieguito Lagoon. Programs include the Summer Twilight Concerts, Cultural Arts concerts and First Thursdays, diverse Children's events, Meet & Greets and DMF Talks speaker's series. For more information about the Del Mar Foundation visit www.delmarfoundation.org.
---