Del Mar-Leucadia branch of AAUW awards four scholarships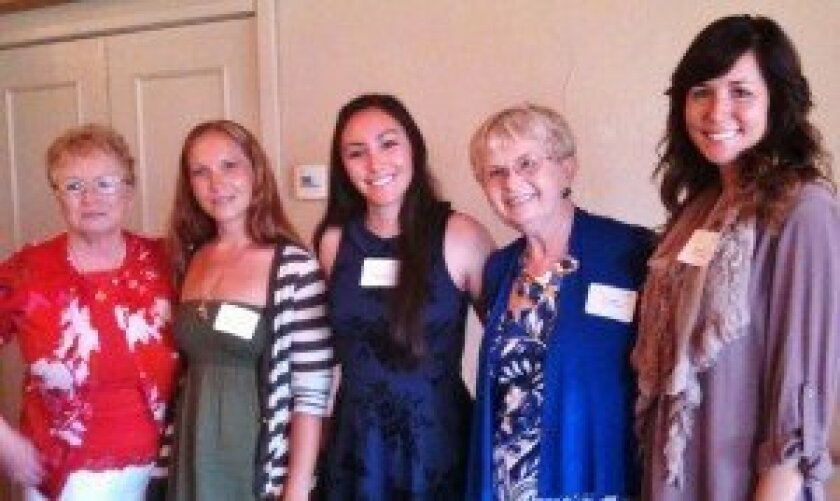 The Del Mar-Leucadia Branch of the American Association of University Women recently awarded local college scholarships to four women.
Heather Owens
earned a local scholarship award as a re-entry student who plans to earn a bachelor's degree in nursing. She is a member of Phi Theta Kappa Honors Society and has been on the MiraCosta College President's list and the Dean's list at Cal State San Marcos.
Alyssa Martinez
is the first woman in her family to go to college, where she carries a 3.94 GPA. She is a research assistant for Dr. Heike I.M. Mahler, Ph.D., who is a professor of psychology at Cal State San Marcos as well as a research scientist in the psychology department at UC San Diego.
Megan Rice
received her first Del Mar-Leucadia Branch scholarship award last year. She graduated magna cum laude with a B.A. in psychology from Cal State San Marcos. This year she received a scholarship for pursuing a master's degree in psychology at Cal State San Marcos. She will be presenting her research at the 37th meeting of the American Society of Primatologists in Decatur, Ga., in September.
Heather Cody
graduated from Cal State San Marcos in May. She is doing an eight-week research fellowship with Dr. Frances Champagne in epigenetics (how external factors like environment can change your DNA). In the fall she plans to enter a Ph.D. program in Southern California.
Membership in the American Association of University Women is open to all graduates who hold an associate or higher degree from a regionally accredited college or university. The Del Mar-Leucadia Branch reflects the varied interests of its members with informative, educational monthly meetings and special-interest groups such as Great Decisions, Walkabout, dining groups, book groups, film groups, Gadabout, and Theatre. Visit https://delmarleucadia-ca.aauw.net.
Founded in 1955, the local branch serves the North Coastal communities of Carmel Valley, Del Mar, Solana Beach, Rancho Santa Fe, Cardiff-by-the-Sea, Encinitas, Olivenhain, Leucadia and Carlsbad. The branch raises funds for scholarships for students attending Mira Costa College and California State University San Marcos as well as local middle school girls attending AAUW's Tech Trek, a math and science camp at the University of California San Diego. The national organization, founded in 1881, advances equity for women and girls through advocacy, education, philanthropy, and research.
---