Del Mar native completes 75-day wilderness expedition in Australia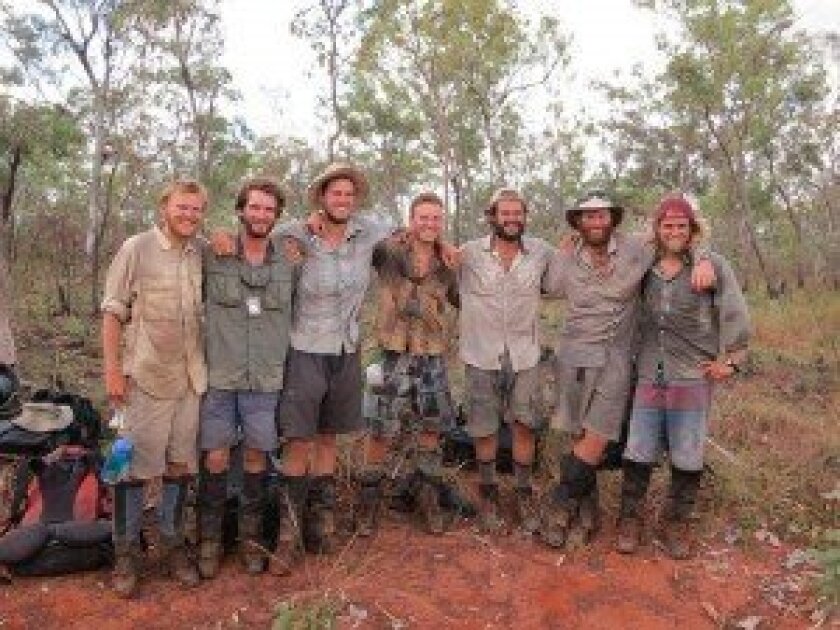 By Kristina Houck
Having grown up in Del Mar, Chase Matthews is familiar with sandy beaches. Now, the 22-year-old has mastered the steep-sided mountain ranges, dry tropical grasslands and tidal rivers of Australia.
With the National Outdoor Leadership School, he backpacked and canoed across the wild Kimberley region of Western Australia last spring.
"I loved it," said Matthews, who graduated from Canyon Crest Academy in Carmel Valley and is now a business senior at Chapman University in Orange. "It was definitely tough at times and was one of the most difficult things I've ever done, but it was a great experience."
The 75-day wilderness expedition began in early March and ended in mid-May.
Matthews, along with three guides and 16 other students, started on the Drysdale River. For five weeks, the group paddled and portaged canoes and gear down the remote river, learning outdoor living and canoeing skills. Students also took turns and co-lead their groups, learning risk management and leadership skills.
"You really learn from it," Matthews said. "You get a different view of the world when you get out there with nothing but your gear, tools and the stuff that you have to survive on."
After the group got to their destination, Matthews said, they dropped off their canoes and hiked back to the station where they started. From the gorges and grasslands, to the watering holes and waterfalls, students explored the terrain and learned about local cattle stations during the backpacking session.
During the last week of the hiking session, the group split in two and set off on student expeditions, without their instructors.
"It was sort of our final exam — being on our own and using all the skills we've learned like navigation and first aid," Matthews said. "That was like the last hurrah before we got back to the station."
On the first day, Matthew led his group about seven kilometers to a watering hole.
"That was probably the greatest moment for me, just because it was a way of showing that I was able to complete my course and I was able to go out on my own," he said. "It was just beautiful out there. It's so far away from everything and really quiet. It's surreal being around nothing, really."
To conclude the expedition, Matthews and his group explored the Bardi homelands for a week, and learned about the Aboriginal people who live in and around Broome, Australia.
Matthews was inspired to participate in a wilderness expedition after his older brother completed a course several years ago. He took a semester off to go on the trip.
"He really liked it," Matthews said. "When he got back and told me about it, I became interested in doing it."
Based in Wyoming, the National Outdoor Leadership School is a nonprofit outdoor education school dedicated to teaching environmental ethics, technical outdoor skills, safety and judgment, and leadership on extended wilderness expeditions.
A water polo player in high school and frequent camper, Matthews has always enjoyed outdoor and physical activities. He encouraged others to learn more about the National Outdoor Leadership School and take the semester-long course.
"The only way to experience it is to do this trip and have an open mind," Matthews said. "When I went out there for the first few weeks, I had a lot of trouble. But after getting used to it, I loved it and I didn't want to leave."
For more information about the National Outdoor Leadership School, visit www.nols.edu.
---