Del Mar Powerhouse 12U Champions in Triple Crown Spring Championship Tournament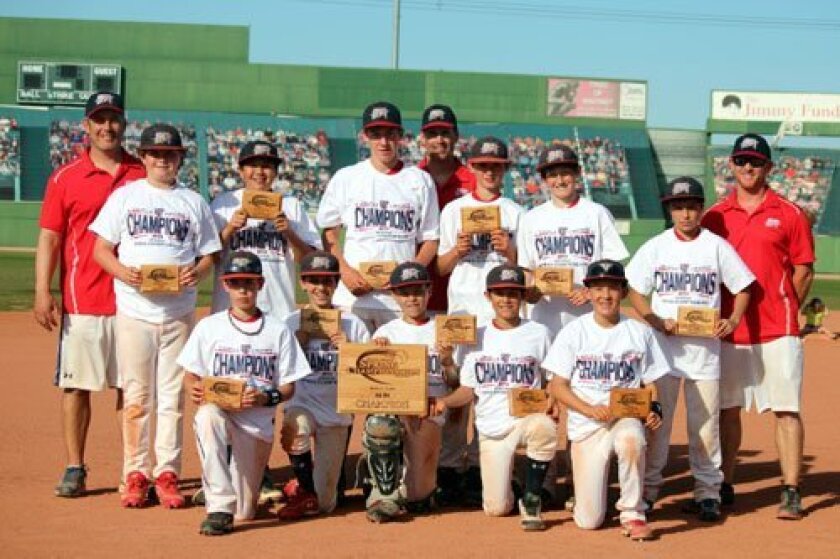 The 12U Powerhouse boys scorched the competition in the Arizona desert last weekend during the Triple Crown Spring Championship Tournament. With the backdrop of Major League Spring Training, and gorgeous weather, this event hosted 24 teams from seven different states.
The team went undefeated through five games, allowing only 6 runs, including two shutout games, to bring home the Championship. A remarkable moment for the Powerhouse team was the perfect game thrown by pitcher Grant Holman during the semi-final game. In a perfect game, no batter reaches any base during the course of the game.
This amazing accomplishment was due to a brilliant pitching performance and flawless defensive execution by the entire team. The 12U Powerhouse team will travel to Florida in June to compete for a National Championship and will travel to Cooperstown, New York in August to play in the American Youth Baseball Hall of Fame Invitational.
In its 12th year of operation, Del Mar Powerhouse offers competitive baseball programs for children ages 7-14 in the Del Mar, Carmel Valley,
RSF and surrounding areas. This year, Powerhouse is fielding eight highly competitive teams and is playing in tournaments throughout the western US. Tryouts for the 2013-2014 season will be held during the third week of June.
---