Del Mar resident cruises California coast and sets new powerboat race record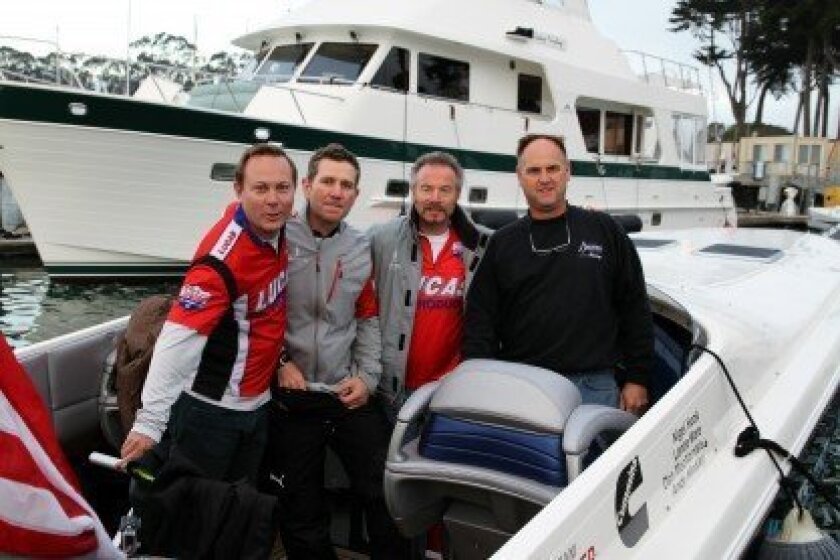 By Kristina Houck
To celebrate the 10th anniversary of his world record powerboat race from San Francisco to Los Angeles, Nigel Hook set a new world record on Oct. 12. The Del Mar resident, along with co-pilots Dan MacNamara, Andy Hindley and Lance Ware, completed a race from the Golden Gate Bridge to The Queen Mary in nine hours, 50 minutes and 51 seconds.
"It's a classic endurance record to beat, and on our 10-year anniversary, we wanted to break it again," said 56-year-old Hook. "We thought going forward, a more iconic venue would be from the Golden Gate to The Queen Mary. People all over the world are familiar with the Golden Gate Bridge and The Queen Mary is iconic in the harbor in Long Beach. We thought those would be two nice marks in which to extend the course."
Endurance runs between San Francisco and Los Angeles date back to 1929, when Seymour Johnson, founder of Johnson Controls, initially set the record. At that time, it was a three-day event with overnight stops in Monterey and Santa Barbara. Later record breakers included Michael Reagan, son of late-President Ronald Reagan, and actor and martial artist Chuck Norris.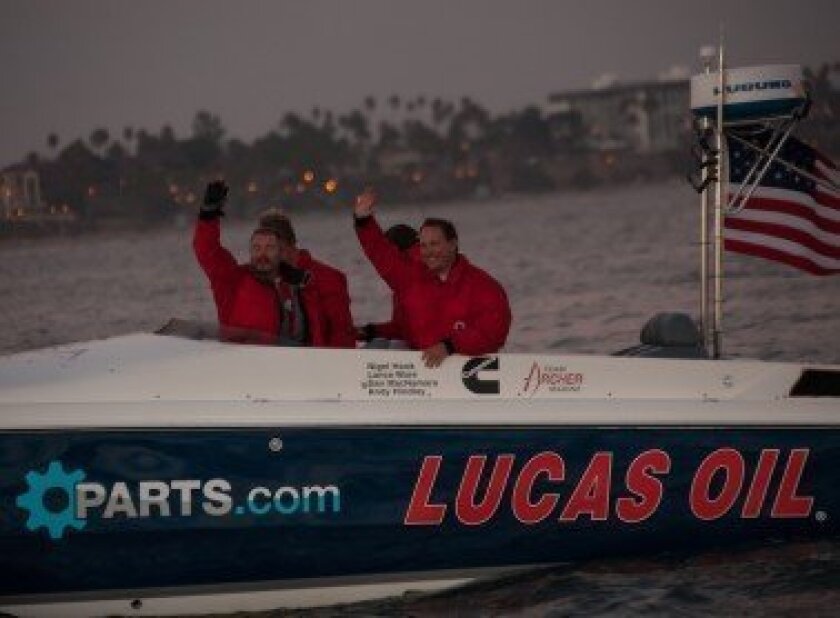 Hook and McNamara were part of the team that set the six-hour and 43-minute record from San Francisco to Los Angeles in 2003. The duo used the same hull for the inaugural Lucas Oil Ocean Cup, outfitting the 48-foot APISA Sport Yacht with two of the latest Cummins diesel engines.
By extending the course an additional 35 miles, Hook and his co-pilots set a new record. But it wasn't easy.
"It wasn't easy this time," Hook said. "When we set the record 10 years ago, it was uneventful. We had good seas, we came in pretty much on schedule, we broke the record and all was good. This time, we had a lot of adversity."
Just an hour into the race, the crew faced large waves and strong winds, which broke a wire on the boat. They had to stop for about 15 minutes to fix the wire, Hook said.
Not long after, 12- to 14-foot waves leaked water into the boat's fuel. The team, Hook said, lost about two hours because they had to stop multiple times to filter out the water.
"It's OK if you have a problem when you've got calm water, but if you're out in 12- to 14-foot seas, and you lose an engine because you've got water in the fuel, it's quite attention-getting," he said. "You've got these huge seas and you're just bobbing around like a cork trying to fix something. We couldn't see."
Off the coast of Santa Barbara, the crew considered ending the race, but ultimately decided to make it to the finish line, Hook said. For the last 100 miles of the race, the team cruised at 70 mph, full cruising speed.
Hook and his co-pilots arrived at The Queen Mary by sunset.
"It's a great personal challenge," he said. "I love being on the ocean. Spending nine hours or so on the ocean at that speed is what I love to do. It also shows that these high-performance boats can go that far, that reliably, at that speed."
Originally from Staffordshire, England, Hook has raced in 25 countries and five continents. He became interested in powerboat racing at an early age, following his mentor and uncle, Roger Hook, to numerous circuit and offshore races.
Alongside his uncle, Hook co-piloted and competed in his first race, the Dawlish 100, in 1974.
"It's the old challenge of man against machine, but it's a bigger challenge of man competing with Mother Nature," Hook said. "The ocean is the strongest force out there."
The longtime Del Mar resident moved to the beach city in 1984, where he established Dataskill, a data analytics and software engineering firm with former Del Mar Mayor Dave Druker. He became CEO of SilverHook Powerboats, a company he co-founded with Michael Silfverberg in late 2010.
"At some point, I'd like to come back and break the record in a SilverHook, our own brand. That's the plan," said Hook, who holds dual citizenship in the United Kingdom and the United States. "I think I could knock quite a bit of time off that time."
In the meantime, Hook has several races planned, including races in Italy and Key West, Fla.
Although he's frequently racing around the world, Hook said he is always happy to come home to his wife, Janet Wilson, his 25-year-old daughter, Jessica, and Del Mar.
"I've traveled all over, and I've discovered that there is no better place to live than in Del Mar," Hook said. "I love it here."
For more information, visit www.nigelhook.com and www.silverhook.com.
---