Del Mar resident Martin Cooper receives Marconi Prize
By Arthur Lipper
Martin Cooper, a longtime resident of Del Mar and the inventor of the cell phone, recently received the Marconi Society 2013 Prize for Creativity and Social Contribution.
The Marconi Prize was awarded at a gala dinner in the 17th century Palazzo Albergati, one of Bologna, Italy's showplaces, with more than 220 Italian luminaries, academics, business leaders and wireless industry executives from all over the world in attendance.
In accepting this prestigious prize Cooper said, "In the future wireless communication will permit the professional analysis of continuing personal health data which will allow diseases to be preventable, rather than just predictable."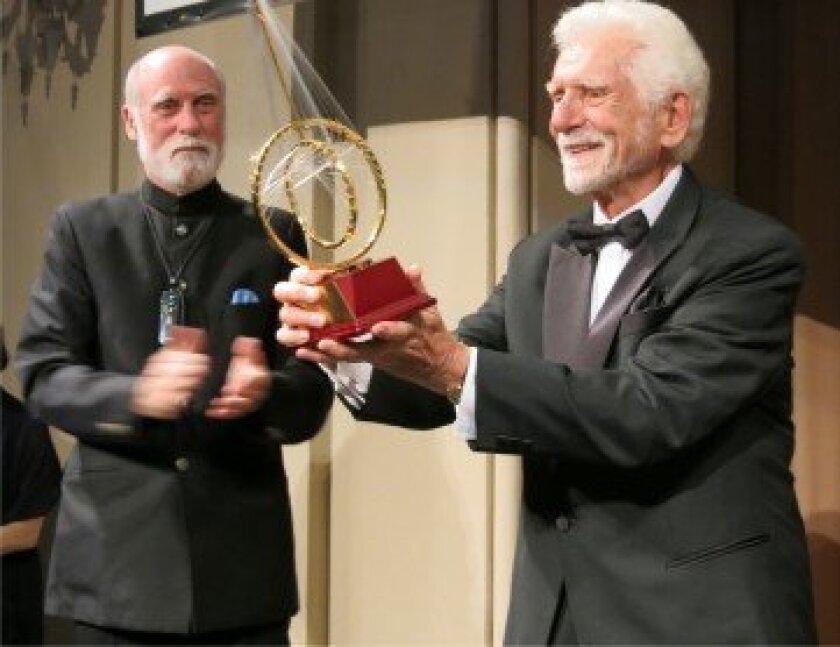 Aside from delivering several talks at the three-day Marconi Institute for Creativity event, culminating in the award of the Marconi Prize, Cooper was pleased to be able to sit at Guglielmo Marconi's work table desk in the Marconi Museum, where Marconi first conceived and performed his early wireless communication experiments.
Vinton Cerf, the vice chairman of the Marconi Society, a Marconi Fellow and Google VP and Chief Internet Evangelist, said, "Today, what Marty foresaw seems pretty elementary, but the idea of making telecommunications person-centric, instead of tied to a particular place — or car, home or telephone booth — caused a tectonic shift in the industry."
"Smartphones are like Marty's original phone's grandchildren," Vint Cerf noted in his introduction of Martin Cooper before presenting the Marconi Prize.
SanDiego-area Marconi Society Fellows similarly honored previously include: Irwin Jacobs, Andrew Viterbi, the late Jack Kent Wolf, as well as a number of non-local Fellows well known for their contributions to society through invention and innovation in the fields of communication, of course, including the Internet.
---