Del Mar resident turns passion for golf and horse racing into a vocation and avocation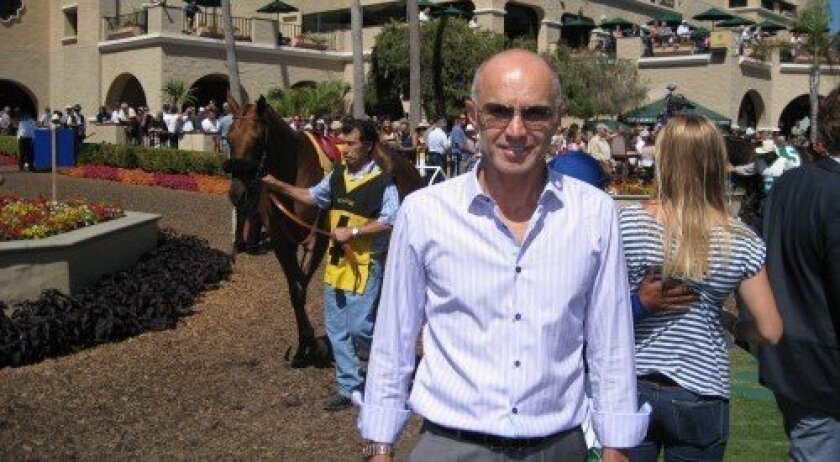 By Julie Sarno
Del Mar resident Paul Galli makes his living from golf and his hobby is horse racing. He is a partner in Pro-Sport Management, which serves as agents and managers for golfers, including 2012 Masters Golf Tournament winner Bubba Watson. Galli owns a home which overlooks the Fairgrounds and the racetrack, a view he treasures during racing season.
While growing up in Australia, Galli learned to play golf. He loved the game, played well, and like so many golfers, dreamed of being on the tour. So after high school, he played on the amateur circuit for six months, enough to realize that there were many golfers better than he was.
Galli then went to Monash University in Melbourne and graduated with an "Honours Law" degree and a commerce degree. With his law degree, he was able to help many of his golfing peers with their contracts, sponsorships and endorsements. What began as helping his friends quickly evolved into a business. He incorporated Pro-Sport Management in 1988 in Melbourne.
Golf is much more lucrative in the United States and Galli knew if he wanted to continue and grow his business, he had to come to the United States. In 1994, he began an affiliation with Cornerstone Sports, working in Dallas. Later, he moved to Scottsdale. According to Galli, Scottsdale is a good place for young Australians to come and learn about the way golf is played in America.
Galli scouted up and coming young golfers in Australia. He would bring some to Europe or the United States. Galli still spends time in Australia each year, observing young golfers who come up through the Australian Institute of Sport or the Victorian Institute of Sport.
Currently, Galli represents three golfers: Watson, Geoff Ogilvy and Aaron Baddeley. Pro-Sport has managed the latter two for more than 12 years, unusual in the sports management business. Galli owns Pro-Sport Management in partnership with Jens Beck.
"It's like having two Kentucky Derby winners in a three-horse stable," smiled Galli, speaking of Watson and Ogilvy who have won "majors," the term used to describe the four major tournaments in PGA golf each year.
"Watson is an American, a lefthander and known as a bit of a maverick as he has never taken a golf lesson," continued Galli, who said he signed Watson six or seven years ago. Locals remember that Watson won the 2011 Farmers Insurance Open at Torrey Pines.
Both Baddeley and Ogilvy are from Galli's home town, Melbourne. Ogilvy is Australian, born in 1977. He joined the PGA Tour in 2001. His first professional tournament victory was the 2005 PGA Tour's Chrysler Classic of Tucson. In 2006, Ogilvy won the 2006 U.S. Open, his first major championship.
Baddeley was born in 1981 in New Hampshire and moved to Melbourne when he was 2. He holds joint U.S. and Australian citizenship. Baddeley has played on the PGA Tour since 2003 and has won seven events on the PGA Tour. He won his first PGA Tour title in 2006 at the Verizon Heritage on Hilton Head Island, South Carolina. He has also won three World Golf Championships, the Australian Open and the Australian PGA Championship. He and his family make their home in Del Mar.
Also as a child, Galli began following horse racing in his native Australia. He has owned racehorses since 1991. He partnered with family members on good runners Miss Marauding and Rose of Taluq in Australia. He owned his first racehorse in the U.S. in 2004 and has had winners at Santa Anita and Hollywood Park. He has yet to pose in the winner's circle at Del Mar with one of his own and hopes to achieve that goal this season.
His runners are trained by Adam Kitchingman, a "fellow Aussie expat," according to Galli, who is a partner on a number of young runners, racing as Firsthome Thoroughbreds. The runners include 2-year-old Street Maven; 3-year-olds Ever Alert, O'Deary's Gold and War Signal; plus 4-year-old Merlin Z. He has an in-foal mare and hopes to keep the foal and race it. Two years ago, he was a partner in Stormin Rae, a promising 2-year-old who was sidelined.
"One's my livelihood, the other is my passion." said Galli of his work in golf and his interest in racing. "In both golf and horse racing, you spend a lot more time losing than winning."
For more information, visit
---