Del Mar residents create science awards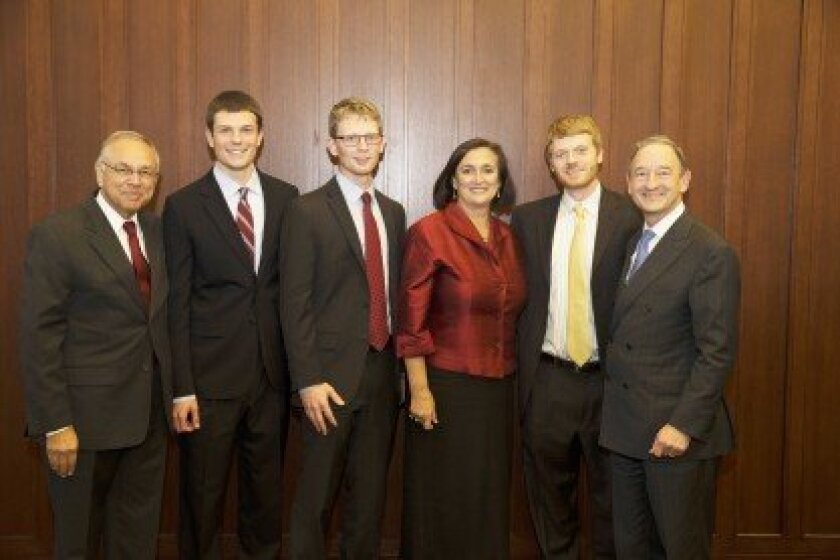 Suren G. Dutia, ViFlex co-founders Nathan Brajer and Evan Madill, Jas K. Grewal, Nanopore Diagnostics co-founder Tom Cohen, and Washington University Chancellor Mark S. Wrighton gathered recently for the presentation of the first Suren G. Dutia and Jas K. Grewal Global Impact Award.
Nanopore Diagnostics LLC and ViFlex LLC are the winners of the award, given from the Skandalaris Center at Washington University in St. Louis.
Del Mar residents Dutia (BS '63, AB, MS '67) and Grewal, husband-and-wife entrepreneurs and investors, established the award in the belief that technology can solve real- world problems by giving entrepreneurs the tools to foster innovation.
Nanopore (
), winner of a $40,000 prize, is developing a rapid and portable bacterial diagnostic test to take the guesswork out of prescribing antibiotics.
ViFlex (
), winner of a $10,000 prize, is developing a pair of low-cost, adjustable eyeglasses to reduce the burden of poor vision for millions in the developing world.
The award ceremony was held Oct. 6.
---