Del Mar resident's unique travel experiences basis for book on how to 'push past your fears'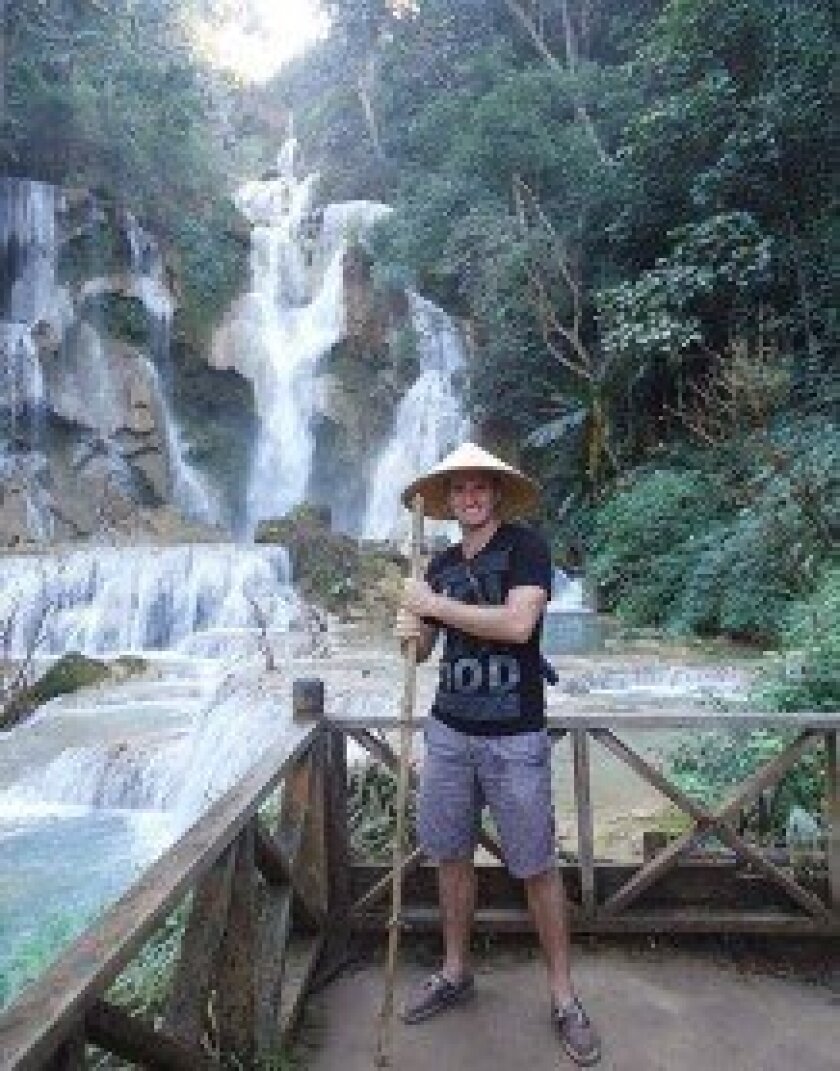 By Karen Billing
Del Mar's Danny Flood recently spent seven adventure-packed months traveling through Southeast Asia. His experiences on the trip included getting into a cage with a tiger; watching hundreds of lanterns light up a Thailand night sky; riding through Vietnam via motorbike; studying Tai Chi and Muay Thai; learning to play a bamboo flute; and swapping travel tips with fellow travelers he met from all over the globe. A self-described entrepreneur-adventurer, Flood is in the midst of writing a travel guidebook to encourage others to just book a ticket and go.
"What the book talks about is how to push past your fears," Flood said. "My first week in Thailand I felt totally liberated."
Flood's book will share tips not just on hitting the road and the best off-the-beaten-path destinations, but practical advice such as how to budget; how to have a mobile lifestyle; time management; and different ways to fund your travels, such as creating a business that supports you on the road.
Flood is able to travel due to his online advertising and marketing business, LavaLink, which allows him to work remotely from his vacation spots. He designs websites, and has built mobile apps and created the WordPress Design Institute, a training course teaching people how to build websites and how to successfully market them.
Flood's wanderlust crept in after he graduated from college and realized he'd never really been anywhere. He had that "quarter-life crisis" feeling about being done with college and jumping into the job world.
He took travel baby steps at first — traveling domestically, taking a trip to Hawaii and venturing out of the country to Mexico.
He then took a big step, spending four months in Latin America. He backpacked through Brazil and the Andes and lived in Buenos Aires for a spell, immersing himself in a young, lively culture and taking tango lessons five times a week.
Southeast Asia was calling him and Flood did not hesitate.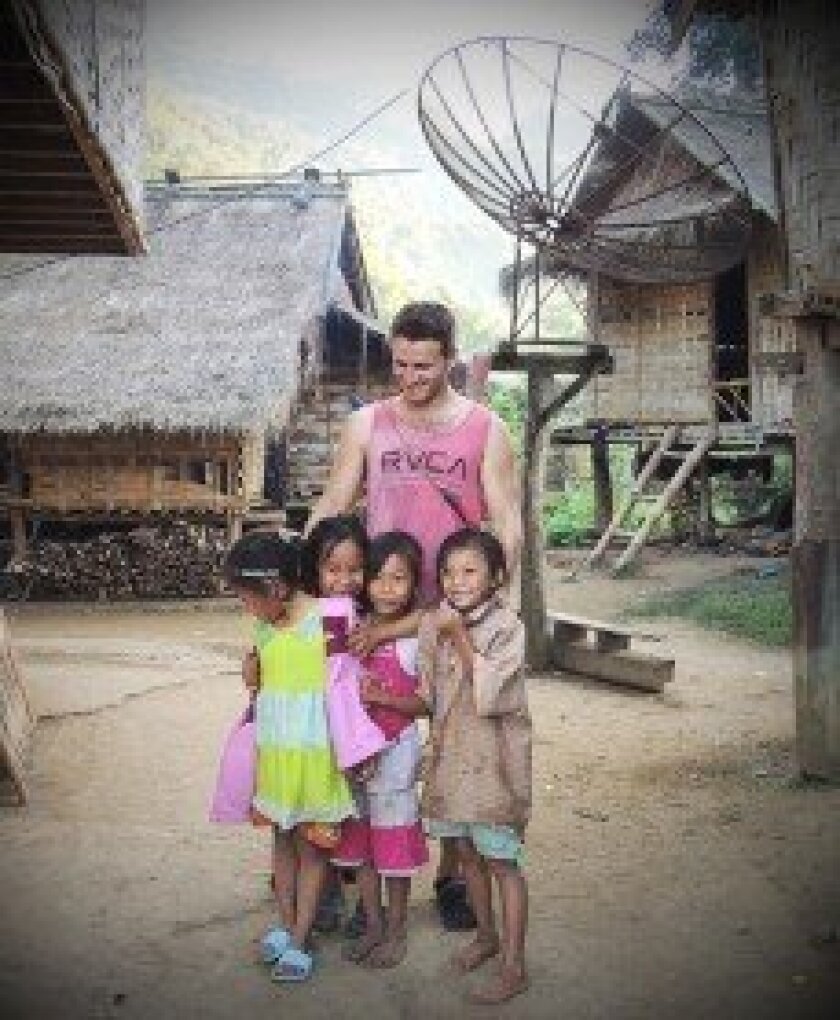 "I booked a one-way ticket to Bangkok with no plans, no itinerary," Flood said of his trip, which lasted from November 2012 to June 2013.
Stumbling onto an itinerary was easy as Bangkok is "a huge revolving door of people" as many travelers go through Bangkok and stay there, Flood said. He said it's easy to make friends and those friends are full of ideas and stories about potential destinations.
He took travel advice and became travel companions with folks from Belgium, Canada, France, Mexico, Germany and Thailand to name just a few.
Even without a planned itinerary, he lucked out on timing being in Chiang Mai, Thailand during the Loi Krathung festival in November, where hundreds of lanterns are launched into the sky. He was around for Songkran, the Thai New Year celebration in April, which includes a three-day water fight.
Luang Prabang was the most memorable place Flood visited; a city in Laos where the Nam Khan and Mekong Rivers intersect. The city has numerous Buddhist temples and monasteries and Flood ended up staying for 10 days.
The food was a highlight: Every night he would go to the market where you could pile up your plate with food for 10,000 kip, which is the equivalent of $1.25 American.
He went to Thai boxing matches, rode an elephant, hiked, and learned to play a bamboo flute. One of the hikes he took with friends he made from Mexico and Germany led them to a little village where they were welcomed by many local children.
"It was my favorite place I've ever been to, I had an amazing experience there," Flood said of Luang Prabang. "Some of those days, I wondered 'What would I be doing if I was back home?'"
After returning to Bangkok for Christmas, he eventually ventured off to Cambodia and Vietnam. He bought a motorbike in the "frantic" Ho Chi Minh City and set off to explore the country.
His most intense day was riding to North Vietnam and the old demilitarized zone (DMZ). He was endlessly impressed with the mountain landscape, waterfalls every 100 feet or so and he kept stopping to take photos which amused his French traveling partner.
"The whole stretch was stunning," Flood said. "You could see pockmarked land left over from the war, the ground still scorched where nothing would grow on it."
Flood almost got hit by a truck on his way to Hanoi and lost his wallet in the fall. He eventually sold his bike to a Dutch man and flew to Bangkok, and then briefly was in Malaysia where he broke his foot in a fall when he lost his balance on a hike.
"In seven months I stayed in over 50 places and it takes a toll," Flood said of the spill which prompted him to return home.
Flood learned many lessons on his trip that he is eager to share. Much can be learned about things not going according to plan (if you have one). As an example, for a good chunk of his journey he didn't have a camera as his ipad was stolen out of his Vietnam room while he was in the bathroom.
"You learn it's just stuff. The adventure is worth far more than that," Flood said. "It helps teach you about adversity. Your fears about what's the worst that could happen can paralyze you but you realize when it happens you can still go on, it's not the end of the world. A lot of people have those fears. Just do it, stop thinking about it so much."
For his next trip, be it Nepal to the Mount Everest base camp or to Indonesia, he wants to do things a little bit differently.
"When I travel from now on, I feel like I need to have a purpose behind it," Flood said, noting that he would like to look into more volunteering opportunities.
---