Del Mar school district receives nutritional services update; lunch sales continue to increase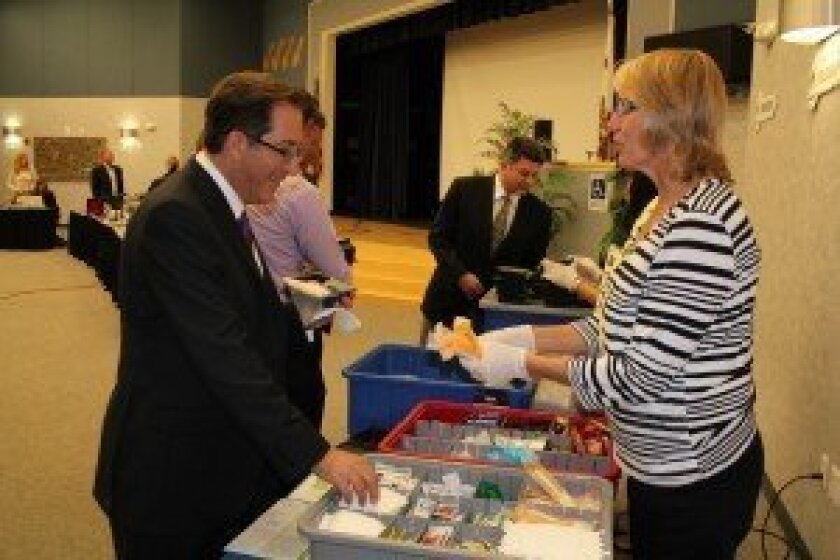 By Karen Billing
At their Feb. 26 meeting, the Del Mar Union School District (DMUSD) board members munched on the herb-roasted chicken, sushi rolls and jicama sticks that their students enjoy as they received an update on the district's nutritional services department and lunch vendor Choicelunch.
Choicelunch has been the district's vendor since 2011, offering up healthy and quality food options that families can pre-order on their computer or smart phone. The district is one of 270 that Choicelunch caters to statewide and in San Diego, DMUSD is one of Choicelunch's few public school clients.
As the board heard in the nutritional services department update, lunch sales continue to increase in the 2013-14 school year as compared to 2012-13. As of Jan. 31, lunch sales have increased from 887 in 2012-13 to 904 in 2013-14, bringing the total year-to- date meals served to 87,719.
The average lunch price is $5.15 and the district also offers free or reduced price meals for lower income families and foster children. Of the lunch participants, 18 percent receive free and reduced lunch in the district.
Choicelunch now offers 17 entrée options to DMUSD and each comes with a choice of organic fruit or vegetable, snacks such as Annie's Cheddar Bunnies or Pirate's Booty, and drinks of milk, juice or water.
Not only are the kids loving the healthy food options, they are also producing less waste.
"Because we use the offer versus serve model and the children are allowed to choose, there's not as much waste because they're not being forced to take what they don't want," said Carissa Iwamoto, the district's child nutrition specialist.
Iwamoto has set food allergy policies, conducted site audits and overseen policy changes such as mandatory glove use for all food handling, even pre-packaged items. A new food allergy policy requires the school to contact parents for permission if any student makes a substitution to their pre-ordered lunch.
"She has made a difference in our program," said Cathy Birks, assistant superintendent of business services.
Keith Cosbey of Choicelunch said they are projecting flat pricing for the 2014-15 school year and some items may go down in price. They are also looking at offering a subscription discount for their most loyal customers, families that order lunch five days a week. They are also exploring the creation of an Android app to match their iPhone app that allows families to order up chicken tikka masala or sandwiches made with sunbutter, a safe, peanut-free alternative to peanut butter.
---