Del Mar school district students learning computer science through initiative 'The Hour of Code'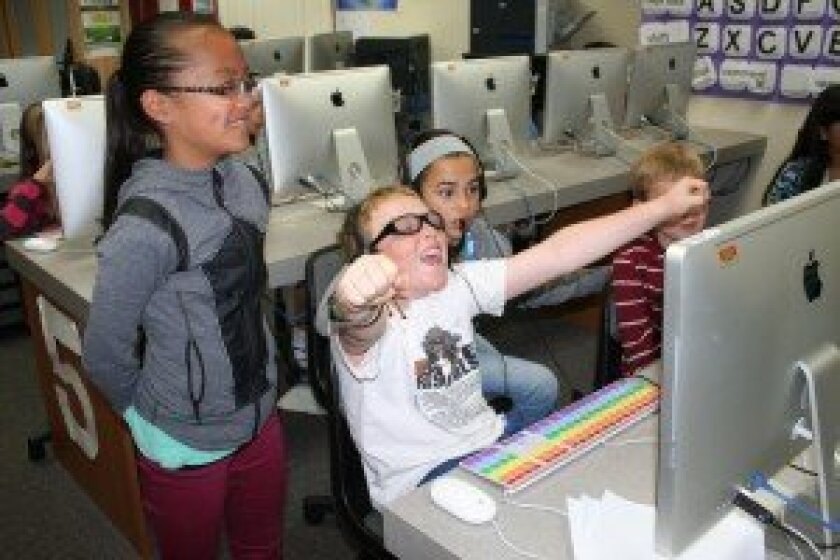 By Karen Billing
Inside her computer lab at Torrey Hills, technology teacher Susie Hopper is amazed daily at what her kids are capable of — that when she asks a class full of first graders what a pixel is, a 6 year old raises their hand to answer that it's a "pinprick of light on a monitor."
"There are excellent students doing excellent things in this district," Hopper said.
Del Mar Union School District's (DMUSD) Extended Studies Curriculum (ESC) technology teachers, including Hopper, Kevin Cunha from Ashley Falls School and Janet Wolfertz from Carmel Del Mar School, are leading the way for the district. At the Del Mar school board's March 26 meeting these teachers enthusiastically explained how students are learning to code through a nationwide initiative called The Hour of Code.
Hour of Code challenges students to learn the concepts of computer science with drag and drop programming. It was developed by an advocacy coalition of associations, corporations and scientific societies seeking to elevate the national profile of computer science education. Students in DMUSD are racking up multiple hours of code during class, during lunchtimes and even at home — several have completed all 20 hours of code.
The most one student in the district has done is 1,202 lines of code.
Hour of Code uses formats the kids are familiar with, such as computer games like Angry Birds or Plants vs. Zombies.
"The kids almost think they're playing the game but they're actually programming the birds to play the game," Hopper said.
Programming things like angles coincides with what they're learning in math and coding involves many of the Common Core State Standards such as problem solving, critical thinking and reasoning.
Hopper loves that the program is self-paced and self-motivational. Every two to three lessons there's a tutorial video and students work diligently during their coding time.
Hopper herself went through all 20 hours and admits that the later levels are extremely challenging, requiring different kinds of programming and building on techniques learned throughout the levels.
"Some of it is difficult, this is work," Hopper said.
The students get stuck on occasion but she loves seeing the light bulbs go off. Hopper designates her more advanced students as "teaching assistants" and they get a real kick out of helping each other out.
The kid collaboration is inspiring to see, 10 year olds talking in the language of "pixels" and "repeat blocks, "Hopper said.
"This is their shining spot," said Hopper, of the kids who might not excel in other areas at school. "That's my job, to help find their little niche and open the doors so they can see the possibilities."
Last week, her "assistants" hovered over their fellow peers' monitors and rainbow- colored keyboards to help find solutions as much as Hopper did.
During class, fifth grader Tyler hit a wall and threw his arms up in frustration. After some tinkering with a fellow student, he threw his arms up again in celebratory fist pumps to the ceiling.
"You go crazy," Tyler said about what it's like when you get a code to work. "It's so frustrating at first because you feel you're never, ever going to get it and then it's like 'woa!' Generally, I get all riled up."
In a video played at the March 26 meeting, Torrey Hills first grader Aiden became the star of the show with his adorable, infectious enthusiasm.
"If you couldn't program, you couldn't make any technology," Aiden said, the big headphones over his ears dwarfing him. "It's fun, you can make perfect apps and can put them on the Google store and sell the apps."
Nine out of 10 schools in the country don't offer code but DMUSD's offerings are unique, the expertise in this area of the ESC is funded in large part by the Del Mar Schools Education Foundation.
At Carmel Del Mar, students are programming their own interactive stories, games and animations with Scratch, a rich programming toolkit developed by MIT.
"The ultimate goal is for them to become fluent with digital media," said teacher Janet Wolfertz in the video. "At Carmel Del Mar students are programming at 10 years old and understanding that computer science is one of the most amazing art forms in the world. It takes students to a place where they're empowered to imagine, create and soar."
---