Del Mar-Solana Beach Optimist Club Oratorical contest winners announced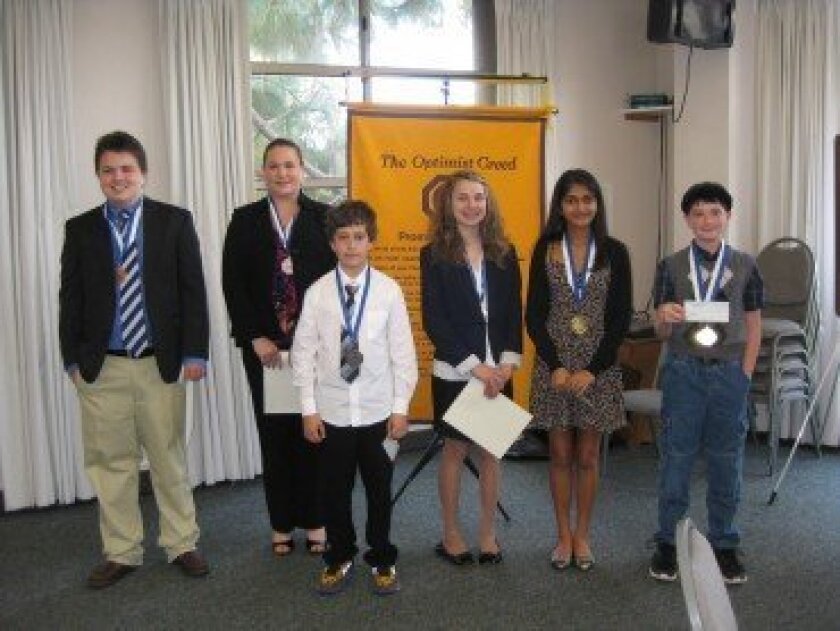 The Del Mar-Solana Beach Optimist Club held its annual Oratorical Contest March 9 for boys and girls at the Calvary Lutheran Church in Solana Beach. Eleven contestants, ranging in age from 10 to 15, all delivered speeches that were well thought out and inspiring to the audience of parents, families and Optimist Club members. Cash prizes were awarded to the 1st, 2nd and 3rd place winners in the amount of $150, $100, and $50 respectively for both boys and girls, and the winners will continue on to participate in the Zone semi-finals. Those winners compete in the District finals, in which the winner will earn a $2,500 scholarship. This year's topic is: "Why My Voice is Important."
Winners (in photo from left to right):
Brandon Beveridge (13) 3rd place
Briana Kaler (15) 3rd place
Daniel Kolotov (11) 2nd place
Christin Lacey (14) 2nd place
Aisiri Murulidhar(15) 1st place
Elliot (Doroni)(12) Garnett 1st place.
The Del Mar/Solana Beach Optimists are dedicated to assisting the youth of the coastal communities with various projects in addition to this contest. Their weekly Wednesday breakfast meetings are held at 7 a.m. at Denny's on Via Del la Valle, and their monthly dinner meeting is held at the Lomas Santa Fe Country Club. Dinner meetings feature an interesting speaker from the community at large. Anyone interested in participating or just meeting the club members may contact Dave Eller at 760-510-9535 or dbeins@sbcglobal.net.
---