Del Mar swimmer wins seven medals in Pan Pacific Para-Swimming Championships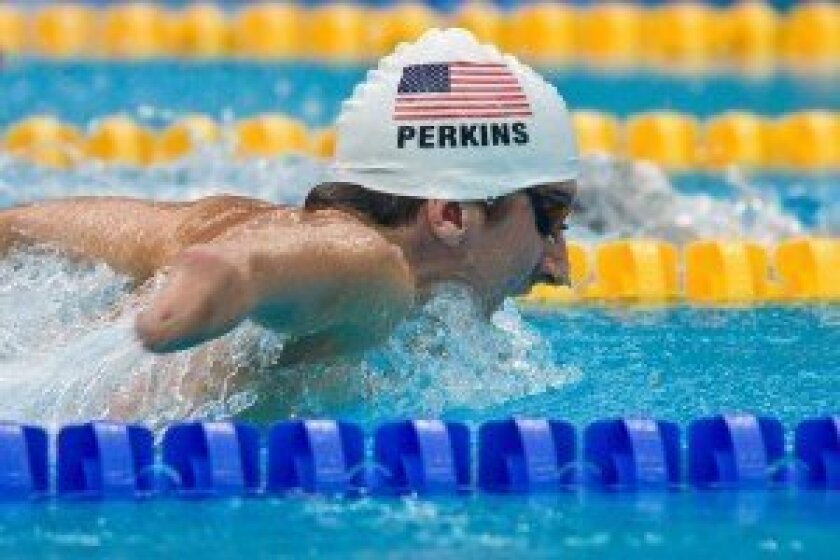 By Kristina Houck
Del Mar's Roy Perkins already has six Paralympic medals, but his quest for gold continues. The 24-year-old swimmer trains daily and participates in the largest competitions, while on the road to the 2016 Paralympic Games in Rio de Janeiro.
During the recent 2014 Pan Pacific Para-Swimming Championships in Pasadena, Perkins competed in seven events and medaled in all seven, earning two gold, four silver and one bronze.
"I was a little bit off my time, but it was still nice to win that many medals," said Perkins, who has lived in the community since 2002. "I've never won that many before. It was the biggest meet of the year."
Born without hands or feet, Perkins didn't learn to swim until he was 12 years old. Two years later, he broke a number of American records in his first official meet, the Paralympic trials, at age 14.
"That's when it hit me I could keep doing this," Perkins said. "I knew I would have this opportunity if I worked hard at it."
A fixture on the U.S. Paralympics National Team for the past nine years, Perkins now holds most American records in the men's S5 class.
At the 2008 Summer Paralympics in Beijing, Perkins won one gold and one bronze medal. At the 2012 Summer Paralympics in London, he won two silver and two bronze medals.
"It was an amazing experience," Perkins recalled. "It was really special each time, especially after all the hard work I put in leading up to them."
One of the highlights of his swimming career was when he set a new world record in the men's S5 50-meter butterfly during the 2006 World Championships, a record he broke again when he won gold in Beijing. Another swimmer broke it two years later.
Perkins hopes to retake the record in Rio.
"That's what I'm training for right now," he said. "Over the next two years, I'm ramping up training, trying to get faster."
The 2016 Paralympic Games take place Sept. 7-18 in Rio.
The Pan Pacific Para-Swimming Championships is the largest competition of the year for U.S. swimmers. Other top events on the road to Rio include the 2015 World Championships in Glasgow and the 2015 Parapan American Games in Toronto.
Perkins credits his success to his athletic drive and competitive nature. With the aid of longtime coach and mentor, Don Watkinds, he trains daily at City Heights Swim Center.
"It's really a 24-hour commitment," he said.
In 2008, Perkins graduated from The Bishop's School in La Jolla. He went on to study Earth systems at Stanford University, where he plans to return after the Paralympics.
"Whether it's being inspired on how to handle a disability or how to compete as an athlete, I've had people compliment me for both," Perkins said. "But it's my drive as an athlete. I'd compete no matter what. I encourage everybody to look for what they enjoy doing."
---