Del Mar's 75th racing season features new and popular traditional events
By Kelley Carlson
A local gem is celebrating its diamond anniversary this summer.
The Del Mar racetrack is 75 years old, and it is marking the occasion with plenty of events, new and old.
The season kicks off with Opening Day on July 18, and live racing will be held an average of five days a week — Wednesdays through Sundays, plus a Labor Day card — through Sept. 5. More than 40 stakes races valued at $7.775 million are slated during the 37-day meet, including seven Grade I events and two new races for 2-year-olds. The track's signature race, the $1 million TVG Pacific Classic, is set for Aug. 26. The event may draw the winners of the last three editions: Trainer Bob Baffert said on July 7 that he is planning to run two-time victor Richard's Kid (2009-10); last year's winner, Acclamation — who was also the nation's champion older horse of 2011 — is another possible entrant.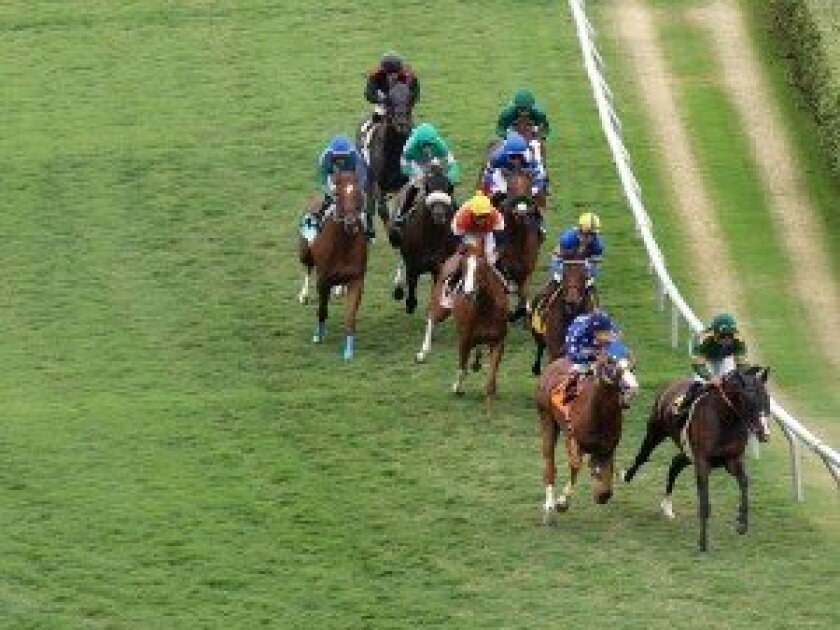 Del Mar will hold its 75th Anniversary Celebration just several days into the season, on July 21. Each person who enters the admission gates that day will receive an envelope with free passes; one in 75 of those envelopes will contain $75. Once inside, from 1 to 3 p.m. in the Plaza de Mexico, guests can buy a signed copy of "Del Mar at 75," a 192-page book by photographer Barry Myers and writer Jay Privman that details a "day in the life" at the track and includes black-and-white photos from the seaside oval's early days. In honor of track founder Bing Crosby, a look-alike will perform "Where the Turf Meets the Surf" in the winner's circle after the seventh race. Finally, film clips of the great races at Del Mar over the years will be shown on the big screens.
"It will be a wonderful day," said Craig Dado, senior vice president of marketing, in an interview.
To further commemorate the anniversary, a full-size blanket with the special logo that's "perfect for the beach or a picnic" will be given away with paid admission on Aug. 11, Dado said.
Additional giveaways planned during the season include a fleece pullover on Pacific Classic Day and a Webkinz Plush Horse on July 29.
Another new event for 2012 is the "race-ready" horse sale at approximately 6:30 p.m. July 22. As of July 5, 44 horses were scheduled to enter the "auction ring" — aka paddock — including 2011 Illinois Derby (Grade III) winner Joe Vann; Vanity Handicap (Grade I) third-place finisher Zafeen's Pearl; and Mega Dream, who narrowly missed winning the Royal Heroine Mile Stakes (Grade IIT) at Betfair Hollywood Park on July 7. The catalog is at
www.barretts.com/Catalog/catdmp2012/CATALOG.htm
.
Many of the sale horses will be immediately eligible for Del Mar's "Ship and Win" program, which is in its second year. The program awards incentives to owners of out-of-state horses who start at the track.
"This was such a winner for us last year, we knew we had to bring it back again this season," said Tom Robbins, Del Mar Thoroughbred Club's executive vice president for racing, in a news release. "We wrote those checks to 107 horses all told, and it helped turn the tide for us on field size. We brought some new horses and horsemen to the state and gave encouragement to our local horsemen to pursue runners from other venues, something we'd like to see a whole lot more of this time around."
The two pubs bordering the paddock — the Whittingham and the new 17 Hands — will be open for people to purchase food and beverages, along with the second-level Veranda Café, which overlooks the paddock.
The sale is open to everyone — from newcomers to veteran owners — and a special seminar is planned for prospective owners at the track that morning.
Concerts will again be held on the Seaside Stage at the west end of the grandstand. This year will feature more acts than ever before, such as The Offspring, Ben Harper and even a special Latin show. They will be held on Fridays and the occasional Saturday and Sunday. There is no additional charge to attend the performances, which are held after the last race of the day. But guests who arrive after the final race must pay $20 for admission.
The Saturday shows — Aug. 4 and 18, and Sept. 1 — are on the same days as Beer Fests, where more than 40 flavors of brews can be sampled starting at 1 p.m.
Last year's popular Gourmet Food Truck & Craft Beer Festival will be back, with more delectable choices than before. Set from noon to 6 p.m. July 28, there will be 50 trucks from throughout Southern California and more than 50 brews on tap.
About 29,000 people were on hand last year during the festival, up from an average attendance of 20,000 on Saturdays, Dado said.
If doughnuts and coffee are more your cup of tea, Donut Days will be held July 21 and Aug. 25. Track announcer Trevor Denman will host question-and-answer sessions with jockeys and trainers during the horses' morning workouts. According to Dado, the lineup for July 21 will be jockey Chantal Sutherland, the face of advertising at Del Mar this year, and Doug O'Neill, trainer of 2012 Kentucky Derby and Preakness Stakes winner I'll Have Another.
Other returning events include Daybreak at Del Mar morning workouts and breakfast (weekends), Family Weekends, Oggi's Pizza 'n Ponies Thursdays, newcomers seminars (one hour before first post), handicapping seminars (weekends and Labor Day), Miss Cougar Del Mar (July 27), the Western Regional Chili Cookoff and Salsa Contest (Aug. 4), Ladies' Day (Aug. 5), the San Diego qualifier for the Wienerschnitzel Wiener Nationals (Sept. 3), Jockey Photo Day (Sept. 3) and Party in the Paddock (Closing Day, Sept. 5).
This year, Del Mar will present 14 types of wagers, from the standard win, place and show to several five- and six-horse combination bets. The Pick Six will offer a guaranteed pool of $125,000 on weekdays and $250,000 on weekends, while for the minimum 50-cent Pick Four bet, it's $250,000 on weekdays and $500,000 on weekends. The 50-cent Player's Pick Five will be back, but the experimental head-to-head bet introduced last year won't be returning.
Looking to save a few extra bucks (perhaps to make an additional bet or two)? Diamond Club card holders are entitled to Free & Easy Wednesdays, in which they receive free admission, program and a seat, along with discounted food and beverages.
"Free and Easy Wednesdays have really made our Wednesdays substantially bigger," Dado said.
Those who don't have a membership card can sign up at the booth before entering the Stretch Run admission gates. It only takes a minute or two, Dado said.
"We've got it down to a pretty good science," he added.
All seniors age 62 and older can enter the track for free on July 19 and Aug. 30, and can get in at no charge on all other Thursdays with a Diamond Club card.
Also, on Sundays (with the exception of Pacific Classic Day, Aug. 26), if a Diamond Club member brings a nonmember who signs up for a card, both will receive free admission and a free beach bag cooler.
"We're excited about (the upcoming season), and we think it will be a great year," Dado said.
Del Mar racetrack 2012 season
• Dates: July 18-Sept. 5
• Location: Via de la Valle and Jimmy Durante Boulevard
• Post time: 2 p.m. Wednesdays, Thursdays, Saturdays and Sundays; 4 p.m. Fridays; 1 p.m. Pacific Classic Day (Aug. 26), 2 p.m. Labor Day (Sept. 3)
• Admission: $6 Stretch Run ($10 Opening Day); $10 Clubhouse ($20 Opening Day)
• Parking: $10
• Information: (858) 755-1141, (858) 793-5533;
Del Mar concert schedule
• July 20: Wavves
• July 27: Dashboard Confessional
• July 29: Los Tucanes de Tijuana
• Aug. 3: Steel Pulse
• Aug. 4: Cake
• Aug. 10: The Offspring
• Aug. 17: Michael Franti & Spearhead
• Aug. 18: Ben Harper
• Aug. 24: Jimmy Cliff
• Aug. 31: Ozomatli
• Sept. 1: Ziggy Marley
---