Del Mar's Rosanne Holliday named honorary chair for Planned Parenthood's 50th anniversary dinner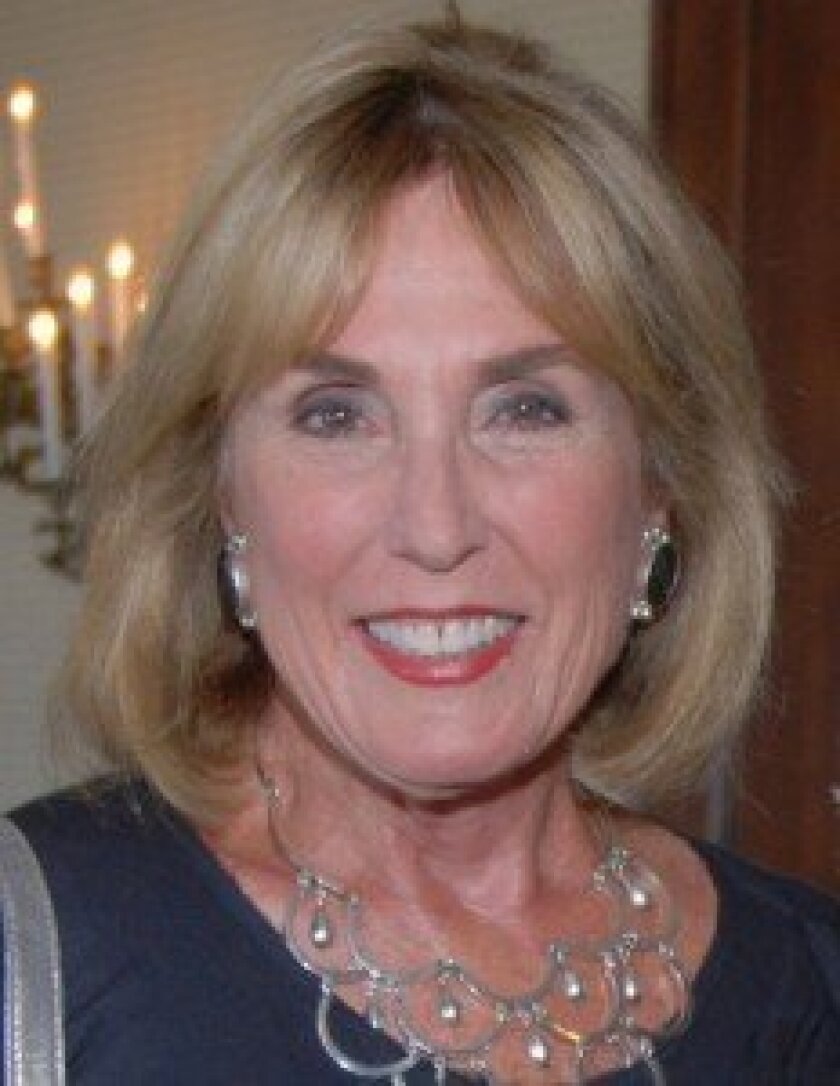 By Kelley Carlson
As one of the honorary chairs for Planned Parenthood's upcoming 50th anniversary dinner, Rosanne Holliday has found a golden opportunity to bring together past and present leaders.
In coordination with honorary committee member Linda Katz, Holliday is making an extra effort to encourage board officers and members from the last five decades to attend the Pacific Southwest chapter's celebration, set for May 9 in San Diego.
With pride, Holliday — herself a former leader with the organization — notes that the local chapter is one of the nation's largest affiliates, with 19 health centers in San Diego, Riverside and Imperial counties.
"It's remarkable what we've done (over the years)," she said in a phone interview, from raising money for medical centers to establishing a relationship with the Mexican national family planning organization, MexFam.
Holliday has been instrumental in PPPSW's success, and has been a proponent of the group for more than 40 years.
Her involvement began not long after she moved from L.A. to Del Mar in 1968 with her husband, Joel — who was starting a new business, Spin Physics — and her then-8-month-old son, William. Holliday had worked as a training consultant for Head Start in L.A., and she became a professor at Southwestern College in Chula Vista after establishing a nursery school at Rady Children's Hospital.
While at Southwestern, Holliday invited speakers from Planned Parenthood to speak to her child development classes. And when she suspected she was pregnant with baby No. 2, in 1973, Holliday stopped by one of PP's clinics for a test on her way home from work.
"I remember my joy when Planned Parenthood called to say the test was positive," she recalled, in a previous PP interview from about a year ago. "I screeched with delight. The woman at the other end of the phone said, 'Do you know what positive means?' I realized that most of the time, she was delivering bad news when she said 'positive.'
"I was impressed with how careful they were (when they told me)," Holliday added in the recent phone interview.
After she gave birth to daughter Katherine, Holliday continued to work at Southwestern — but not without controversy.
"I became embroiled in a struggle with the president of the college over whether I could bring Katherine ... and her baby sitter to work with me so that I could nurse and play with her during my breaks," Holliday explained. "The college Board of Trustees passed a 'rule' known as the April Fool's policy on April 1, 1974, that no employee could have a minor child on campus while they were on duty, even if the child was in the care of another adult. It became a news article in the New York Times, Ms. Magazine, and even Stars & Stripes."
It didn't make sense, Holliday said, who was working 20 hours a week, often with two to three hours between teaching classes.
"I didn't want her (Katherine) to have a long time without me," she explained via phone. "I couldn't run home at lunchtime. It was more of an attachment thing, and breastfeeding was crucial."
It took almost two years to resolve the issue, but eventually, Holliday presented her case to a state hearing board, and it was determined that Katherine's presence on campus had not affected her teaching negatively. Holliday continued to teach at Southwestern for the next 24 years, until she retired.
While still a teacher, Holliday decided to become more directly involved with PPPSW, and joined its board of directors in the late 1970s.
While serving as board chair from 1986-88, Holliday said some board decisions were made that directly impacted the long-term direction of PPPSW.
"One of those is that we voted to provide abortion care ourselves, rather than referring to other providers," she said in the previous PP interview. "Up to that point, we had provided a substantial array of women's reproductive health care and educational services, except for abortion services. As a board, we formed a committee, headed by Marion Dixon, and for a year, we gathered information and studied the pros and cons of providing abortions. We had many heated conversations about this issue, but in the end, our board was unanimous with one abstention. I still remember that meeting! It was a brave decision because Operation Rescue was just beginning to picket our clinics with their anti-abortion activists literally blocking the entrance to clinics so that patients couldn't get in."
She also noted the decision to collaborate with MexFam, the Mexican national family planning organization.
"One of our board members, Phil Klauber, who was asked to share his thoughts on the last day of his board tenure, noted that our region encompassing Baja California and Southern California shared similar health concerns. He suggested that if Planned Parenthood was really going to be effective in our region, we needed to ensure services were being offered in Mexico, as well. Taking this good advice, we developed a wonderful relationship with MexFam's director, Alfonso Lopez-Juarez, attracted significant foundation support and started to build programs in the Baja region that flourish to this day under the name of an organization called Fronteras Unidas Pro Salud."
Upon retirement from her teaching career, Holliday decided to continue her involvement with Planned Parenthood, citing Vice President of Development Keith Limberg and deep friendships with other volunteers as her influences.
She was invited to serve on the board once again, from 2001-07. During that time, she chaired the $16 million "Caring For the Future" capital campaign, and her family made a leadership gift to kick it off. Subsequently, the Planned Parenthood Holliday Family Administration Building in Mission Valley was named in their honor.
After the campaign concluded, PPPSW established and renovated 14 medical centers, and therefore doubled the number of patients served.
"It was the highlight of my 30 years with Planned Parenthood," Holliday said in the previous PP interview. "Working with a fabulous committee of talented, generous and fun women will remain one of the most treasured experiences of my life."
And in 2001, she was lauded with the Margaret Sanger Award — named for PP's founder — in recognition of commitment, dedication and belief in reproductive freedom.
"Rosanne is one of the most dynamic, energetic, and compassionate people I have ever met, and we are so fortunate that she is a staunch supporter of Planned Parenthood," said Darrah DiGiorgio Johnson, president and chief executive officer of PPPSW, in an e-mail. "Her work has helped provide vital health services for hundreds of thousands of women and men over the years."
"It has been my pleasure to know and volunteer with Rosanne for over 30 years," said Katz, also a Del Mar resident. "Rosanne is an exemplary leader in every sense of the word. I love her passion for ensuring access to reproductive health care for all."
Today, the 73-year-old Holliday finds time for additional activities, along with PPPSW. She enjoys fly fishing, horseback riding and exercise classes, and she spends time each week with her family members, who also live in Del Mar. Son William is now 45 and daughter Katherine is 39, and Holliday has three grandchildren ages 4, 7 and 8.
Holliday is also involved with many local groups — currently, she is on the Board of Trustees at Scripps College, and is an active member of the Del Mar Garden Club, of which she is one of the founding members. Furthermore, she is a founding member of the San Diego Women's Foundation, and past president of the Board of Directors for the Del Mar Foundation, San Diego Psychoanalytic Institute and the Del Mar Civic Association, and has held numerous other roles and memberships in various organizations.
But Holliday still devotes a major interest to PPPSW, and as a reward for all of her efforts, she has been named one of the seven honorary chairs of this year's celebration. These honorary chairs have held "exceptional important leadership positions, been very generous financially, and have done all of this over a period of time," according to Limberg.
"These are people who have had a strong hand in making us successful at this milestone moment in our history," he said in an e-mail. "Rosanne is the protype example of that."
Limberg also added: "I've been working at Planned Parenthood since 1979 and, I can tell you, Rosanne has been the most amazing volunteer since 1980. I have seen her engaged in countless activities. I can't think of anyone who's done more for the organization."
"Our work continues," Holliday said in the previous PP interview. "We still have to stand our ground, to march, and to be outspoken about the need for every child born to be a planned and wanted child. This is a core value of mine and of Planned Parenthood. This shared value has made for a long and meaningful relationship."
For more information or tickets to the 50th anniversary dinner, visit www.plannedparenthood.org/pacific-southwest/
---