Disabilities no hurdle for Del Mar family of athletes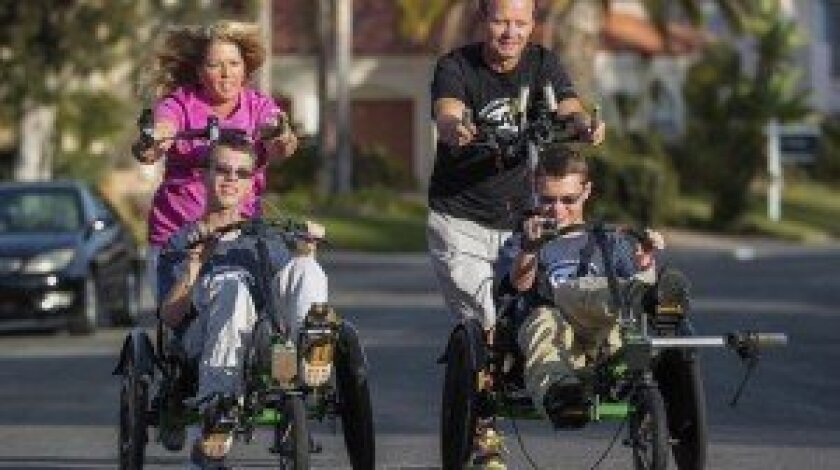 • Couple and their 16-year-old twins with cerebral palsy tackle San Diego Triathlon Challenge
By Pam Kragen
When Jim Pathman found out in 1998 that his wife, Lisa, was expecting twins, he bought a matching pair of Schwinn bikes so the boys could one day join their hyper-athletic parents in their shared passion for outdoor sports.
Seventeen years later, those bikes are still in their boxes, because twins Shane and Riley were born with cerebral palsy. But as Jim would say, when there's a Pathman will, there's a Pathman way. And on Sunday, Oct. 19, the active family of four achieved their dream of completing a triathlon in La Jolla.
"We did great and although we were some of the last finishers, we made it through as a family," Lisa said.
Since their boys were 4 years old, the Del Mar couple have used adapted cycles and seats, walkers, braces, carts, walking sticks, skis and bodyboards to involve their now-16-year-old twins in marathons, triathlons, downhill skiing, horseback riding, swimming, long-distance biking, hang gliding and even white-water rafting.
Pathman, 50, said all it takes is a little imagination to achieve the active family lifestyle that he and Lisa, 48, describe as "the Pathman normal."
With two teams of volunteers and some adaptations, the Pathman family swam 1 mile, ran 10 miles and cycled 44 miles in the Aspen Medical Products San Diego Triathlon Challenge. The race is expected to raise more than $1 million for the Challenged Athletes Foundation, which has worked with the family for the past 12 years to help them realize their sports goals.
Foundation marketing director Jenna Novotny said the Pathmans are an inspiration to others around the country.
"They're a very special family who have taken it above and beyond and done so much," she said. "Other families, who may never have envisioned what's possible, see what they do, and how nothing stops them, and it gives them the inspiration to try."
Jim and Lisa met in 1991 while bicycling on the boardwalk near their Mission Beach apartments. He surfed and was a competitive waterskiier. She was an all-CIF soccer player and competitive wakeboarder. They both biked every day, and couldn't wait to bring their kids along for the ride.
But the twins arrived 14 weeks premature, each weighing just 1 pound, 9 ounces. Shane, older by 21 minutes, had bleeding in his brain that caused physical and neurological issues. Riley had a brain infection that caused physical, neurological and mental disabilities.
The twins stayed in the neonatal intensive care unit for 3 1/2 months, and when they went home, their immune systems were so compromised, they couldn't go out in public for two years.
"We went through a lot of trauma in the first few years, first because of the birth and then the realization of how it would affect everyone's lives," said Lisa, who teaches elementary school.
The first glimmer of normalcy came when the boys were a year old, and a friend offered the family a three-week vacation in his villa on a tiny French resort island. To get around the car-free island, Jim devised a bicycle trailer to tow the boys around. A year later, the boys coasted down a ski slope at Big Bear on an adapted sled.
"Jim was crying when he saw the boys skiing; it was a big turning point for us," Lisa said.
If he couldn't find an adaptive device to get his sons outdoors, Jim made it himself at the tool bench in his garage. But almost every time the couple tried to enter bike and foot races with the boys, organizers turned them away.
"People kept telling us we couldn't do things. It was always a fight," said Jim, who runs an Internet hosting company.
That changed in 2002, when the family attended their first Challenged Athletes Foundation triathlon and 4-year-old Shane was able to complete a short run for athletes with disabilities.
"Nobody said, 'No, you can't do that.' It was the first place where they said, 'Yes, we will help you figure out how to make this work,'" Lisa said. "It was refreshing to meet people with the same mindset."
Encouraged, Jim bought jogging strollers, tandem bikes and tow trailers, and the family was soon off and running. The couple created a Facebook page, "Team Pathman," to chronicle the hundreds of sporting pursuits they've accomplished since then with the boys, who are now sophomores at Torrey Pines High.
Over the years, Jim and Riley have completed eight marathons together as well as more than 50 local 5K, 10K and other races. At their home, Riley proudly showed a visitor dozens of finisher medals he'd collected from various races, as well as a sign over his bed with his favorite words — "swim. bike. run." — the three components of a triathlon.
Meanwhile, in the living room, Shane excitedly peppered the foundation's Novotny with dozens of questions about Sunday's race.
Virtually every year, the family has returned to the Triathlon Challenge, pushing themselves a little harder each time.
Last year, the twins did the full 10-mile run (pushed in jogging strollers by Jim and his friend, Joe Virgilio), 9 miles of the 44-mile bike ride (on tandem bikes with Jim and Lisa), and half of the 1-mile swim (pulled on bodyboards by Jim and Virgilio).
This year's goal was to complete the full course, with help from Virgilio and volunteers from Team Hoyt San Diego and the November Project. The next big family goal is to complete the Boston Marathon after the boys turn 18.
These days, Shane is more interested in video games than outdoor sports, but Riley loves competing. At every Torrey Pines track meet, he takes part in a 100-meter dash to the enthusiastic cheers of the team, cheerleaders and fans in the stands.
Jim and Riley also spend every weekend running at least one race together with the jogging stroller. With a bit of creative thinking, Jim says it's exactly the life he once envisioned.
"When I was growing up, my bike was my freedom and it opened up my world. That's what I always saw for my family," he said. "Those first few years I was shell-shocked and gave up on my dream of riding bikes together, but now we're living the dream."
---