Solana Beach student crowned Countywide Spelling Champion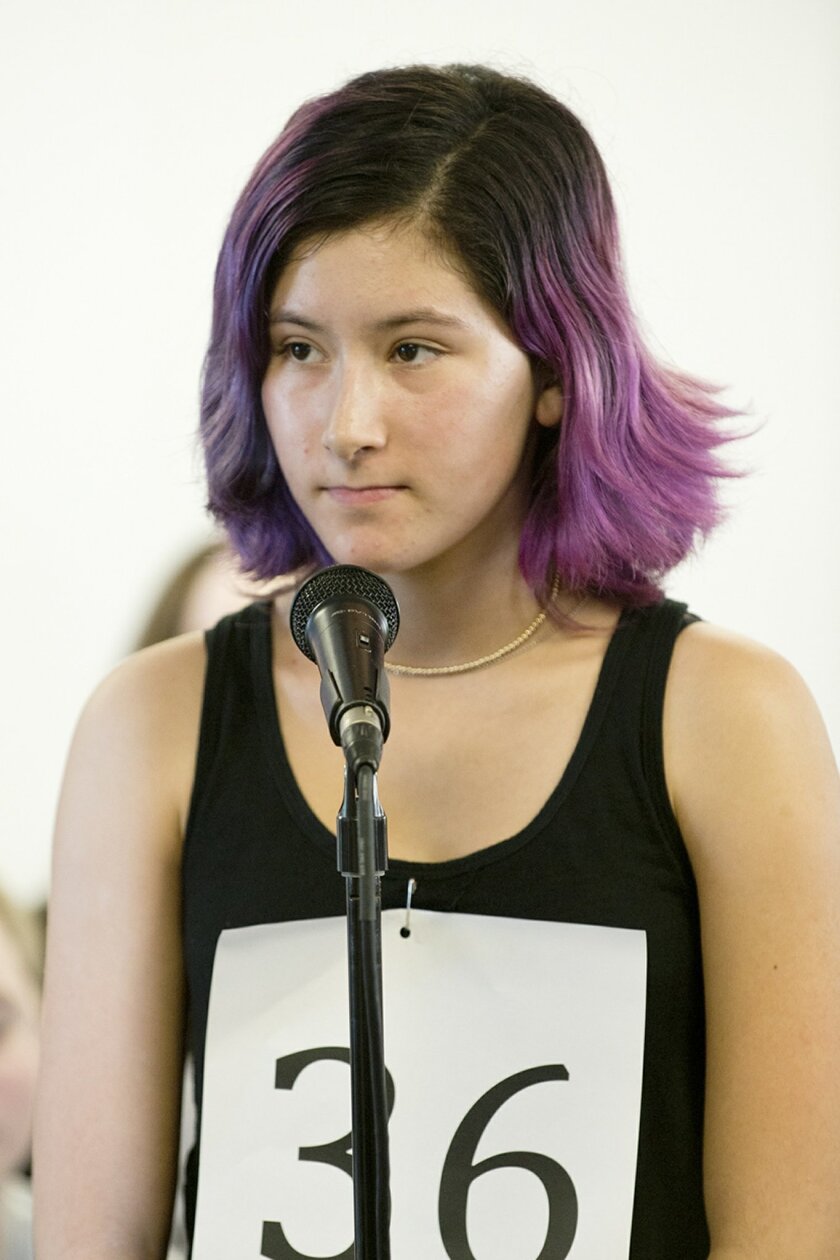 "O-O-N-A." There's a new way to spell "winner" after Earl Warren Middle School 8th-grader Oona Flood correctly spelled "fuliginous" to win the 46th Annual U-T San Diego Countywide Spelling Bee March 19.
While "fuliginous" is a Latin word meaning "having the color of soot," there's nothing dusky about Flood. The spunky student's partially pink-dyed hair helped her stand out in the group of four girls who made it through nine rounds of competition.
Flood will now go on to represent San Diego County at the Scripps National Spelling Bee in National Harbor, Md., in May.
There was the buzz of excitement in the air as Flood and the three other finalists – Emily Ince from Hilltop Middle School (Sweetwater Union High School District), Karina Piu from Marshall Middle School (San Diego Unified School District), and Richelle Rimando from Ocean View Hills (San Ysidro School District) – took turns spelling increasingly challenging words. The last back-and-forth came after more than 100 other contenders were knocked out after about four hours of competition. Flood finally won when, according to the Bee's rules for later rounds, she correctly spelled two words in a row.
"Chipotle" was one of the more common words at the competition. Viewers probably heard quite a few words that were new to them as the students tried to spell them.
Some of the more unusual words included "plumassier," meaning one who prepares or deals in ornamental plumes or feathers; "ledeburite," the cementite-austenite eutectic structure in iron-carbon alloys or commercial cast iron; and "malacca," an often mottled cane obtained from an Asiatic rattan palm and used especially for walking sticks and umbrella handles.
San Diego County has a history of making a strong showing at the national level. In 2005, Anurag Kashyap, a student from Poway, won the Scripps National Spelling Bee. The local winner in 2012, Francis Parker School student Snigdha Nandipati, also won the national championship. This year Snigdha's brother Sujan represented Francis Parker in the San Diego County Bee.
"The Spelling Bee is one of the most time-honored of all academic competitions," said Nicole Shina, who coordinates the Spelling Bee for the San Diego County Office of Education. "It's a nice reminder that even in a world where we're all texting and tweeting, spelling is important."
The 46th Annual U-T San Diego Countywide Spelling Bee was presented by San Diego County Credit Union in partnership with the San Diego County Office of Education, 10News, San Diego Hall of Champions, and Southwest Airlines.
---