Endangered birds released into flourishing San Elijo Lagoon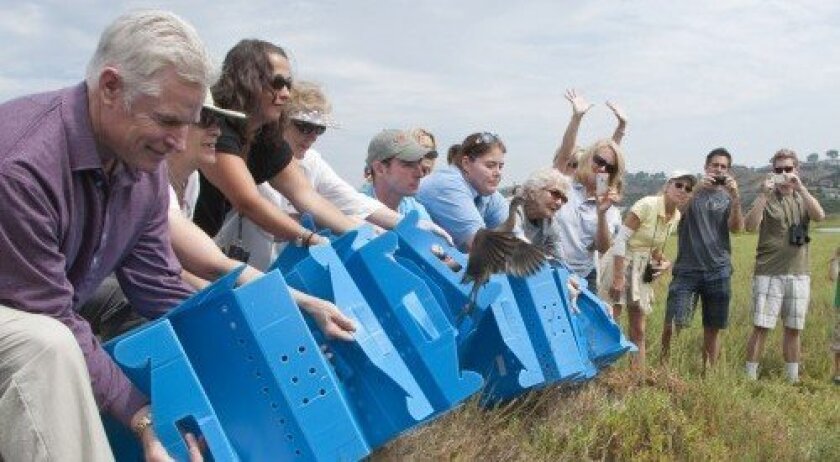 By Claire Harlin
Seven lucky birds that were hatched from eggs and raised in captivity are in for the feast of a lifetime — or rather, a lifetime of feasts.
Employees from SeaWorld, the San Diego Zoo and Living Coast Discovery Center on Aug. 16 released the light-footed clapper rails into Solana Beach's San Elijo Lagoon, which is a rich breeding ground for crab, the endangered bird's meal of choice. The birds will also enjoy the more than 23 species of fish and an abundance of lagoon invertebrates as they work their way into the social system and hopefully spread their genes.
The survival of the rare birds are now on the shoulders of the San Elijo Lagoon Conservancy, and conservancy director Doug Gibson said he hopes the progress made at the ecological site will contribute to the birds' complete recovery.
"You can raise an endangered species, but if you don't have the right habitat to put them in, what's the use?" Gibson said, adding that the growth in cord grass population at the lagoon in the past decade has made it possible to offer a suitable environment for the clapper rails. The flourishing of the cord grass can be attributed to making sure the mouth of the lagoon has stayed open to the ocean.
More than 300 light-footed clapper rails have been successfully bred and released since 2001 as a result of this joint program involving breeding and reintroduction to natural habitats along the Southern California coast. Gibson said the three breeding pairs recently released will join 31 breeding pairs already on the 915-acre reserve, which was purchased by the conservancy only months ago.
On the peninsula of the lagoon, well over 30 stakeholders, scientists and local residents joined together to watch volunteers and biologists put colored bands on the birds and release them in unison. Gibson said to keep your eyes peeled for the brown, long-legged bird on the lagoon, and if you notice a silver band on the left foot or a colored band on the other, contact the conservancy. Tracking the birds is a beneficial method in measuring the success of the reintroduction program.
Clapper rails are listed as endangered because of habitat loss over time. More than 90 percent of Southern California's estuaries are gone, developed or forever altered, according to the conservancy. Several attempts to develop the site, known as the Gateway Property that lies between Cardiff and Solana Beach west of Interstate 5, have been thwarted by community efforts, among other resistance.
Acquisition of the property was the first step in conserving it, and now a campaign is under way to pay back the generous local donors who made the nearly $4 million purchase possible.
Clapper rails are named for their unique call and are visible in the early mornings in the reserve. Trail maps are available at
.
To contact the San Elijo Lagoon Conservancy, call (760) 436-3944.
---