Carmel Valley resident named Paul G. Allen Frontier Group Allen Distinguished Investigator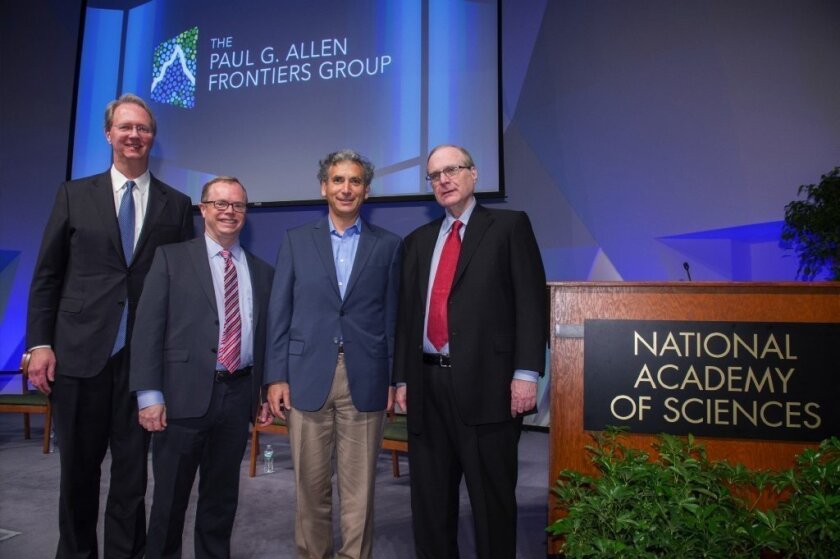 Philanthropist and entrepreneur Paul G. Allen recently pledged $100 million to create the Paul G. Allen Frontiers Group, to "explore the landscape of bioscience and fund ideas at the frontier of knowledge to advance science and make the world better."
Carmel Valley resident Ethan Bier was named as one of the Frontiers Group's Allen Distinguished Investigators and awarded $1.5 million for his project, "Biological Innovation and Active Genetics." The Allen Distinguished Investigator program supports early-stage research and "passionate thought leaders, explorers and innovators" like Bier with the potential to reinvent entire fields.
"To make the kind of transformational advances we seek and thus shape a better future, we must invest in scientists willing to pursue what some might consider out-of-the-box approaches at the very edges of knowledge," Allen said at the March 22 launch. "This, of course, entails a risk of setbacks and failures. But without risk, there is rarely significant reward, and unless we try truly novel approaches, we may never find the answers we seek."
Bier traveled to to Washington, D.C. for the announcement of the Frontiers Group Allen Distinguished Investigators, held at the National Academy of Sciences.
"It's very exciting, it's a dream come true for a scientist," Bier said, noting how much he appreciated Allen's vision. "This is an alternative source for funding projects that are in an earlier or more speculative place but if successful will have a significant impact. It's a good alternative, a philanthropic avenue willing to take more chances and by doing do, spur innovation."
Bier has been at UC San Diego for 26 years. Bier received his Ph.D. from Harvard University and is a professor of cell and developmental biology, running a lab that focuses on research in developmental patterning and using Drosophila (fruit flies) to understand human disease processes.
In the beginning of 2015, Bier and then-graduate student Valentino Gantz (now a post doctorate researcher) published a paper in "Science" on their experiment in which they developed a method called mutagenic chain reaction (MCR).
The experiment demonstrated genetic forms of inheritance that is completely different from the standard way that offspring inherit things from parents.
If blonde and dark flies mated, typically all of the offspring would be dark and their offspring would be one-quarter blonde.
"My student created a genetic tool that created a blonde mutation in fruit flies," Bier said.
Bier and Gantz began considering all of the implications of their findings and became interested in trying new types of inheritance. Working with Dr. Anthony James of UC Irvine, paring his genetic tool with their pioneering gene editing technique, they found that mosquitoes carrying a gene was spread to 99.5 percent of its offspring — it spread very rapidly throughout the population.
"Our original study attracted a lot of attention and interest greatly amplified at the end of last year in our collaboration with UC Irvine and Dr. James," Bier said.
With that level of efficiency, a single mosquito equipped with the gene could be used to render the insects unable to carry the malaria or Zika parasites, Bier said, which could be extremely valuable.
Bier said it was a big step ahead for their research as mosquitoes are very different from fruit flies — the genetic construct of mosquitoes is very large and it represented a very big piece of DNA to be so efficiently copied from one generation to the next.
"In principle we could take genetic information from one organism and add it to another or replace it with another species in a systematic way," Bier said.
There could be a variety of applications, such as rendering crops resistant to drought by taking the character of drought-resistant plants and applying it to crops, such as wheat, or to convert a strain of a mouse's immune system to be more like that of a human to be able to do things such as drug screenings for diseases like cancer, asthma and neuro-degenerative diseases, such as Alzheimer's.
Bier said he is grateful for the Allen Institute to help him get started and get his pioneering research to the point where it can be applied to real-world situations.
---