Experts share knowledge at breast cancer seminar in Carmel Valley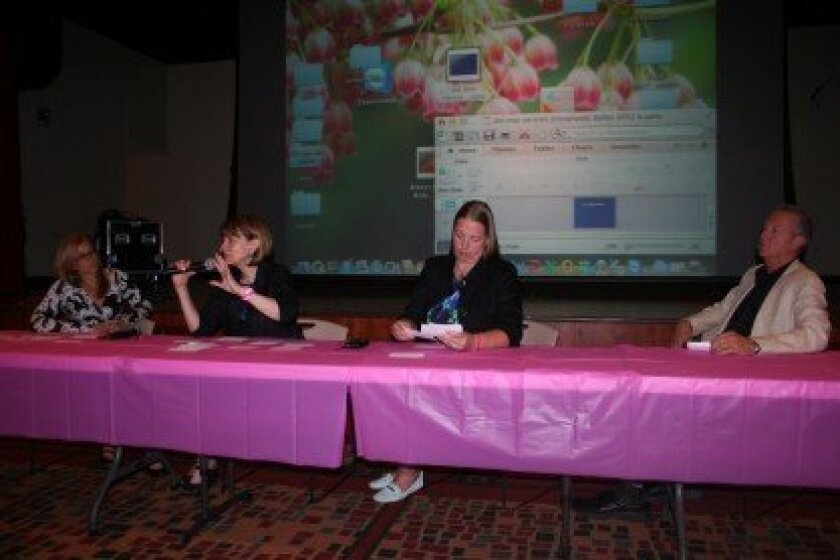 By Kristina Houck
The National Cancer Institute recommends that women age 40 or older have screening mammograms every one to two years.
Although Laurie Lovell was only 39 years old and breast cancer didn't run in her family, she discovered a lump while performing a breast self-exam.
A needle biopsy later confirmed the lump was breast cancer, and a magnetic resonance imaging, or MRI, detected a second tumor. Lovell had a double mastectomy, is now undergoing chemotherapy, and will most likely have radiation, breast reconstruction and hormonal treatment.
Carmel Valley resident Lynn Flanagan, a breast cancer survivor for more than 16 years, said the outlook for the now 40-year-old is "hopeful" during a breast cancer forum that was dedicated to Lovell, who was unable to attend, on Sept. 18 at St. Therese of Carmel Catholic Church in Carmel Valley.
"By doing her own breast exam and requesting an MRI, Laurie probably saved her life," said Flanagan, whose breast cancer support group, Linked by Lynn, sponsored the event. "Laurie's case is the classic one, which is of particular interest to our physicians tonight."
Radiologist Dr. Richard Reitherman, surgeon Dr. Michele Carpenter, surgeon Dr. Jane Kakkis and genetic counselor Sandra Brown spoke about early detection and the recurrence of breast cancer.
Brown, the manager of the Cancer Genetics Program at St. Joseph Hospital and Mission Hospital in Orange, Calif., talked about the differences in occurrences of cancers, including a sporadic event, a moderate risk and an inherited risk.
Most breast cancers are sporadic. That means that every woman has about a 12 percent chance of developing breast cancer, she said. A woman has a 15-30 percent moderate or familial risk of developing breast cancer if she has a history of the disease in her family. A woman could have up to an 85 percent risk if she has a genetic mutation or inherited risk.
Genetic counselors, Brown said, can analyze a woman's family history, try to make accurate risk assessments, use genetic testing and recommend additional and individualized risk management.
She encouraged attendees to talk to a genetic counselor if they are concerned about their family history.
"Sometimes women are very afraid to come in because it's difficult to find out that you carry a mutation," Brown said. "It is difficult. But knowing is empowering as well. It really does allow us to focus on prevention."
Carpenter noted about 5 to 10 percent of breast cancer cases are thought to be hereditary, meaning that they result directly from mutations inherited from a parent.
"Most of us think our risk of getting breast cancer is actually much higher than it truly is," she said.
Other risk factors include being a woman, aging, having a family history of breast cancer, having a personal history of breast cancer, having more menstrual cycles due to starting menstruation early or going through menopause later, having no children or having a first child after age 30, using hormone therapy, among others.
Another risk is having dense breast tissue.
Like Lovell's second tumor, many breast cancers do not show up on a mammogram. Breast density can make a developing cancer hard to detect and also increase a woman's risk.
Gov. Jerry Brown in 2012 signed a law that requires health care facilities to notify women categorized as having dense breast tissue about their condition. The law, which went into effect this year, is designed to improve breast cancer detection and prevention by educating patients about dense breast tissue and how it could conceal possible abnormalities during mammographic procedures.
"Women deserve shared decision making and informed consent, and that's what the dense breast legislation is about," Reitherman said.
Dense breast tissue might be the greatest cancer risk women have never heard of, said Kakkis, who testified before state legislatures on the dense breast legislation, and discussed the new law during the seminar.
She thanked patients and survivors like Flanagan for helping educate others about breast cancer.
"We're a team—all of us," Kakkis said. "We can help decrease the morbidity and mortality of this disease while we're still trying to find a cure."
---