Del Mar Fairgrounds continues to mull concert venue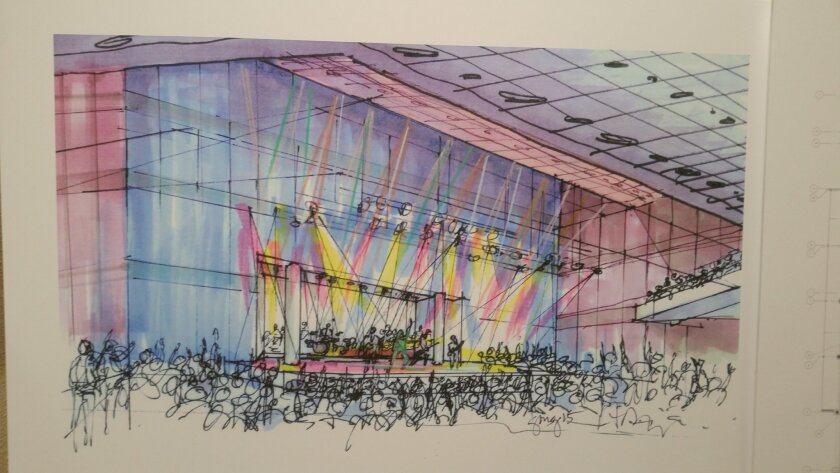 The agency that runs the state-owned Del Mar Fairgrounds is continuing to investigate a proposal to convert an under-performing satellite wagering center into a 1,900-seat concert venue with a craft beer tasting room, restaurants and other amenities.
Artist renderings and draft floor plans for the new venue — which would cost an estimated $10 million to $15 million to construct — were unveiled Tuesday, Jan. 12, at a meeting of the 22nd District Agricultural Association.
The district has been investigating potential new uses for the 91,000-square-foot building, which is designed to allow betting on horse races from around the country. Although the building was constructed to hold as many as 5,000 patrons per day, current attendance has fallen to as few as 300 to 400 customers per day, said fairgrounds CEO and general manager Tim Fennell.
A number of questions remain about the proposal, however, including how the district will pay for the renovation. Stephen Shewmaker, a member of the ag district board who has spearheaded efforts to repurpose the Surfside Race Place, as the facility is called, said his goal is to come back to the board at its February meeting with "hard numbers."
But at the current preliminary stage, fairgrounds officials sounded optimistic about the proposal.
Fennell told the board that the facility could host about 60 concerts per year, along with such activities as educational seminars, boxing matches and other events. The venue would complement the annual county fair and horse racing meets, and would complement other local concert halls in the region, rather than compete with them.
"It is, in my opinion, long overdue and pretty exciting," Fennell said.
A financial analysis shows that the venue would make money even at 75 to 85 percent of capacity, said Shewmaker.
"I think it's going to be a huge success for us," Shewmaker said.
In other news:
•Admission and parking fees will be going up for visitors to the 2016 San Diego County Fair. Adult admission will increase by $1 to $16, although fairgrounds officials said discounts will be available, such as $4 admission on the first Friday, Saturday and Wednesday of the fair, and a $26 pass for the 26-day run of the fair. Also, for the first time, a $5 fee will be charged for parking at the horse park facility on Via de la Valle, where shuttle buses will transport visitors to the fairgrounds. Parking at other satellite facilities such as Miracosta College and Torrey Pines High School, will remain free. Parking at the fairgrounds itself will remain $10 for general, and $20 for preferred.
•Fairgrounds CEO and General Manager Tim Fennell was inducted into the Western Fair Association's Hall of Fame at a ceremony held Jan. 5 in Anaheim. The WFA is a nonprofit trade association that serves the fair industry in the western United States and Canada.
•The 22nd DAA board elected new officers at its Jan. 12 meeting. Rancho Santa Fe resident Russ Penniman will serve as board president, and director Stephen Shewmaker will be vice president. Those posts had been occupied by directors Fred Schenk and David Watson.
---