Falcons golf star overcomes career-threatening injury with hard work, perseverance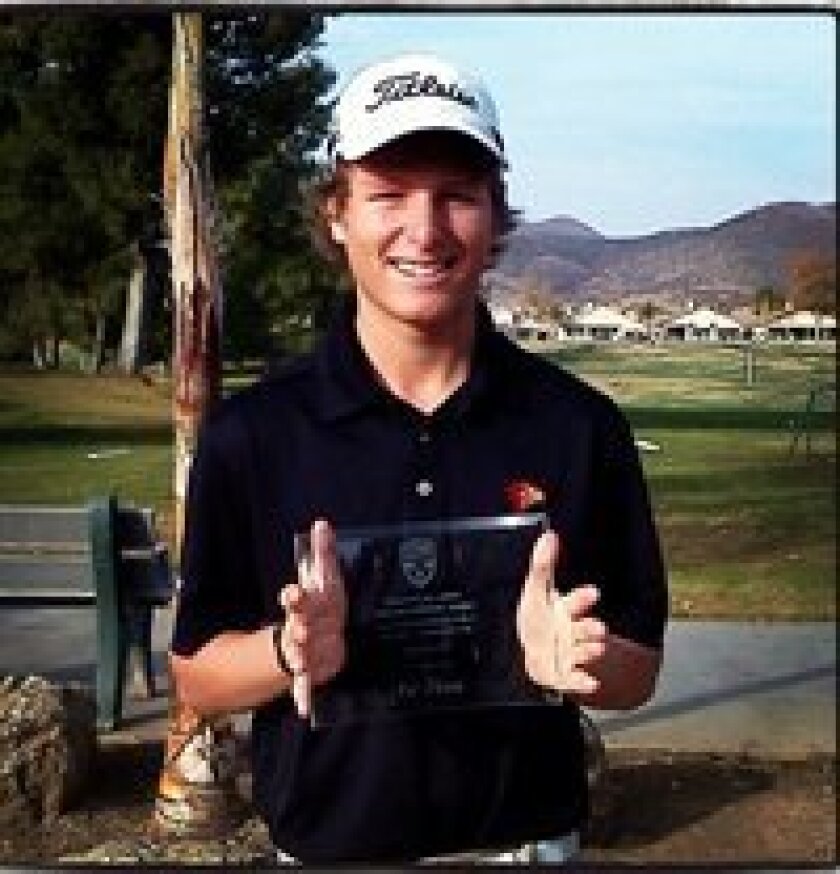 By Gideon Rubin
On a summer day about three years ago, the promising golfing career of Danny Ochoa, a soon-to-be-freshman at Torrey Pines High, appeared to be over.
Ochoa was riding a motocross bike his parents had promised him after winning a dirt bike tournament when he miscalculated a jump at Pala Raceway.
"I landed wrong on the pike and my bike landed on top of me and snapped my humorous (bone) in half," Ochoa said. "It was pretty gnarly."
Doctors painted a grim outlook when he arrived at a local hospital.
"They thought my (golf) career was over," he said. "It was a huge concern."
Ochoa underwent surgery and had two metal rods placed in his broken left arm. Doctors at the time told him the best scenario they could envision was a return to the fairways in a year at the soonest.
Within seven months, his determination turned the opinions of medical experts on their heads. Ochoa surpassed the rosiest possible forecasts when he showed up at the 2010 Callaway Junior World Golf Championships five months before doctors thought he'd even be able to hit off a tee.
And then he took the "comeback kid" narrative to another level.
Competing against an elite field of 210 fifteen to 17-year-olds at Torrey Pines Golf Course, including some players who'd be playing at the collegiate level within a year, Ochoa didn't just make a token appearance.
He placed fifth.
"I was pretty shocked," Ochoa said. "I was just hoping for a top 20 to get back into the tournament and I finished fifth.
"I was a lot younger so I couldn't grasp the meaning of how well I did, but now when I look back at it, I think I did phenomenally well, especially considering the circumstances."
His stunning breakout performance in that tournament set the tone for a stellar prep career that included helping lead Torrey Pines High to a 2011 state title, shooting a San Diego Section record 8-under-par 64 at the North County Conference Championships earlier this year, and making an oral commitment to USC.
Ochoa, an incoming senior, is the top returnee on one of the state's most highly regarded programs.
"He wasn't going to let this injury stop him," Torrey Pines coach Chris Drake said. "For a lot of people (with the type of injury Ochoa suffered) that's it, but the only the thing the injury stopped was his desire to ride a motorcycle.
"He had his mind set on a goal of playing in college and beyond, and he's been able to do that."
Ochoa was an accomplished golfer who'd already made his mark in the amateur ranks at the time of the injury. He was already on the Falcons' radar before he set foot on the campus, Drake said.
Ochoa's comeback is a tribute to a positive attitude and a strong work ethic that carries over into the classroom, Drake said.
"He had to relearn how to play the game and he had a great deal of pain," Drake said, noting that Ochoa hit the weights hard to rebuild his strength during the grueling rehab and again after he had the steel rods removed from his arm.
"It just made him work twice as hard to get back to where he is and now he's one of our strongest players," Ochoa said. "Physically, he's one of the strongest players on our team."
Ochoa admits the early days of rehab were tough. He had very little strength and even less range of motion in his surgically repaired arm. He spent three days a week undergoing physical therapy that started with the painful process of stretching out his arm, and then strengthening it.
"That was the easy part," Ochoa said. "The rehab wasn't the hardest part, the uncertainly was."
But Ochoa remained committed to doing what he could to get himself in the shape he'd need to be to compete against a competitive field that wasn't sitting around waiting for him to recover from his injuries.
"I always wanted to get better at golf, that was my goal, to come back and hopefully be as good as I was before the injury," he said.
Ochoa credits his father, Don, himself an avid golfer who introduced his son to the sport when he was practically a toddler, with inspiring him through the bad days.
He also credits his personal coach, Chris Mayson, with getting him on a program that helped foster his success.
Ochoa now views the injury in philosophical terms. He's learned that broken bones eventually heal and weak muscles can be strengthened provided you're willing to put in the work.
"I don't believe it's hurt me," he said of the accident.
"Everything happens for a reason, and I feel like if you deal with the ups and downs and you can overcome just about anything."
---