Finn Mallery wins Earl Warren Spelling Bee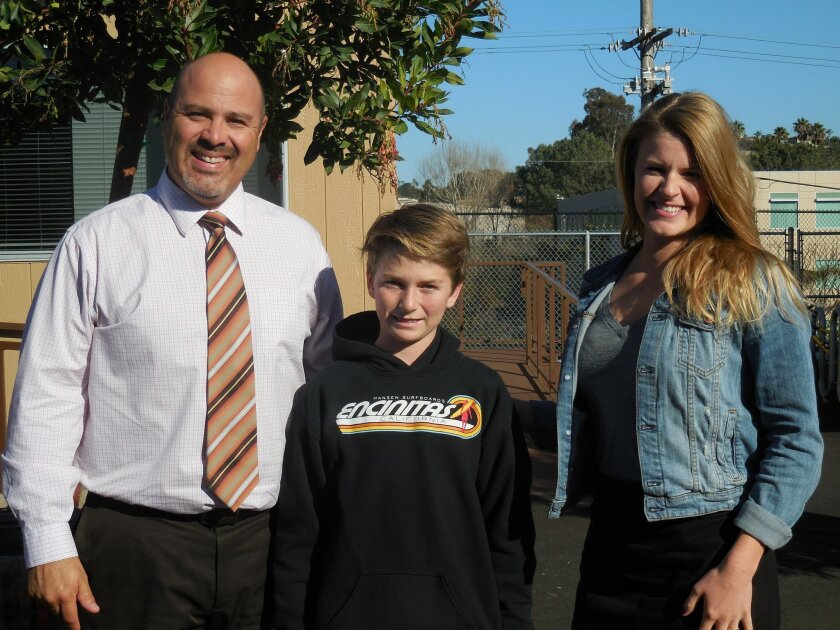 Earl Warren Middle School has a new Spelling Bee champ.
Eighth-grader Finn Mallery took first place in the Feb. 2 competition at the Solana Beach school.
"I was really surprised," Finn said. "I didn't expect to make it that far."
Students had to first compete in their English classes. Two students from every class then went on to the school-wide competition.
A total of 40 students participated in the Spelling Bee. After an hour and a half and 16 rounds, Finn spelled "consciousness" to beat second place finisher Natalie Feldman. Anna Ginzberg came in third place.
"It was just a really supportive environment," Principal Adam Camacho said. "The kids were cheering each other on. It was a proud moment."
As a seventh-grader, Finn competed last year in his English class, but he did not make it to the next level. This year, Finn studied for the event during a recent road trip to Mammoth Mountain.
"I won my classroom, so I decided to start studying for the school one," he said.
"It's useful to know how to spell things," added Finn, who doesn't know yet what he wants to do when he grows up. "It will help with getting a career in writing or being a journalist."
As the school champ, Finn will go on to compete in the 47th annual San Diego Union-Tribune Countywide Spelling Bee March 15 at the Hall of Champions in Balboa Park.
Last year, Oona Flood, then an eighth-grader at Earl Warren, won the countywide competition and went on to represent the county in the Scripps National Spelling Bee in Washington, D.C., where she narrowly missed the cut for the semifinals.
"It's a reflection of the kids' hard work, and certainty, the quality of education they're getting from our amazing teachers," Camacho said.
Finn wants to follow in her footsteps and represent Earl Warren in Washington, D.C. this year.
"I want to try going to the national one," Finn said. "I think it'd be pretty cool."
---