For Carmel Valley native Tristan Prettyman, tribulations lead to musical triumph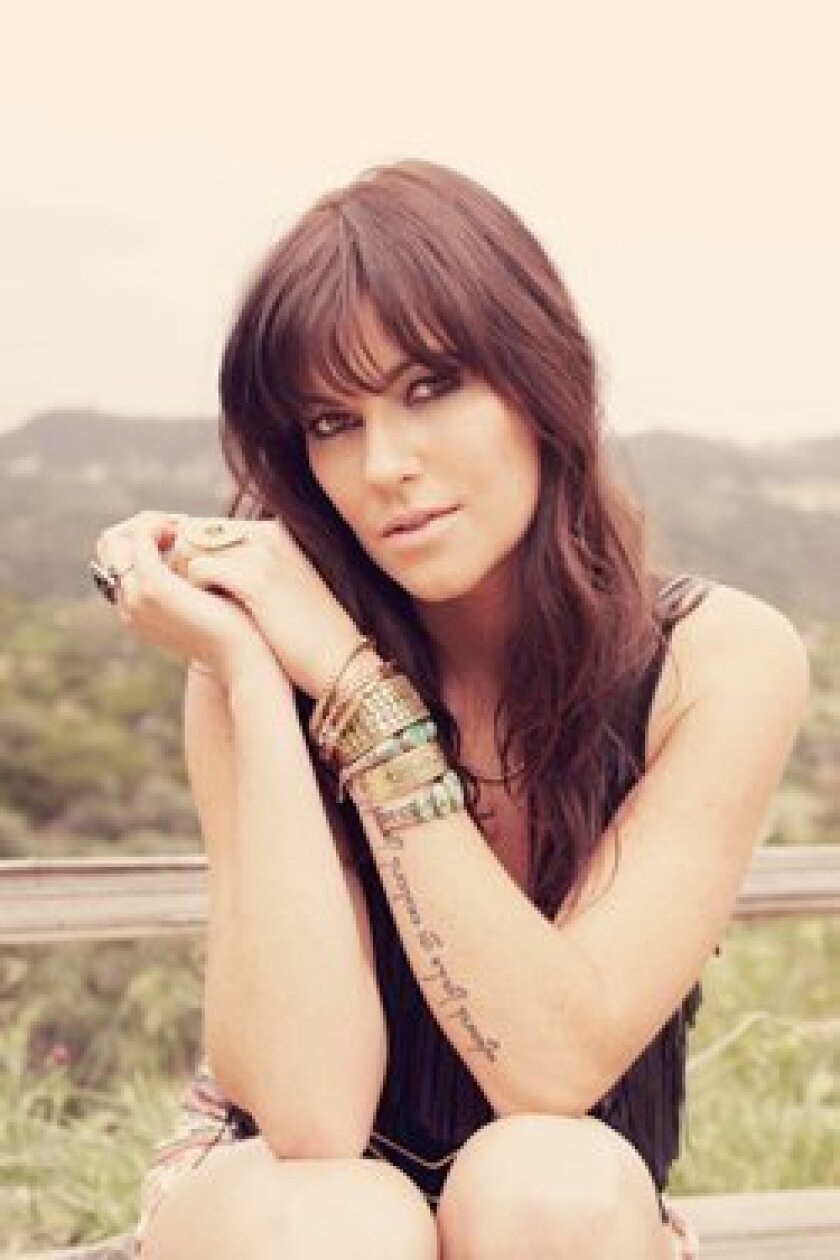 By Rob LeDonne
Torrey Pines High School alumnus and Capitol Records singer/songwriter Tristan Prettyman's career is currently at a turning point. She's in the midst of a promo tour for her third album, "Cedar + Gold," and right now is catching her breath after performing a show in Minneapolis. "Yesterday we played on a beautiful lake for a few hundred people for a station here that has been a big supporter," she explained from her Twin Cities hotel room. "Now we have a couple days to relax."
If advance buzz for "Cedar + Gold" is any indication, Prettyman's not going to be able to relax for long. The album's first single, "My Oh My," recently landed a spot on the latest edition of the hugely popular "Now That's What I Call Music" compilation series, alongside tracks by such heavyweights as Justin Bieber, Maroon 5, and Usher. Additionally, the internet can't seem to stop gossiping about the album's allusions to her former relationship with fellow singer/songwriter Jason Mraz, a fact Prettyman isn't coy about.
"One thing that drives me crazy is when someone in the public eye denies that something (they created) isn't from personal experience, but everyone knows that it is. I thought 'Wow, I'm getting really specific,' especially when I was writing about actual phone calls and voicemails. I think my job as an artist is to be there with a net and sort through everything I'm feeling."
Prettyman's talents as a musician were honed during formative years in this area and she has vivid memories of her upbringing in the area, including walking to the former dirt field where the Del Mar Highlands Town Center now sits. "When I was a kid, me and my brother would go there and just run around," she remembers. "When the McDonald's was built, we used to walk from our house and make it a field trip."
Prettyman, who learned to surf at 15th street in Del Mar and bought her first CDs at the now defunct Warehouse at the Highlands, still has a strong affinity for the area.
"Every time I fly into San Diego, I feel a little breath of relief and fresh air," she explains. "I tried to entertain the idea of living other places, but it's so amazing here. I love being able to stop by places like the Belly Up, and run into people that I know who don't treat me differently. Regardless of how much the area has grown, it still feels like a small community."
While Prettyman's parents still live in Carmel Valley and she calls Solana Beach home, the new album was created entirely in Encinitas. "My dad originally bought this house (in Encinitas) in the 1960s and after my parents moved to Carmel Valley, they kept it as a rental. It was always my dream to remodel it, so we redid the backyard, floors, and kitchen." At the same time following the release of her 2008 album "Hello...x," she was toying with the idea of giving up music after feeling burnt out. "I was just over it," she says now. "I wanted to travel to find my anchor again and just kind of live and have experiences. I traveled for a year, which was amazing and didn't even pick up a guitar."
When she finally decided to delve into songwriting again, doctors discovered polyps on her vocal chords, which is the kiss of death for any singer. The polyps were eventually removed, and Prettyman found herself falling for Mraz, who she had previously dated. Mraz himself was hot off the heels of the smash track "I'm Yours," one of the most popular songs in recent chart history.
Reuniting led to a four-month engagement, the implosion of which inspired the album. Said Prettyman: "When [the engagement ended], it was like the rug was swept from out under my feet. I noticed something stirring inside of me, and that situation made the writing just pour out of me. I had written 60-something songs before that point, but nothing I was excited about. Then, after the vocal surgery and the breakup, it got to a point where the river overflowed. I was bummed because I didn't want to write a break-up record, but my gut feeling was to get out of the way and stop being picky about what was coming out of me. The record sort of wrote itself."
Tracking Prettyman's career thus far, it's clear to see that her tribulations led directly to her triumph of completing her latest album, all of which rests on the bedrock of her life in the North County area. Despite her strifes however, Prettyman says she "doesn't have a problem" talking about them: "This record is so personal; it's important for people to know that no one is perfect. It doesn't matter if you're a songwriter, you're human and still have to work on relationships."
"Cedar + Gold," will be released by Capitol Records on Sept. 25. Its lead single, "My Oh My," is available for download now.
Prettyman will next be performing in the San Diego area next on Sept. 8 for Anthology & 102.1 KPRI's Street Beat in Downtown's Little Italy. For more information and tickets, please visit https://www.kprifm.com/pages/main
For more information, visit www.tristanprettyman.com and https://www.artistdirect.com/entertainment-news/article/tristan-prettyman-to-drop-cedar-gold-on-sept-25/10171130
---