For new Solana Beach music school, it's all about rocking out
By Rob LeDonne
North County resident James Couzens has been a professional musician for the past 25 years.
"I've been doing a lot of work playing with cover bands, and at the casinos," he explained. "On top of that, I'm also a stay-at-home dad. When you're a performer, the nights are always later and as a dad, the mornings are always earlier."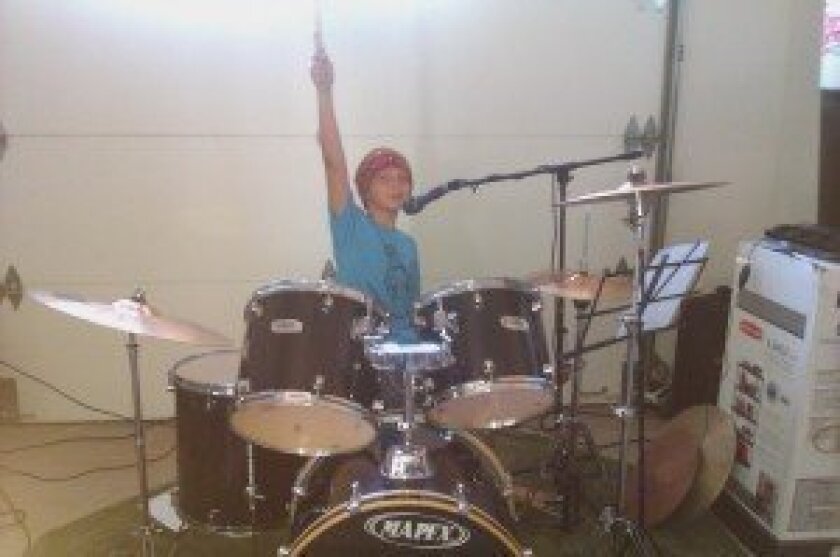 In addition to performing and being a father, Couzens also teaches music at Solana Beach's Music Mart, and over the years has been hearing a similar question from parents whose kids were enrolled in instrument lessons: "They would always ask me how to get students to practice more, and the answer to that would be to put them into bands so they had a reason to practice."
From there, Couzens started doing band mentoring — fostering a small youth music scene in Solana Beach that regularly book gigs. "It's been a very successful model," he explains, and wanted to somehow expand it. The result of which has turned into the Rockademy, a new music school in Solana Beach that caters to musicians between the ages of 5 and 17, teaching them the ins and outs of instruments as varied as drums, guitar, bass guitar, keyboards, and even vocals. In addition, Couzens notes he even "has some teachers who can teach band instruments and brass."
From a mere idea to May's upcoming official opening, it's been a long two-year process filled with planning and patience. "Just for the past year, we've been looking for the right space. We held out, and we're very happy with the spot we finally secured," Couzens says of the location in Solana Beach on 524 Stevens Avenue, right next to Rudy's Taco Shop.
"We've had nothing but support from both students and parents, and we definitely wouldn't be where we are without the support of a lot of good people," said Couzens, who noted that some parents even threw a fundraiser to help offset start-up costs. "Now we're getting the equivalent of soccer parents who get real into sports; these parents have been getting really into their kids' bands and instruments, which is great. It's all starting to take on a life of its own. I'm surprised nobody else has supplied something like this to the market yet."
For now, student lessons have been taking place at homes in surrounding areas, but once the Rockademy is fully up and running, Couzens imagines a building humming with the sweet sound of music, and hopefully a spurring bigger, successful music scene in Solana Beach filled with bands made up of varying ages and genres.
"It wouldn't surprise me if that takes place," Couzens muses. "We already have places like the Belly Up here, so I think Solana Beach is ready. We have a real gifted group of kids. Once in awhile, you see little prodigies pop up, but they all set their goals and get there eventually."
When starting up the Rockademy, Couzens says he also couldn't do it without the help of people such as Icarus Line, a Los Angeles native who's played with Ian Austbry of classic English rock band The Cult, and area musicians Spencer Bromley and Jason DeCors, whom he calls his "right and left hands." Along with music instruction, Couzens hopes that someday the Rockadamy will grow even more. "We're going to release a CD with all of our students on it in November but, in addition, we might even start up small record label and start recording there soon."
At the moment, Couzens and his crew are feverishly working to get their doors open. "We're doing ceilings today... it's a great location. I've been wanting to do something like this for a number of years. I'm glad we're finally here."
For more information, check out their home on the web:
---