Former Cathedral Catholic pitching sensation Camarena fields the challenges of pro ball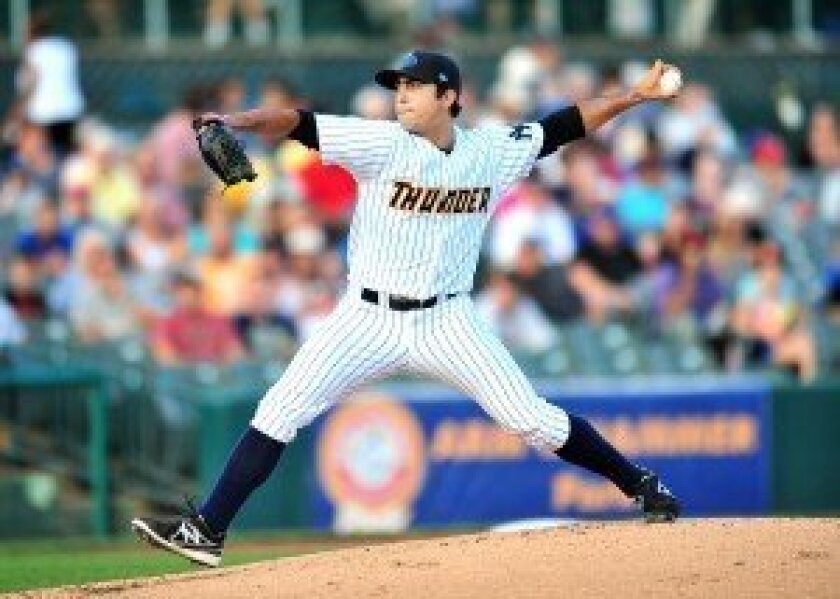 By Gideon Rubin
Former Cathedral Catholic pitching standout Daniel Camarena had it ridiculously easy in high school.
Camarena was at the center of a Dons dynasty, making the varsity as a freshman and already making an impact his sophomore year. He culminated his distinguished prep career with a stellar senior year in 2011 in which he went 9-1 with a 0.53 ERA.
Now three years into his professional career after being drafted by the New York Yankees in the 20th round of the 2011 amateur draft, Camarena is for the first time in his career — at any level — confronting failure.
His struggles with the Double-A Trenton (N.J.) Thunder in the Eastern League this season (he's 1-5 with a 6.62 ERA through his first seven starts since a midseason promotion from advanced Class-A), however, should be taken with a fistful of salt.
Especially if you consider that at 21, Camarena is one of the youngest players at a level in which the average player's age is 25, according to Baseball Prospectus.
There is, if nothing else, an intimidation factor in facing hitters who had graduated from high school while Camarena was still in middle school.
"Seeing guys who are 24, 25, 26 — there's a couple of guys who are 30 years old — it's the first time I've ever done that," Camarena said. "I talked to my older brother (former University City High player Louie Camarena) and he said, 'Those are guys that I should be facing.'"
That the Yankees are willing to challenge Camarena at this stage in his career, at a level where experiencing some failure is almost inevitable, reflects how much they value his prospect status.
"It's a big honor," said Camarena, who won't turn 22 until November.
"I'm learning a lot. It's not fun getting beat up on the mound, but I'm learning a lot from it and that's the big thing."
Camarena got a taste of it during the early part of his first full year of pro ball last season at Class-A Charleston (S.C.) in the South Atlantic League, but finished strong. He went 4-6 with a 4.42 ERA.
He started this season at advanced Class-A Tampa, where he was 5-5 with a 2.35 ERA in 16 starts before his promotion.
Learning how to deal with failure is considered one of the most important aspects of the developmental process in professional baseball.
Camarena believes it's making him a better pitcher, noting that he's already trying to apply what he learned at Charleston.
"I learned that every day's not going to be a perfect day," he said. "You're not going to go 1-2-3 every inning, and there's going to be obstacles, so I'm taking the same approach here. Every game's different ... I'm not panicking."
Camarena acknowledged that he couldn't say the same during portions of last season, when he struggled.
"I did panic," he said. "I was kind of like, 'What's going on, what's wrong with me?' This year I've stuck to my routine and tried to stay focused.
"I think when things start going bad and you start trying to put all the pieces back together, sometimes you start thinking too much. I think I've done a better job in terms of sticking to what I've got to focus on and just keep pushing through. Last year in Charleston I got better and I had a really good second half. I know I can finish up strong, and that's my goal — to finish up strong."
Camarena has already impressed his coaches at Trenton.
"Great kid, great makeup, and he competes very well," said Trenton pitching coach Tommy Phelps.
The left-handed Camarena features a 90-mph fastball to go along with a changeup, a slider and a cut fastball, Phelps said.
"He's going to have to locate his pitches and be able to pitch in and out, which he's doing, and just minimize the mistakes out over the plate. When he does that, he's going to get a lot of outs."
Phelps said that all indications are that Camarena is on track to deliver those outs.
"He's a professional, he's a hard worker and he's got good-quality stuff. These hitters are making him realize the importance of executing his pitches and minimizing his mistakes."
Camarena's coaches have been impressed with how he's handled adversity, too.
"He's very level-headed," Phelps said. "He stays even no matter if he gives up 10 runs or pitches six shutout innings. He's a fair evaluator; he self-assesses very well. He doesn't let it (failure) affect him. He realizes that all he can control is what he can do."
---