Four-time Paralympic gold medalist/author and Del Mar resident join forces to help others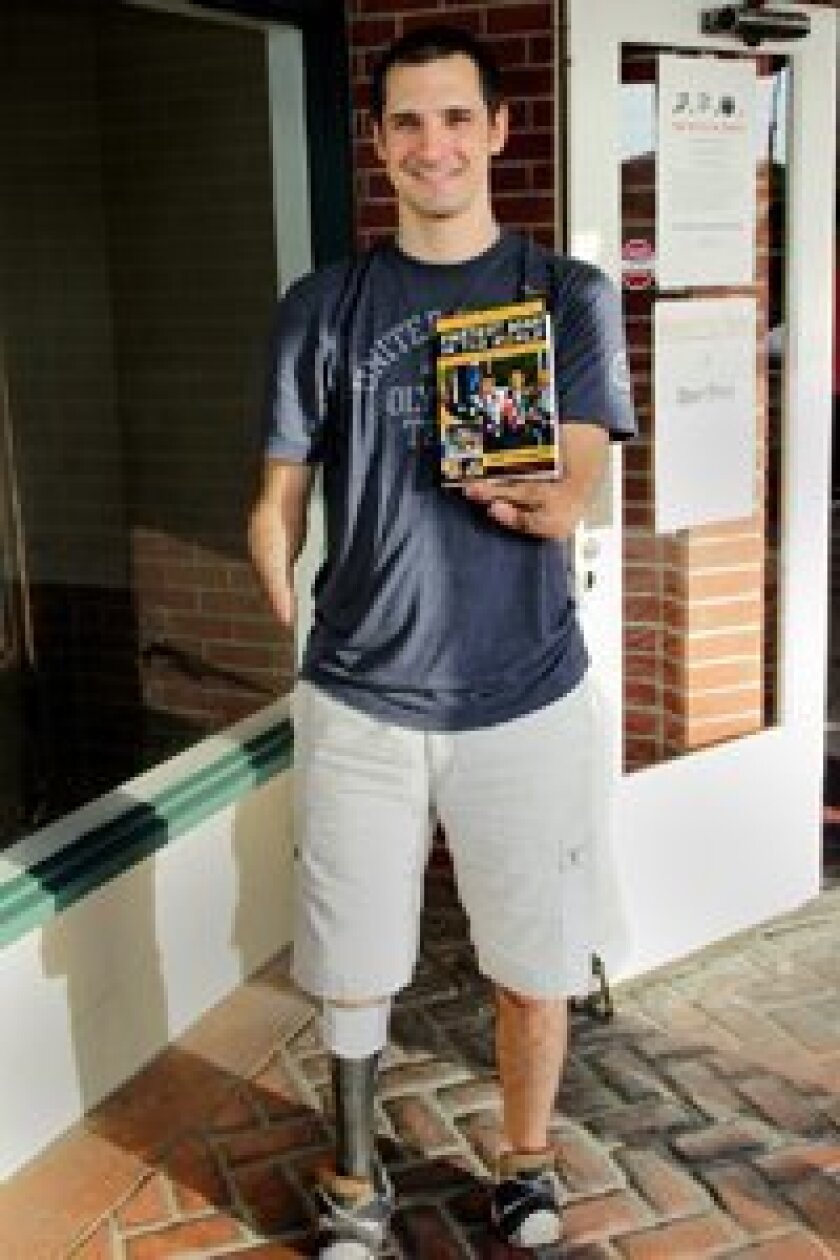 By Kathy Day
Bettie Youngs spent last Friday with a group of local cyclists and four-time Paralympic gold medal sprinter Tony Volpentest.
It wasn't just a social visit though. The Del Mar woman and the cyclists were part of a volunteer team from Fuller Center San Diego that was refurbishing two homes in Oceanside. Volpentest was on hand to share some words of inspiration with three young residents of the homes.
Youngs is executive director of the local affiliate of the national organization started by her friends Linda and Millard Fuller. Before starting the Fuller Center, Millard had founded and headed Habitat for Humanity, but left in 2005 after he and the directors didn't see eye to eye, Youngs said.
"When he was fired he decided he wanted to go in a different direction," she said, adding that he told her "I'm not done helping others have homes."
But instead of building homes and turning them and the mortgages over to the homeowners in need, this time he set out to find houses in disrepair, fix them up and rent them.
"We stay present with the resident and continue to improve these homes in low-income neighborhoods," Youngs said, noting that the homes are "very blighted so they chip away at the repairs."
That's what they were doing on Friday. The Fuller Center Biking Adventure groups have been riding since July 25 throughout 31 states, working on homes around the country. The group of 27 that arrived in San Diego after riding down the coast from Seattle gathered in Oceanside where they split into two groups.
At one home they painted the interior of the house, as well as the garage and fence and did general yard work, cleaning up what Youngs described as a "jungle." They also showed up with a playhouse for the family's two daughters.
Tony VolpentestAt the other, where Volpentest visited with the three young boys, the volunteers tore out the kitchen cabinets and replaced them with new ones donated by Novi Industries. Yardwork was part of the day there, too, as was power-washing the house and fence.
As part of the arrangement, Youngs and other Fuller Center volunteers visit the homes regularly to make sure the tenants are taking care of the properties. They also help when needed with temporary loans if they can't make a utility bill or need other assistance, Youngs added.
"This is not a handout," she said. "These are good, gracious homeowners."
Youngs said the work day was a blessing, seeing the families celebrate the improvements on their homes and the smiles of satisfaction on the cyclists' faces at the end of the day.
Having Volpentest there was an extra treat, she added. A friend of hers, he is also a customer of her company, Bettie Youngs Book Publishers, which is handling his new book "Fastest Man in the World: The Tony Volpentest Story."
Born without hands and feet, he grew up in Snohomish, Wash., where he learned to walk – and then run – with prosthetics and became a world record holder dominating the sprint distances. A 2012 nominee for the Olympic Hall of Fame, he is a member of the U.S. Olympic Commitee's Team USA Ambassador Program.
During Friday's time with the three boys, he said, he told them to "be determined and focus on the small things day to day that make the big things happen."
He also told them not to "listen to people who say you can't do this or shouldn't do that. If I had listened to them, I wouldn't have accomplished what I have."
That includes being a five-time World Champion sprinter who ran the 100, 200 and 400 meter sprints, and also set two world records at the 1992 Paralympics in Barcelona where he won gold in the 100- and 200-meter events and a silver in the 4x100 relay.
Besides visiting the Fuller Center project during his San Diego visit, Volpentest talked to Paralympic archers and cyclists at the Olympic Training Center in Chula Vista as they prepared to head to London and signed books Friday night at Movin' Shoes in Encinitas, where he was joined by Youngs and many of the Fuller Center cyclists.
Now a resident of Phoenix who retired from competition in 2001, he said in a phone interview on Aug. 11 that he recently went back into the gym and has started running on new "blades" like those worn by South African Olympic sprinter Oscar Pistorius, who became known as "Blade Runner." While he hasn't met the man who made history in London, they have talked about their lives and Pistorius is quoted in his book, Volpentest said.
"If I had gotten my new running legs a year ago," he added, "I might have made it to London."
He said he hasn't decided if he will compete again, but knows that he wants to use his platform to share his message and develop his newly formed nonprofit, the Helping Others Live Determined Foundation.
"I want to help other amputees with the desire and spirit to achieve and overachieve," he said.
As an example of what he can do, he told of being "chased down" in Costco by a mother with a son who was born with no feet. She told him her son "wanted to know where I had my prosthetic and shoes made."
So he connected the family with his prosthetist and helped their son get a set made.
As he relaxed beside the pool at a Newport Beach hotel on Saturday afternoon, Volpentest said hopes that sharing his story will help others understand that "being determined and focusing on the small things day to day makes the big things happen."
---