Free square dance classes offered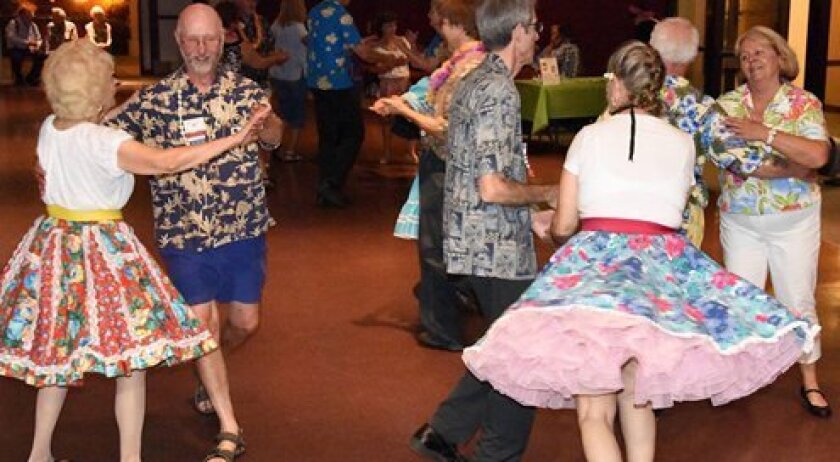 A free "Introduction to Modern American Square Dance" lesson is being offered by the Sandpipers Square Dance Club, which serves the North Coast from Oceanside to Del Mar, when the club's new dancer class starts up again on Tuesday, Sept. 9.
People interested in seeing if square dancing is something they would like to do are invited to try a class for free on their first visit. The classes will introduce participants to the modern version of the classic American Square Dance, which uses a wide variety of music styles. Dancers learn dance movements rather than memorize dance routines and follow the lead of the square dance "caller" as he or she creates the dance on the fly to fit the music.
The class is open to the public. Children age 10 & up are welcome to participate with their parents. Classes will be held Tuesday nights from 7 – 9 p.m. at La Colonia Community Center, 715 Valley Avenue, Solana Beach, 92075. New members will be accepted up until Tuesday, Sept. 23.
Square dancing is a fun activity that provides excellent exercise while relieving stress, according to Terry Thompson, the club's class manager. For more information, call Terry Thompson at 858-748-4219, or visit the Sandpipers web page www.SandpipersSquareDanceClub.org.
Note: Photos on this page were taken at Sandpipers Square Dance Club Hawaiian-themed event held Aug. 16 at St. James Parish Hall in Solana Beach. Photos by Bill Bonebrake. For photos online, visit www.delmartimes.net.
---