Friends of Gonzales Canyon seeks volunteers, clean-up event to be held April 26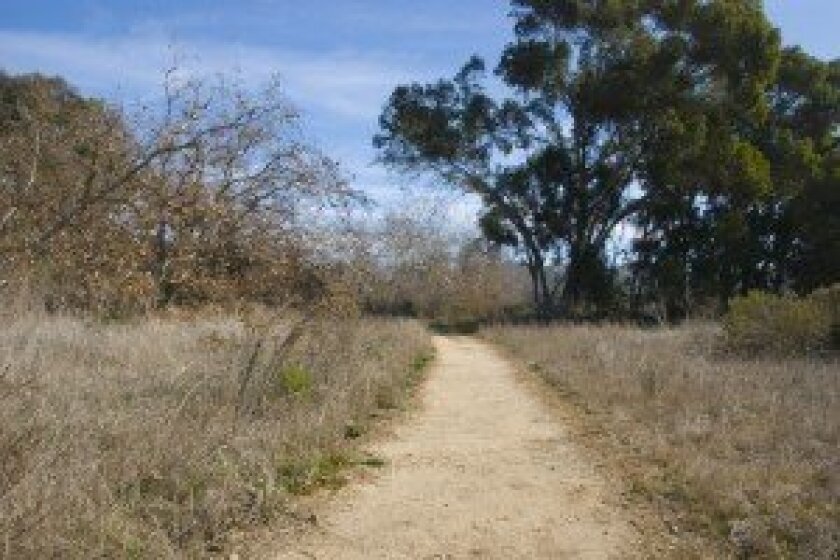 By Karen Billing
The Friends of Gonzales Canyon group is looking for local residents to come out and learn more about the resource that is right in their backyards.
On Saturday, April 26, from 9 a.m. to noon, the Friends will host a clean-up as part of I Love A Clean San Diego's Creek to Bay annual event. Volunteers will help remove some old chain link fencing from alongside the trail and thinning eucalyptus saplings from near the Sword Way trailhead.
Freddy Arthur, the captain of the Friends of Gonzales Canyon, hopes people will attend the event and continue to stay involved. Young children can get involved with litter pick-up and light weeding, older kids and adults can assist with larger projects led by group leaders and park rangers, including repairs to trails and fencing.
"We are looking for volunteers who want to come out to a really special place and spend at least three hours making it even better," Arthur said. "We are looking for rare individuals that will take a leadership role in making Friends of Gonzales Canyon an active and effective group for stewardship and enhancement of the canyon."
The canyon pops with wildflowers in the spring and several trails wind through to provide a natural escape. Gonzales stretches from communities around Torrey Pines High School out to Old El Camino Real and east to Pacific Highlands Ranch.
Arthur said Gonzales Canyon is special for its wide variety of habitats in a relatively small area. Plant communities include maritime succulent scrub and chaparral, all surrounding a lush strip of riparian woodlands with willows, sycamores and marshes that provide water for the abundant canyon wildlife. Arthur said trail users should know there is some poison oak in the riparian areas, as well, and should learn what it looks like each season.
"Several trails meander through the canyon and are open to dogs to leash, hikers, horses and mountain bikes," Arthur said.
The Torrey Pines Loop Trail, accessed off the trailhead near Torrey Highlands Park off Lansdale Drive, is the most challenging with 3.5 miles of sometimes steep terrain.
The Sword Way Trail is about two miles of level trail and it can be extended by taking a detour to the Lagoon Trail that winds through the western end of the canyon.
San Diego Canyonlands staff has been working with the city's open space park rangers and community members to care for Gonzales since 2006.
"Our open spaces are a priceless resource in a rapidly developing area," said Eric Bowlby, director of San Diego Canyonlands. "San Diego County has more threatened and endangered species than any other county in the contiguous United States and many of those species are dependent on our local canyons for habitat."
Bowlby said while park rangers keep an eye on these areas, they need volunteer help with trail improvements and restoration projects and to keep people aware of concerns within the canyons.
There are over 150 canyons throughout urban San Diego and San Diego Canyonlands has several Friends groups that promote their mission to protect and restore the natural habitats by fostering education and community involvement, stewardship and advocacy.
Last year, SDCL capped a three-year mission to get nearly 6,600 acres of city-owned canyons and open space dedicated for permanent protection, an act supported by the Carmel Valley, Del Mar Mesa, Torrey Pines and Torrey Hills' Community Planning boards.
Now that the canyons have become dedicated land, a city-wide vote must be held to use the land for non-park or non-open space purposes.
As part of the dedication and planning for the future, the canyon has been going through a Canyon Enhancement Planning Program.
"We will be focusing in the coming months to increase local knowledge about the canyon through guided hikes and to foster stewardship with monthly cleanup events, trail work days and restoration projects," said Arthur.
Two Mesa College interns are in the final stages of mapping the existing conditions in Gonzales and community planning workshops to develop an action plan will begin in June. Arthur said he hopes residents will get involved in this important process.
To register for the April 26 cleanup, the Gonzales Canyon site is listed under North County Inland, Zone 2 at CreekToBay.org. Register or simply show up that morning ready to have fun in the canyon.
If interested in joining Friends of Gonzales Canyon, email Freddy Arthur at freddy@SDCanyonlands.org. Those interested in getting out on the trails can find a complete trail map on the San Diego Parks and Recreation website:
sandiego.gov/park-and-recreation/pdf/gonzalestrailmap.pdf
.
---