Friends of the Poor brew support for charity with Friendship Teas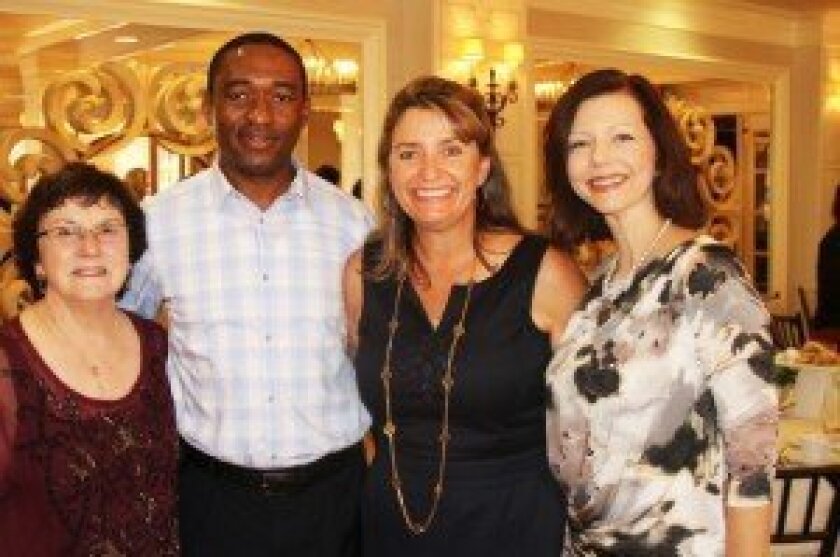 By Jeanne Ferris
A fundraiser called the Friendship Tea for the Friends of the Poor was held at the Rancho Valencia Resort on a hot, muggy day. Servers offered tall glasses of crystal clear ice water in greeting to each person who came down the stairs to the elegant ballroom.
In Nigeria, African women will walk barefoot for eight miles, three times a day, for a pitcher of cloudy water to serve their families. The weather here may be the only similarity to Nigeria. However, through FOTP, the commitment to faith and education are the ties that bind Americans to Africans across the Atlantic Ocean.
The only Nigerian and man present at the Friendship Tea was Father Lawrence. An attorney and a priest, he lives at the Catholic Diocese in Nigeria.
"When I first came to America, everyone was preparing for Thanksgiving Day," he said. "I was astonished to learn it was only on one day out of the year. In Africa, every day is Thanksgiving Day. But I was even more confused when I heard about Black Friday. I thought it was a holiday for black people. So I went to Fashion Valley mall to celebrate."
His wit and joy lit the room with laughter and his benediction included a blessing of gratitude for America.
In 1982, Dr. Anita Figueredo co-founded Friends of the Poor as a nonprofit with Jean Colarusso and Mary Rupp. Since then, it has ministered to the poorest of the poor in the U.S., Mexico, Guatemala and now, Nigeria. FOTP is unique in that 95 percent of its donations go directly to its projects.
"There is no overhead and all directors work without pay," said Jean Colarusso, president of FOTP. "I buy stamps out of my own pocket to save on administrative costs. The 5 percent (used for administrative costs) goes to the accountant who keeps us honest."
A La Jolla resident since 1973, Colarusso has inspired a core group of volunteers who also happen to be childhood friends and who also step up to chair the luncheon each year. Marcella Johnson inherited so many tea sets from her mother-in-law; she hosted the first two labor-intensive High Tea fundraisers in her backyard. Today, only her teapots are used — filled with colorful wildflowers — and the venue is underwritten.
"Mrs. C is my inspiration! She leads me to the flame — people who need our help, no matter what continent they live in," said Cynthia Walsh, a veteran volunteer. "Of course, our long history makes it all the more precious."
Colarusso is a petite and soft-spoken octogenarian, a former lab technician who has raised three children.
"She was the best mom," said Mary Ann Stieber, Colarusso's only daughter. "We were always her priority."
When Colarusso speaks, you find yourself leaning in. She is a quiet dynamo of determination who has seen the completion of seven sustainable, productive projects that house both Christians and Muslims, with five more projects in process.
A brave and remarkable feat in Africa's turbulent political climate. In fact, neighboring Muslims and the Diocese both donated the land needed.
All of the boarding schools have 24-hour guard patrol with 6-feet-high walls around the entire perimeter to protect the women and children. It is a campus of permanent lockdown. This has produced safe, happy and healthy children. All of the teachers are trained in London, then return to FOTP to teach.
This success has earned Colarusso her moniker as "Mama" Africa.
To date, funds are needed for the completion of: The Village of Mary Haven, a self-sustaining complex for orphans who otherwise would be sold into slavery; Stella Maris Academy (K-6th); a trade school/job training center; a state-of-the-art science center; and The Marriott Daughters' Day Care Center.
Most recently, FOTP received a check from the Vatican for $15,000 for Mary Haven —written on an account from Argentina, Pope Francis' homeland.
Also needing funds are The Mother of Mercy HIV Clinic and Hospital (of the more than 500 births in their specialized HIV birthing room, not a single mother or newborn has been lost), Clean Water Projects, Home Health Care Services, Holy Family Orphanage (the orphans here are cared for by widows in need of work), Teen Center and the William Kupiec Academy for Girls (first graduating class is in 2015 and the future leaders of Nigeria).
Mail tax-deductible donations to Friends of the Poor, c/o Jean Colarusso, President. 8460 Whale Watch Way, La Jolla, CA 92037. Or donate online at
www.friendsofthepoor-nigeria.com
.
---