Girl Scout Troop 1248 members help families at UCSD Bannister House
Girl Scout Troop 1248 recently helped the UCSD Bannister Family House as part of earning their Girl Scout Bronze Award. Similar to Ronald McDonald House, Bannister House is an organization that houses families of hospital patients. Bannister House gives these families, most of whom live out of the area, a place to stay and a stable home environment until their family member is well enough to leave the hospital.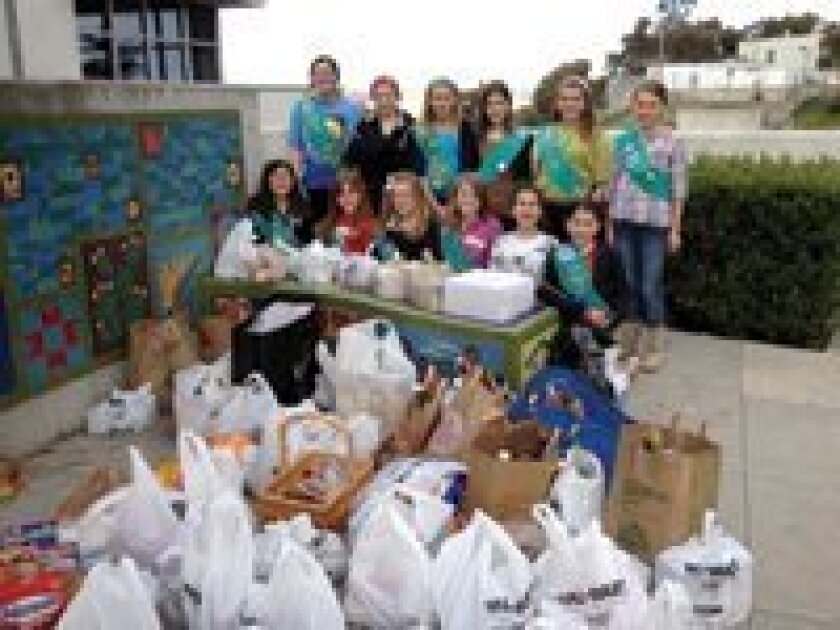 As part of their Bronze Award service project, Troop 1248 set up a canned food drive for Bannister House at Solana Pacific Elementary School and in troop members' neighborhoods. The troop hand delivered the canned foods to the Bannister House, which is located in Hillcrest, and cooked residents a homemade taco dinner. Many families came to the dinner and remarked that the tacos tasted amazing.
The following are quotes from some of the girls in Troop 1248 on how they felt after the project was complete. Jenny DeSantis: "I felt that I did something decent for other people and that it was reasonable; it was something that had to be done." Claire Andrews: "I felt good doing something nice." Daisy Waters: "It made me feel really good doing something nice." Delaney Jacobs: "I felt great giving them food." Jessie Frimodig: "I thought it was awesome really giving them food at a time when they needed it." Deanne: "I felt awesome." Nina Mao: "I felt good giving them food that they needed." Shayna Leeds: "I feel that it is a nice thing to do." Lucy Rose: "I felt glad talking to them and giving them food." Gretchen Burklund: "I was glad to be able to help."
Overall, the troop members felt it was a valuable experience to give to others and work as a team throughout the project.
---