Global charity efforts come full circle at Santa Fe Christian in Solana Beach
By Claire Harlin
Earlier this year, the third-grade class at Santa Fe Christian Schools helped their upperclassmen by gathering shoes and other necessities for the high schoolers to take to a Russian orphanage in February — one of a dozen worldwide mission trips the Solana Beach private school conducts each year. And on March 28, those third-graders got a chance to steer their own charity project by assembling 400 Easter baskets to deliver to kids in San Diego's City Heights as part of a Bridge of Hope project. They utilized the help of four upperclassmen who had delivered the donations to the Russian orphanage, as well as seven visiting Russian students who had also assisted on the Russian orphanage project.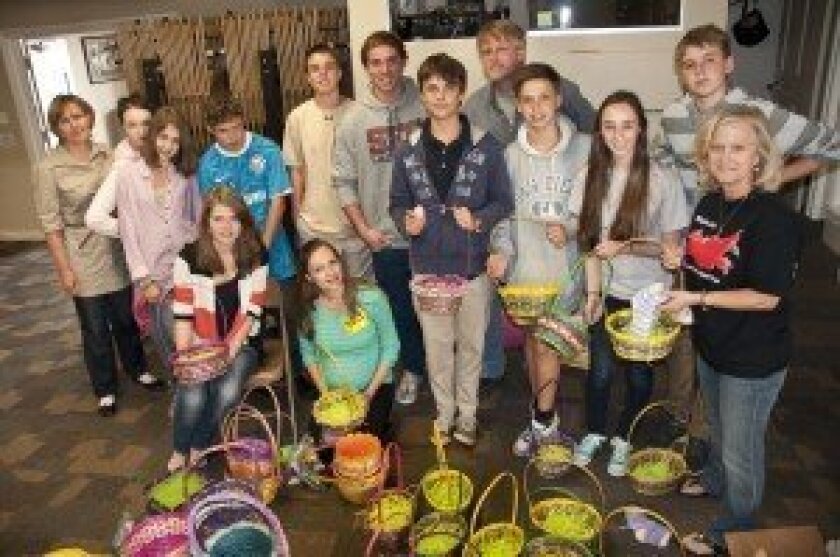 The partnership between the lower and upper classes is part of a new effort implemented by the school this year to let the younger students learn the meaning of charity while also getting to be a part of the older students' mission trips to places such as Thailand, India, France, Uganda and Rwanda, just to name a few. Previously, the upperclassmen prepared on their own, however, lower school principal Hannah Park said the new model lets the younger kids "live vicariously through the upper school students, while also helping them in whatever way they need for their trip."
The Easter basket project isn't a new endeavor for Santa Fe Christian, said parent volunteer Melissa Drake, who steers the effort in partnership with Bridge of Hope, a nonprofit that helps those in need by supplying necessities in times of transition. As a Bridge of Hope volunteer, Drake got the idea to employ the help of the school's third-graders about four years ago, and the project has since grown to involve the entire lower class.
"It went so well I asked the principal to open it up to the whole school," said Drake.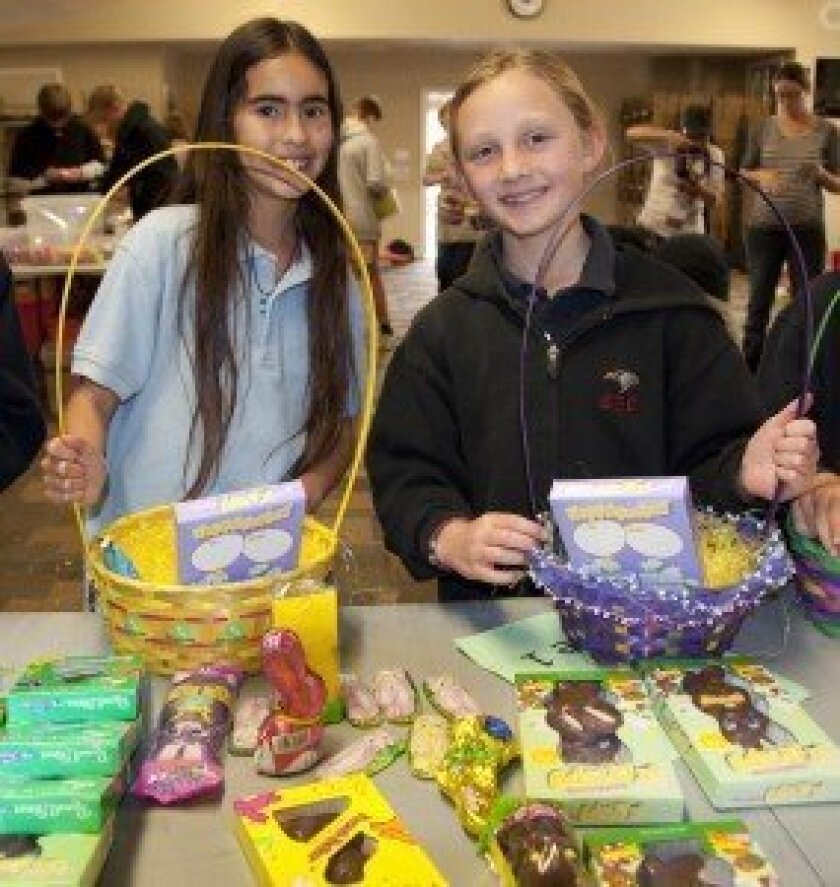 The baskets were filled with daily necessities, toys and candy brought to school in a collaborative effort by the students, and they were delivered on March 30 to a park in City Heights by Bridge of Hope volunteers. Bridge of Hope has for years been helping people, from refugees to single moms to the elderly, fill their homes with furniture or closets with clothing — or assist in other specific needs.
Park said the Easter project is only one of many charity efforts the school conducts every year, including a large Thanksgiving project in which the entire school community raises money for and packages more than 60,000 meals to be delivered during the holidays.
Kayla Stults, a freshman who went with "Team Russia" on the mission trip in February, said she had wanted to go for years and was happy to "jump in with two feet" to learn the culture while helping kids in need. She said it was exciting to work again with the Russian students who also participated in the mission. The timing of their recent visit aligned perfectly with the charity efforts of the lower class.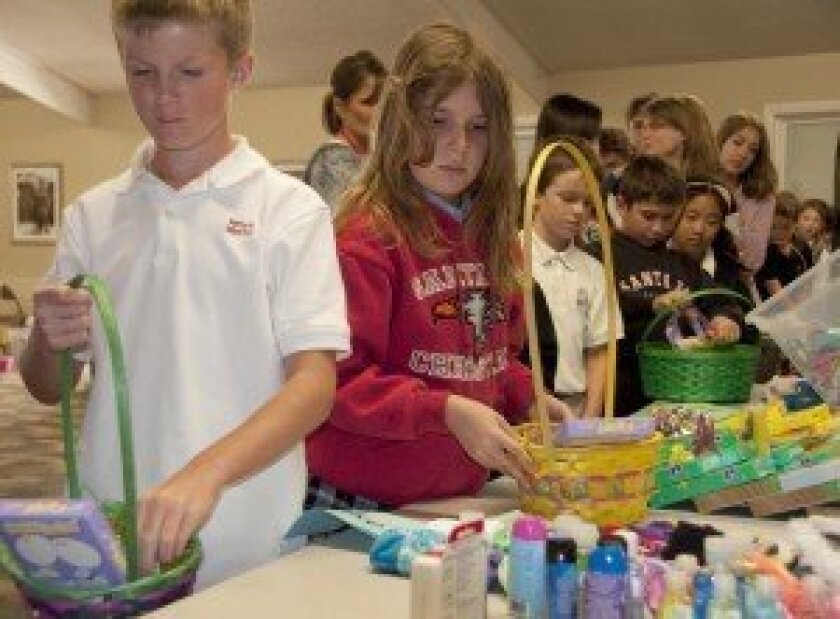 "I like that we are doing our part to make their Easter as good as an experience as possible," Stults said.
Park said her own daughter, a sophomore at Santa Fe Christian, recently left for a mission trip to France, another of the school's global partnerships. She stressed that the school strongly enforces the notion of "helping outside ourselves," and the Easter basket collaboration was a perfect example of that.
"For our students to go all the way to Russia to do service, and then for the students from Russia to visit us and get to do this for our neighbors in City Heights, it worked out perfectly to make it a mission trip for them as well," said Parks. "And it's important for students in affluent areas to understand that you don't have to go outside the country to find others who need help."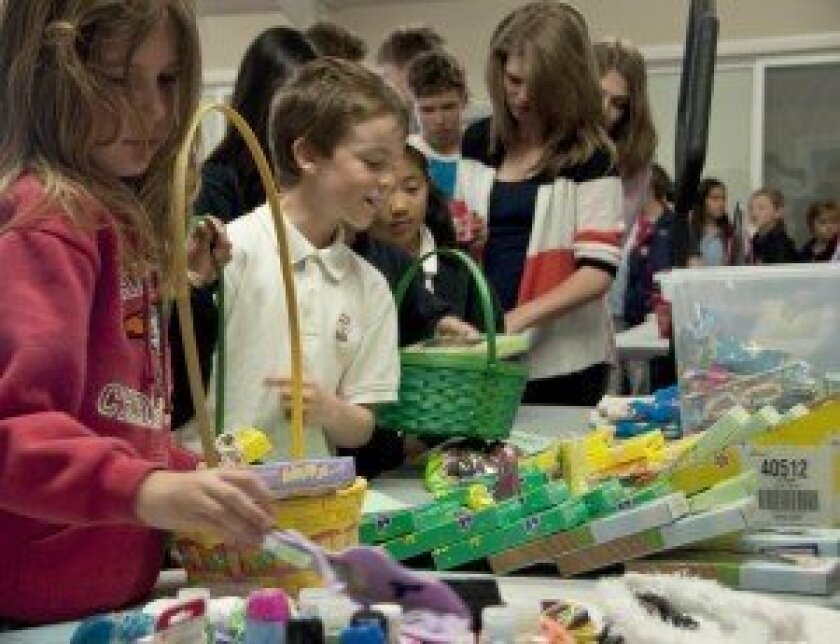 For more information on Bridge of Hope, visit
, and for local volunteer opportunities email Drake at melissadrake228@gmail.com. For more information about Santa Fe Christian, visit
.
---