Grassroots soccer program scores big with Mia Hamm visit to Carmel Valley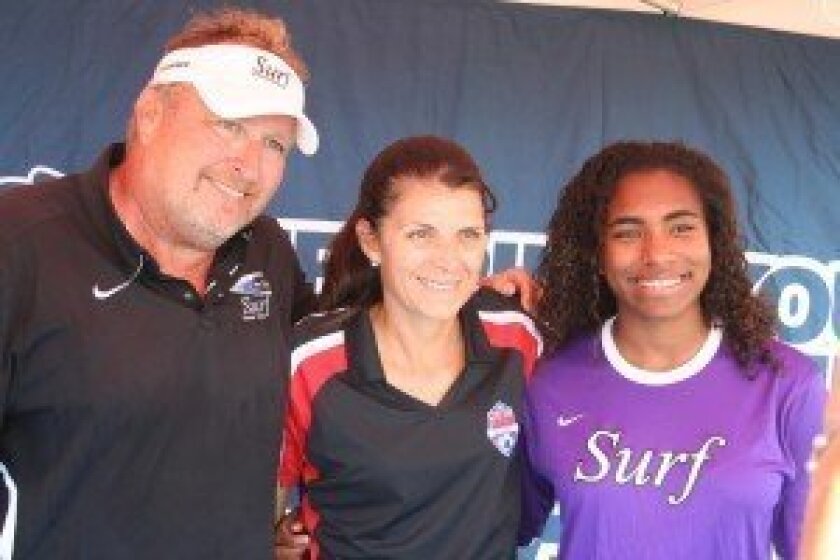 National Guard enlists star player to publicize option for college funds
By Karen Billing
Mia Hamm, the inspirational World Cup champion and Olympic gold medal soccer player, visited Carmel Valley last week as the San Diego Surf Soccer Club hosted a clinic in partnership with The National Guard.
Surf players were excited just to share the same turf as Hamm at the San Diego Polo Club fields on Aug. 21, as Hamm is the third most capped female player in U.S. Soccer history. Until 2013, she held the record for the most international goals scored by any player in the world, male or female, with 158.
The National Guard, a major sponsor of U.S. youth soccer, has embarked on a Grassroots Soccer program to inform and educate high school-aged soccer players on how joining the Guard can help them reach their goals by helping pay for college education and develop real career skills.
The National Guard has collaborated with players like Hamm to host clinics at soccer clubs throughout the country, where young athletes go through an Army-style experience before getting training tips from the experts.
"There's so many elite players in San Diego, and this is a great opportunity for them to learn from someone who played in the World Cup and in the Olympics, proudly representing the flag," said Diane Scavuzzo of
"Surf is really excited about being able to sponsor the event."
Hamm has been involved with the National Guard program since last summer when she traveled to the U.S. Youth Soccer National Championships in Baltimore. She started doing clinics with Elite Clubs National League, to which several Surf teams belong.
"I'm from a military family: My dad was in the Air Force, and that was my life growing up," Hamm said. "The National Guard supporting youth soccer is extremely important … this is another option to pursue studies collegiately, because not everyone is going to get a full-ride scholarship."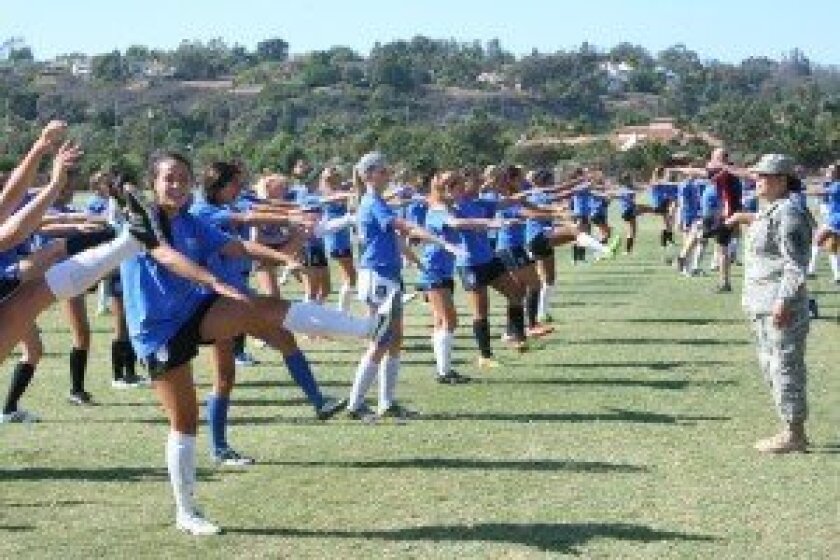 SSG Dana Darvin-Varab, a recruiting and retention non-commission officer, said that's exactly what happened for her.
She used the National Guard's tuition assistance to help get her where she needed to go as she played soccer for a college in Arizona, but wasn't a scholarship player. The National Guard helped give her an opportunity to go to school and find a career.
"Sometimes soccer is not going to be the only option, and the National Guard is a good back-up plan," Darvin-Varab said.
Hamm said she loves the opportunity to get out and interact with the girls at the clinics.
Throughout the year, she runs Team First Soccer Academy camps with her former U.S. teammates Kristine Lilly and Tisha Venturini-Hoch.
"We get to share our knowledge and experience with young girls across the country," Hamm said. "And it's a great way for us to be together, too."
Last week, Hamm met and shared sage soccer wisdom with the Surf girls, who continue to be inspired by Hamm, despite many of them being just babies when her team won the 1999 World Cup.
At the clinic, she met with one top player who is looking to follow in her footsteps, Catarina Macario. Macario is this year's Elite Clubs National League top scorer and a member of Surf GU16 team.
"You just have to take every opportunity given to you," Hamm told a star-struck Macario. "Make the most out of every opportunity, whether it's a championship game or a simple pick-up game. See everything as an opportunity to show you're prepared. Be respectful of the environment and yourself and what you bring."
---