High school district to vote on boundaries for new Carmel Valley middle school in May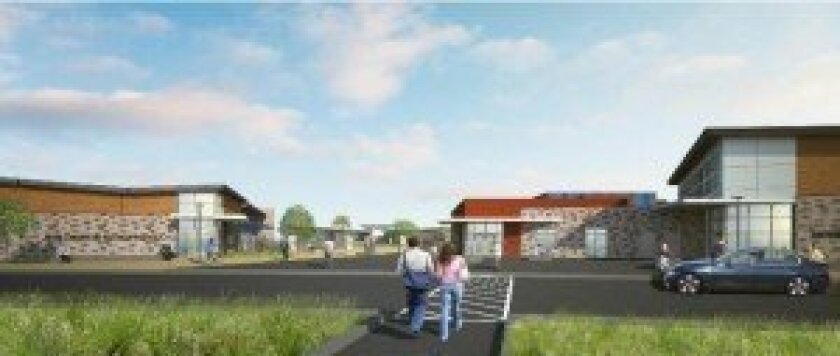 By Karen Billing
San Dieguito Union High School District is close to setting the boundaries for its new middle school in Pacific Highlands Ranch, set to open in fall 2015.
In the initial proposal given at a community workshop held on April 15 at Carmel Valley Middle School, the new boundaries would include students of Ashley Falls, Sycamore Ridge and the new elementary school, Solana Ranch. The board is expected to vote on the boundaries at its May 15 board meeting.
"Our boundary mirrors the elementary school districts so kids coming out of sixth grade don't get split between two middle schools, that's not fun for families or for kids," said Michael Grove, associate superintendent of educational services.
The district plans to open "Middle School 5" initially with a class of 200-220 seventh graders. The following year the district would add another group of seventh graders to bring its enrollment up to about 500. With full build-out by 2018, Grove said they expect the enrollment to be 1,000.
The boundary extends to the eastern-most part of the district — any new development in Pacific Highlands Ranch will also feed into the boundary and cause the school's enrollment to grow over the next four or five years to 1,000 students.
Grove said he is getting a lot of calls about people buying homes in PHR's new Watermark development — he assured people that students from that community will be able to attend the new middle school.
With the new middle school, Grove said they want to draw student enrollment from Carmel Valley Middle School, which is an extremely full campus, with over 1,500 students. He said by year one of the new school being open, Carmel Valley Middle School will shrink to about 1,250 students and by year two the campus will be down to 1,000 students.
One parent expressed concern that the new school's boundaries don't resolve Carmel Valley Middle School's overcrowding problem soon enough.
"To have 200 there and 1,200 here seems so out of balance to me," she said, requesting they consider expanding the boundary and adding Solana Pacific or Sage Canyon.
Grove said that would actually over-enroll the new middle school. He said it would work for a year or two, but they would have to redraw boundaries after the new development is built.
"We don't want to keep redrawing boundaries, we want to make a decision that's going to work for the long term," Grove said.
In addition to the boundaries, the meeting also featured discussions on planning, scheduling and programming of the school.
"Middle School 5" as it's being called currently, will be a full, comprehensive, traditional middle school, just like the district's other middle schools.
In May, the district hopes to assemble a planning team made up of parents, staff and even students that will work on issues such as the school name, colors, mascot, program recommendations and the bell schedule. A principal is expected to be hired by fall and will work with the planning team to make recommendations to the board about "the nuts and bolts of the school," Grove said.
Phase one of the school that will open in 2016 will include a two-story, 22-classroom building, the art and music rooms and performing arts center, basketball courts, the track and fields.
There will be interim portables for food service, administration and the media center — much like how CCA opened 10 years ago.
Eric Dill, associate superintendent of business services, said the district aims for the campus to be as green and energy efficient as possible.
"All buildings will be built to the CHP (Combined Heat and Power) standard, lowering utility usage," Dill said. "We will make use of daylight to reduce the amount of lighting needed, which also helps cool down the facilities and reduces the demand on HVAC (heating, ventilation and air conditioning)."
The second phase (slated to begin in 2016) will include the permanent administration building, a multi-purpose room and locker room building, the media center and food service building.
Phase three will be based on need and could begin sooner or later depending on how development in PHR progresses. The third phase is estimated to begin in fall 2018 and includes another two-story classroom building.
As many parents have asked, Grove said there is no enrollment affiliation with neighboring Canyon Crest Academy, which remains a school of choice in the district along with San Dieguito Academy. All other district schools have boundaries.
One parent asked why CCA couldn't have boundaries because as the school currently conducts enrollment, a student who lives nearby might not get into their neighborhood school through the lottery system.
While Grove said he would save the high school selection issue for another day, he did say that the system the district uses has been successful for the most part.
"About 98 percent of the students get into the school they want and a lot of families love that they get to choose their school," Grove said.
---