In the heat of summer, Torrey Pines High's football team prepares for fall
By Rob LeDonne
Summer vacation is a time for many high school students to hit the beach, make some extra money and, above all, relax. For the members of the Torrey Pines High School football program, however, summer is mostly about gearing up for fall. Like warriors getting battle-ready, teammates prepare themselves both physically and mentally all summer long for an autumn full of games that capture the school's and community's attention.
On this particular Tuesday, it's 9 a.m. sharp when the members of the team arrive at the gym on the otherwise quiet campus of Torrey Pines High School. Before anyone has a chance to think, Coach Scott Ashby, a 20-year veteran of the football program at TPHS, is going through the day's training routine and the teenagers are doing a variety of circuit workouts, whether it's inside with weights or outside on the field.
"We're very fortunate to be part of a school where kids want to work hard, and we're very proud of that," Ashby explains later at his office a few feet away from the gym.
That work ethic could stem from the fact that football at Torrey Pines has a long and storied history. Having churned out numerous players for the National Football League, its record is distinguished in Southern California. When Ashby first joined the football program as assistant coach (under the now-legendary Ed Burke who retired in 2007), the school won its first league title, then went on to reign supreme over El Camino for the CIF Division II title. Since then, numerous championships have followed.
Now it's all about preserving that legacy which includes buckling down during the summer, and Coach Ashby and his team wouldn't have it any other way.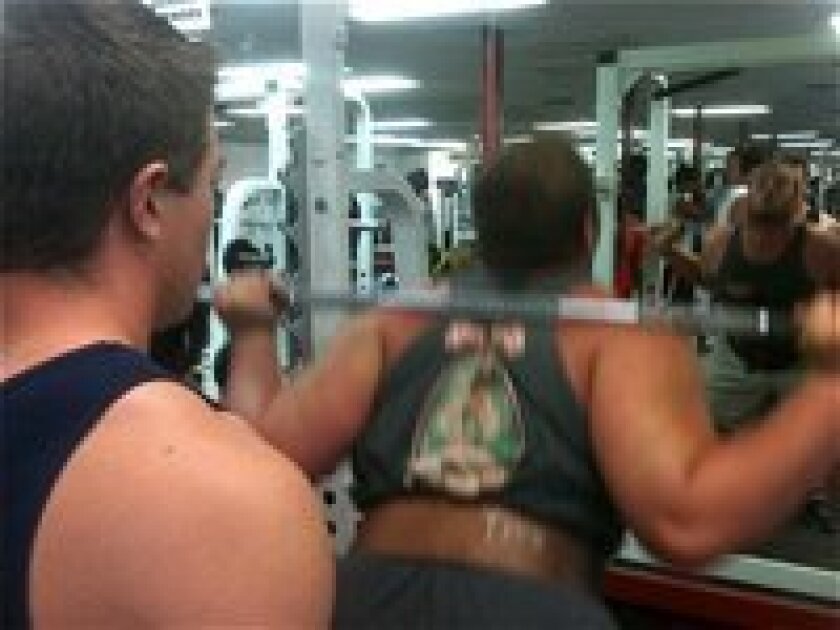 "As a high school football coach, not to sound trite, but you have to be all in; this is what you do. This kids want to come out and perform (to the best of their ability)," Ashby said.
"I know Torrey Pines has a good history and I wanted to be part of something big," explained Jack Condon, a senior who has been part of the team for the past four years. "This is what it takes. It's a lot to handle but you're not here all day; I love coming here and lifting. Sometimes it gets tough, but I look forward to it. It's fun."
Condon also spoke about combating a perception that most football players just simply hop on the field in the fall.
"In terms of intensity, it's pretty consistent throughout the entire year. Even during the season we have to prepare for new teams."
Coach Ashby, who says he doesn't get tired mentally of the demands and pressure of the job, explained he "absolutely gets physically tired. Everything from training, to planning to practices, to scouting takes a bit of time. Then, during the season, it becomes a seven-day a week job. Winter break is really the first time you're able to really relax."
Roland Wheeler, an incoming sophomore who plays junior varsity, points out the key factor that enables many want to work as hard as they do: "I feel like our team is a family. We really know each other and spend a lot of time together. We're certainly pretty close."
Coach Ashby agrees with that sentiment: "Teaching and coaching is a very rewarding profession. Players come to you with all kinds of different issues. In my years as a teacher and coach, I think I've been involved with trying to help in every kind of situation."
The camaraderie of the football program is apparent in the weight room during the morning training session; teammates cheer each other on while trying to reach new lifting goals and pushing themselves a little harder, and all the while Coach Ashby is right there with simultaneous stern and positive encouragement.
"This has all made me a lot more mature about everything. I manage my time better, I manage my grades better," explained senior Andrew Maneval, concerning the impact that summer training and the football program in general has on his life. "I never know what to do with myself when the entire season finally wraps up. I find myself just sitting in the team room."
Despite a two-week, no-contact period, (implemented so as not to overwork the players and give them at least a little chunk of vacation time), both the varsity and junior varsity teams prepare pretty much the entire summer. Throughout August, the full team will meet every day of the week besides Sunday, doing everything from working out, to on-field practices, to scrimmages towards the end of the month. It all leads up to their first official game on Aug. 31 versus San Pasqual.
For Coach Ashby and the team, all of the hard work becomes worthwhile when hitting the field in the fall. "The beauty of coaching is that you get to be part of people's lives, and become totally invested in their accomplishments."
For more on Torrey Pines football, check out the web: www.tphsfootball.com/
---