Kitchen Shrink: The pineapple of my eye – summer's sweetest pickens'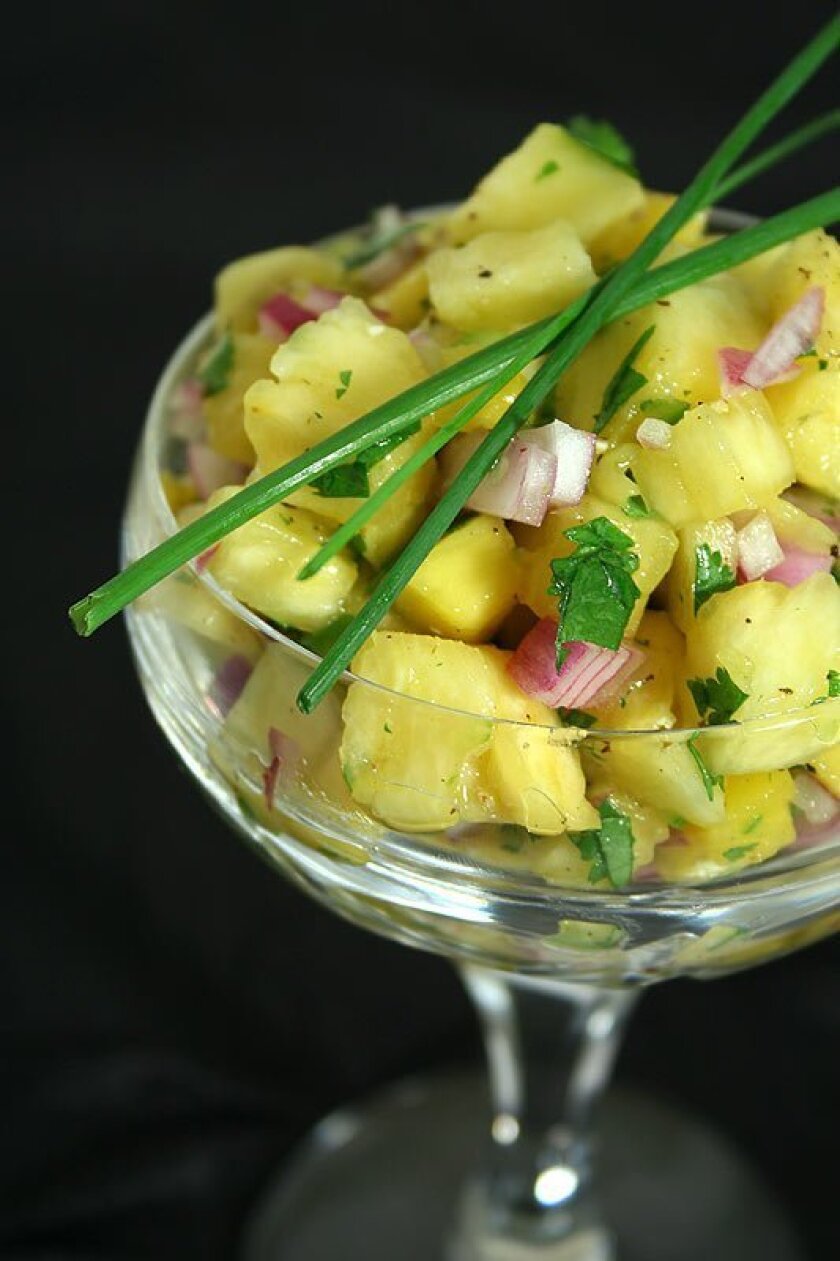 catherine-kaufmanBy Catharine L. Kaufman
A friend was throwing a kitschy "Mad Men" dinner party, taking a nostalgic trip back to the cocktail culture of the '60s. Everything was flawless down to the Jackie O' tablesetting, classic Caesar Salad and flaming Steak Diane. The New York cherry cheesecake was pure bliss, but the pineapple Jell-O mold was a flop — -runny despite being refrigerated overnight.
It took a food detective to find the root of the problem. Elementary, my dear dinner guests, it must be the raw pineapple.
This tropical beauty contains an enzyme called bromelain that breaks down proteins. So when added to gelatin derived from bovine bones or hooves, it prevented the usual congealing.
To avoid this phenomenon, simply boil the pineapple in water for a few minutes, or use canned.
June is National Fresh Fruit Month, so let's kick it off with a primer on the summer's quintessential favorite that is usually very accommodating.
Tropical Trails
Pineapple's etymology can be attributed to European explorers who thought the fruit resembled a pinecone while its flesh was reminiscent of an apple. During Chris Columbus' West Indies' expeditions he scoped out the divine pine and brought it back to Spain where it was coveted by Queen Isabella. The Spanish introduced the pineapple to Hawaii, which now produces one-third of the world's crop.
The Boons of Bromelain
The intoxicating aroma pulls you in, and the sweet, juicy flesh hooks, but that's not all. Pineapple contains bromelain, an anti-inflammatory enzyme that aids digestion, is linked to alleviating sinusitis, a sluggish pancreas and putting the skids on blood clots thereby reducing stroke and heart-attack risks.
Packed with Vitamins C, B1, manganese and copper, this tropical warrior is an antioxidant powerhouse that boosts iron absorption, strengthens the nervous system, and keeps blood pressure and heart rate at an even keel. It's also a good source of fiber so the pipes run smoothly.
Fun Fruit Facts
The pineapple is not a single fruit, rather a cluster of more than 100 fruitlets. Pineapples not only grow at a snail's pace, about two years to reach full size, but the plant is a poor producer, sprouting one or two pineapples during its life cycle. Of the 100 varieties, the most popular is the Smooth Cayenne, followed by the Red Spanish with a hearty skin that makes them durable for shipping. The hefty Sugar Loaf and the Golden Supreme have a lower acidic content and greater sweetness. One word of pineapple caution: eat in moderation, as this acidic fruit can be irritating to some.
Pick a Perfect Pineapple
When picking a winner, you must smell, look, touch and pluck. If it exudes a sweet, fragrant aroma, then it's ripe. No smell means it's unripe, while a fermented odor means it's overripe.
Look for a golden glow, and avoid one that is mostly green or has soft or brown spots. Another telltale sign that it's ripe comes from tugging on the top leaves: if they're easily plucked, then it's a keeper.
To hasten ripening at home, simply prop upside down on its leafy head.
2006-04-24_salsaPineapple Salsa
Whip up this killer salsa to top a turkey burger, wild-caught grilled salmon or dig in with a batch of blue corn chips.
Ingredients
1 1/2 cups fresh chopped pineapple
1/4 cup each yellow and red peppers, diced
1/4 cup red onion, diced
1 tablespoon chopped cilantro
1 jalapeno, minced
1 Persian cucumber, minced
Juice from one lime
Method: Combine ingredients in a glass bowl and refrigerate.
For additional pineapple recipes, including the Mad Men-inspired Blue Hawaiian Cocktail, email kitchenshrink@san.rr.com.
Cookbook author visit
Legendary Chino Farms has become a haven for cookbook-signing events through the Good Earth/Great Chef Series. The third author is rising star Jeanne Kelley with her "Salad for Dinner: Complete Meals for all Seasons," touted as, "A cookbook for the way we eat now, full of brilliant recipes that put greens at the center of the table."
Join Jeanne from 11 a.m. to 1 p.m. Sunday, June 3, for a book signing, and nibble on her salads prepared from gems picked at the farm, paired with olive oils from a local producer and artisan beers.
To pre-order books, e-mail greatchefseries@gmail.com. Chino Farms is at 6123 Calzada del Bosque, Rancho Santa Fe.
---