Life is a 'string of surreal situations' for exploding rock band 'The 1975'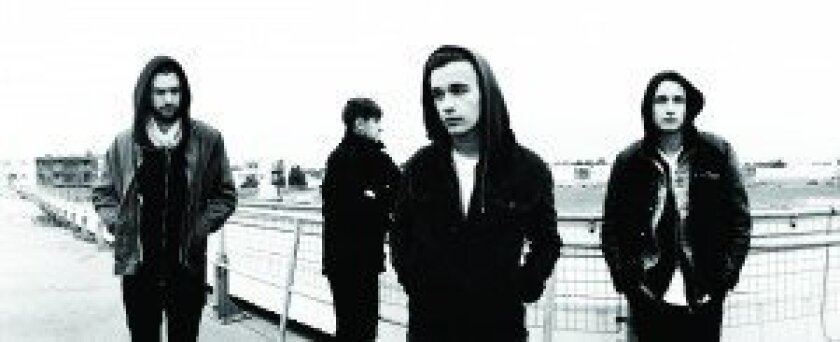 By Rob LeDonne
It's a damp, October afternoon in Portland, Oregon and Matthew Healy is being greeted by throngs of screaming fans. "This is what my life is now," he yells over the phone. "Just groups of women waiting outside of doors for me to leave places. This year has been a delirious ride for us."
Healy isn't kidding. As the frontman for Manchester, England-based band "The 1975" he went from simply recording various tracks in his bedroom with his friends in the UK to becoming one of the music industry's most buzzed-about bands and a runaway success story. Their debut album was a smash hit in the U.S., and went to number 1 in England and Scotland (besting Nine Inch Nails' highly anticipated comeback album), and even earned the boys a coveted gig supporting The Rolling Stones this past summer. "My life right now is a string of surreal situations strung together," explained Healy. "To have this go from our bedroom and be as grassroots as that to being the hottest band at the moment... I don't know how I feel about it or how I'm expected to feel."
Healy and the band are currently on the road for a headlining tour which will take them to Solana Beach's Belly Up Tavern on Nov. 3, and a long way away from their English roots. "To me, Southern California is synonymous with the skate movies I watched when I was a skate kid who couldn't skate. When we got here, we found it's almost like a liberal haven that's gone a bit too far," Healy says of his San Diego perceptions. "When you first go on tour, you have predetermined ideas about what shows in different cities will be like, but I realized that I shouldn't assume so much. For example, our show in Salt Lake City was just as great as our show in New York. I'm really looking forward to the Belly Up gig, though. Everyone's so relaxed. I love the attitude there."
Overall, Healy said his tour through the United States has been "logistically intense." While he's been to the U.S. numerous times before, his first time here with the band was for Austin's South by Southwest Music and Arts Festival in April; while there, they performed 11 gigs in five days. Since then (in support of their self-titled album which dropped in September), they've notched 250 performances so far and are due to climb up to 320 by the end of the year.
"There's been loads of highlights for us so far, it's difficult to pick them apart," Healy explains, citing performing alongside Mick Jagger as one of them. "I also met David Byrne (of Talking Heads fame) the other day and he was as weird as I hoped for. It's been nice, because the bands that we're fans of are now fans of us."
Today, a variety of their songs (including singles "Sex" and "Chocolate") are getting major, mainstream radio airtime and sit on both Billboard and iTunes charts, getting there thanks to an equal amount of adoring music critics and fans around the globe, including the very ones waiting outside for Healy on this particular afternoon in Portland. "We haven't been provided with any hindsight, it's constantly on to the next thing. People ask me what I'm worried about, and I'm worried about slowing down," he notes before he hangs up the phone to go back to tending to his waiting group of screaming fans. "At the moment we're burning so bright."
The 1975 perform on Sunday, Nov. 3, at Solana Beach's Belly Up Tavern. Visit www.bellyup.com.
---