Little Rascalz Soccer offers unique, fun sports program for kids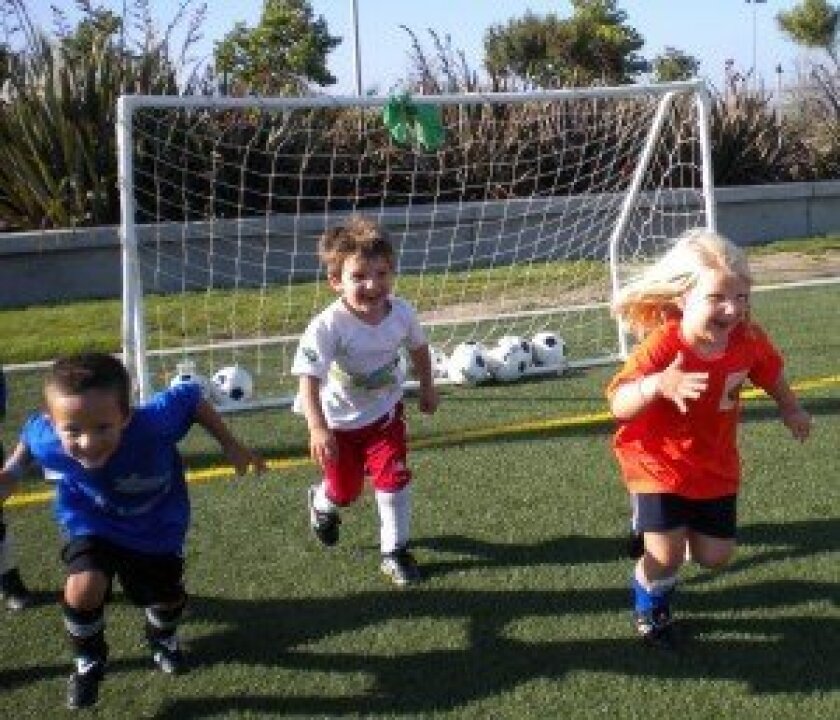 By Karen Billing
Beth Hooshidar is in the business of sloppy kisses and snuggle zones, silliness and soccer balls. As the owner of Little Rascalz Soccer, she has brought soccer to the younger set (children ages 18 months to 5 years old) throughout San Diego for the last seven years.
"Pre-schoolers are a different breed, they're peculiar little folk, very unique and special," said Hooshidar, describing her playful work of laughing, herding kids that don't exactly pay attention all the time, playing games and laughing some more. "This beats working for a living. I still pinch myself every day."
Classes are held from Carlsbad to Coronado, including at Carmel Grove Park, Carmel Knolls Park, the Ocean Air Recreation Center and Carmel Valley Recreation Center.
Hooshidar, aka "Coach Bethy," and her husband Siamak, known to the Rascalz Soccer kids as "Coach Smacky," founded Little Rascalz together, trying to make a dream come true. Hooshidar, who was a pre-school teacher in her native England, had come across the pond to the San Francisco area to work as a nanny.
While living in San Francisco, she saw a program attempting to teach soccer to pre-school children and just knew they were taking the wrong approach.
"I thought, this is something we could do in a different style so I Googled the most affable climate in the U.S. and this is where we came up with," Hooshidar said.
They packed all their belongings in a U-Haul and came down south, "so broke it was untrue," begged for permits and fields, and started their first class at Kate Sessions Park with six children.
"We have 4,000 children every year now," Hooshidar said. "Talk about the American dream, I mean really, big time…I never in my wildest dreams of thought we'd get to this point."
Their business has grown every year, even during a recession and Hooshidar believes it's because their product is unique and has a high quality people can recognize.
"It's just resonated with people, especially in [this area]," she said. "Carmel Valley is a quarter of our entire business. We have four locations here in this teeny, tiny area."
Little Rascalz classes hope to instill a passion for the game in a play-based environment — balls become dinosaur eggs or sparkly jewels and the children have to get them to their nest or princess castle, respectively. They learn fundamentals and the kids are constantly in motion, everyone participating in the game at the same time, not waiting their turn.
"It's action-packed and it has to be," Hooshidar said, comparing her coaches running around to the cartoon of Bugs Bunny playing all the positions in a baseball game.
While Little Rascalz runs all year long, spring is always a very busy season. Classes are offered in an eight-week sessions for Mommy (or Daddy) & Me (18 months to 2 1/2 years old), a regular class that is suitable for the majority of children, a veterans class (ages 4-6) and an advanced class (5-6ish). They also offer summer camps and birthday parties.
For more information on schedules and registration, visit www.littlerascalzsoccer.com or call 619-309-9626.
---