Local resident runs to help raise funds for SHALVA, a unique nonprofit for children with physical and mental challenges in Israel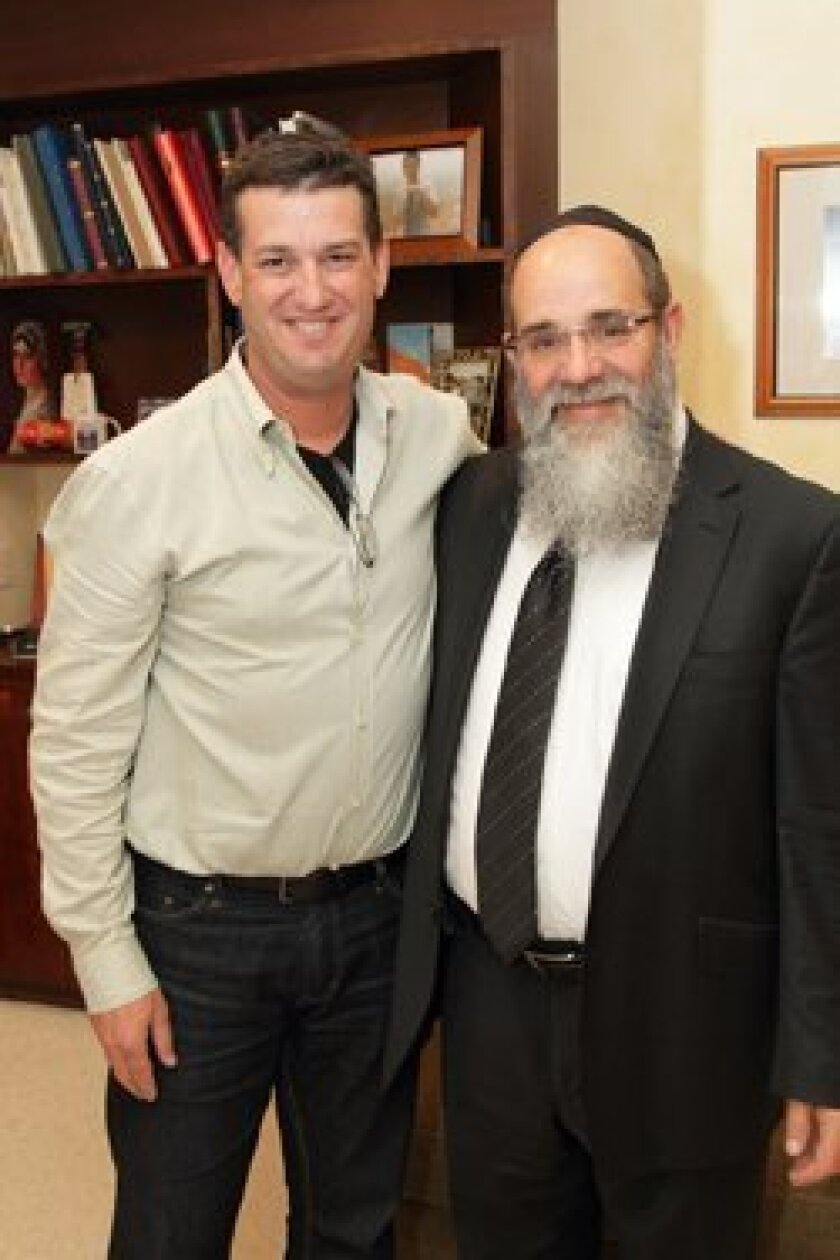 By Karen Billing
Local resident Ron Lifton ran the Jerusalem Half Marathon for Team SHALVA last year, raising funds and awareness for SHALVA, a nonprofit organization for children with physical and mental challenges in Israel.
After running those 13.1 miles for SHALVA, Lifton wanted to take his involvement one step further and brought the organization's founder, Kalman Samuels, to San Diego last week for a fundraising reception at his Carmel Valley home.
"Ron understood we were a great organization nobody knew about," Samuels said. "He opened his heart and home and went the extra mile to share the message."
Founded 22 years ago, SHALVA currently serves 450 families with free programs that are filled to capacity. They have a budget of $4 million a year; $1.1 million comes from the government in "dibs and dabs," but SHALVA is tasked with raising the rest.
The organization has a big project in the works with the new SHALVA National Children's Center, a $46 million, 200,000-square-foot facility in Jerusalem that would be the largest in the world for children with disabilities.
When Lifton decided to participate in the Jerusalem Marathon, he wanted to take part for both the challenge of the run but also to benefit a local organization and in his search he found SHALVA.
He joined Team SHALVA for extra motivation and raised $3,600 for the organization.
Lifton had the opportunity to meet Samuels at a pre-race pasta party in Jerusalem last year.
"Nobody knew about SHALVA in California," said Lifton. "I set a challenge to him to try and change that, that's why he's here."
The birth of SHALVA came out of Samuels' own family tragedy.
Samuels is not Israeli, he was actually born in Vancouver, Canada. In 1970, he went to Europe planning to study French and while touring abroad he visited Israel.
"I kept delaying my trip home and at the end of the day I never left," Samuels said, noting he was drawn to the history of his roots and eventually decided to become a Rabbi.
He met and married his wife Malki and they had two children together. When their son Yossi was 11 months old, he went in for his DPT (diphtheria, pertussis (whooping cough) and tetanus) vaccine. It turned out that there had been a problem with the vaccine and Yossi was left blind, deaf and very hyperactive.
The family had two more children and Malki was struggling to take care of Yossi on her own, especially as he was living in a "closed world with no one able to penetrate his bubble." Malki made a vow to God that if he helped Yossi, she would dedicate herself to helping others.
The Samuels received their miracle when Yossi was 8 years old. A deaf teacher named Shoshanna Weinstock was able to make a breakthrough with Yossi, spelling words into his hands in the same way Annie Sullivan had reached Helen Keller. The first word he learned was "shulchan" — Hebrew for table.
"He lit up," said Samuels. "Suddenly he could communicate…His thirst for knowledge was insatiable. I remember when he knew 10 words, then he knew 40, and then 100."
Suddenly he was no longer in a bubble.
Malki and Samuels knew that it was "payback time," that they had to make good on their vow with God and get to work helping others. In 1990, they founded SHALVA in a seven-story facility on a scenic hill with just 10 children in an after-school program.
Soon people were banging on their doors and SHALVA grew by leaps and bounds.
As parents of a special needs child, they knew what fellow parents and children needed.
"All of the programs stem from a mother's wish," Samuels said.
Programs include rehabilitative day care for children 18 months to 4 years old, an extended day school program for children ages 6-21, and a graduate social program for those who have graduated from the after-school program.
Additionally, their "Me and My Mommy" program allows mothers to participate in therapy of all kinds and forge bonds with their children, as well as meet mothers going through the same experiences.
"They just get put back on their feet," said Samuels of parents who may feel helpless, depressed or defeated—he said mothers travel from as far as three hours away to participate in the program and there is a waiting list to get into the program.
The center also offers overnight and weekend respite—there is room for 20 children to sleep over and provide their family with 36 hours of free time (over 56 hours on the monthly Sabbath weekend).
"The respite is unique," Samuels said. "It's a great gift to the whole functionality of the family."
All of these programs are free and 150 staff members and 180 eager and devoted volunteers help make the center run. Lifton was inspired on his visit to the center, especially by the caring staff.
"At SHALVA, you just feel the happiness." Lifton said.
Samuels happily reported that Yossi turned 36 last week, a day before he flew to San Diego. Although he can't see or hear and uses a wheelchair to get around, he is very active and still has the same thirst for knowledge. He has a newspaper read to him daily, rides horses, can communicate on two hands at the same time and — as a "car freak" — can identify a car just by touching its door handles.
In April of this year, Yossi met with former British Prime Minister Gordon Brown and in December 2007, he met President George W. Bush at the White House.
"He's a busy, busy young man," Samuels said.
About five years ago, the Israeli government approached Samuels with the opportunity to add on to SHALVA with a 7-acre property in the heart of Jerusalem.
Samuels said they will be able to serve so many more children and families with amenities such as an enhanced sports center, room for 100 children to stay overnight, and a life skills training "town" featuring places like stores and banks where participants can be trained to work.
The facility is surrounded by 6 acres of park space that will be fully adapted for the use of challenged individuals.
"The goal of the park is one magical word called 'inclusion'," Samuels said, noting a recent study showed over 50 percent of the public still feel uncomfortable and do not want to be around people with disabilities. "We want to have peer inclusion, that's very important and stressed in the world of education today…we're working hard to break down stereotypes."
They still need to raise about $12 million to finish the new center, but they hope to be complete in 2015. Their progress with SHALVA has far exceeded their expectations.
"We're moving forward and quite honestly it is an amazing story that I don't take credit for," said Samuels. "My wife is driven to fulfill the needs of others that we didn't have for our own child."
To learn more about SHALVA, visit www.shalva.org. To learn more about running the Jerusalem Marathon with Team SHALVA, visit www.run4shalva.org.
---