Local residents react to stronger enforcement of Del Mar Mesa Preserve trails use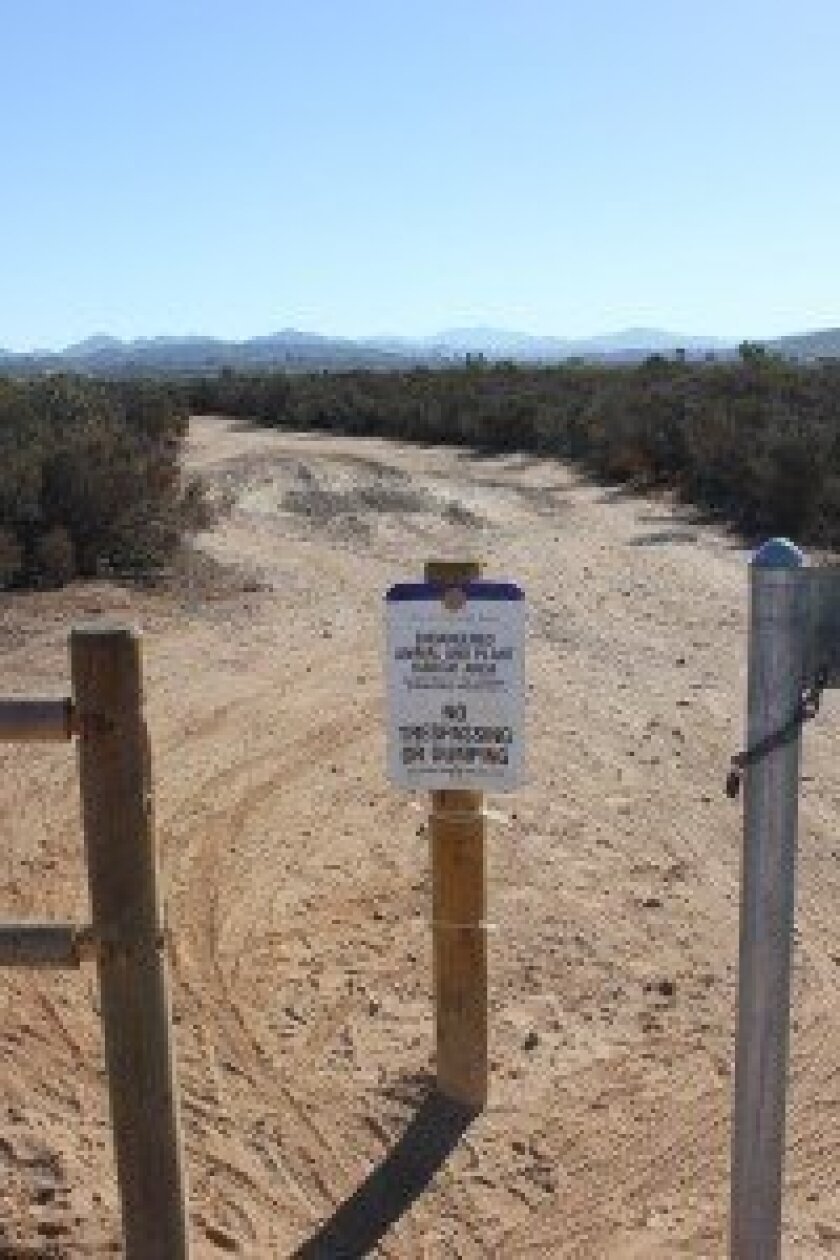 By Joe Tash
A cat-and-mouse game has unfolded in recent months between mountain bikers, joggers and hikers who enjoy using trails in the Del Mar Mesa Preserve, and state wardens who are handing out trespassing warnings and tickets.
Much of the 866-acre preserve has been posted off-limits for the past five years; but over the past couple of months, a $104,000 allocation from the San Diego Association of Governments has provided overtime pay to California Department of Fish and Wildlife wardens to patrol the mesa and other "hot spots" around the county, ticketing violators of habitat protection laws. In at least one case, a mountain bike belonging to a repeat violator was confiscated.
The preserve — south of State Route 56 and west of Camino Del Sur — was intended by city officials to serve as an oasis for rare and endangered plants and animals amid the encroachment of surrounding development. Trail users say they also want to protect the preserve's biological resources, but the trails have been in use for decades, and don't cause undue harm to the environment.
For now, the vast majority of the preserve remains off-limits to humans, with the exception of about a mile of utility access road maintained by San Diego Gas & Electric Co. Signs and fencing delineate the unauthorized areas. A long-awaited habitat management plan that includes a trails element would open up some seven miles' worth of additional trails once it is adopted by the San Diego City Council.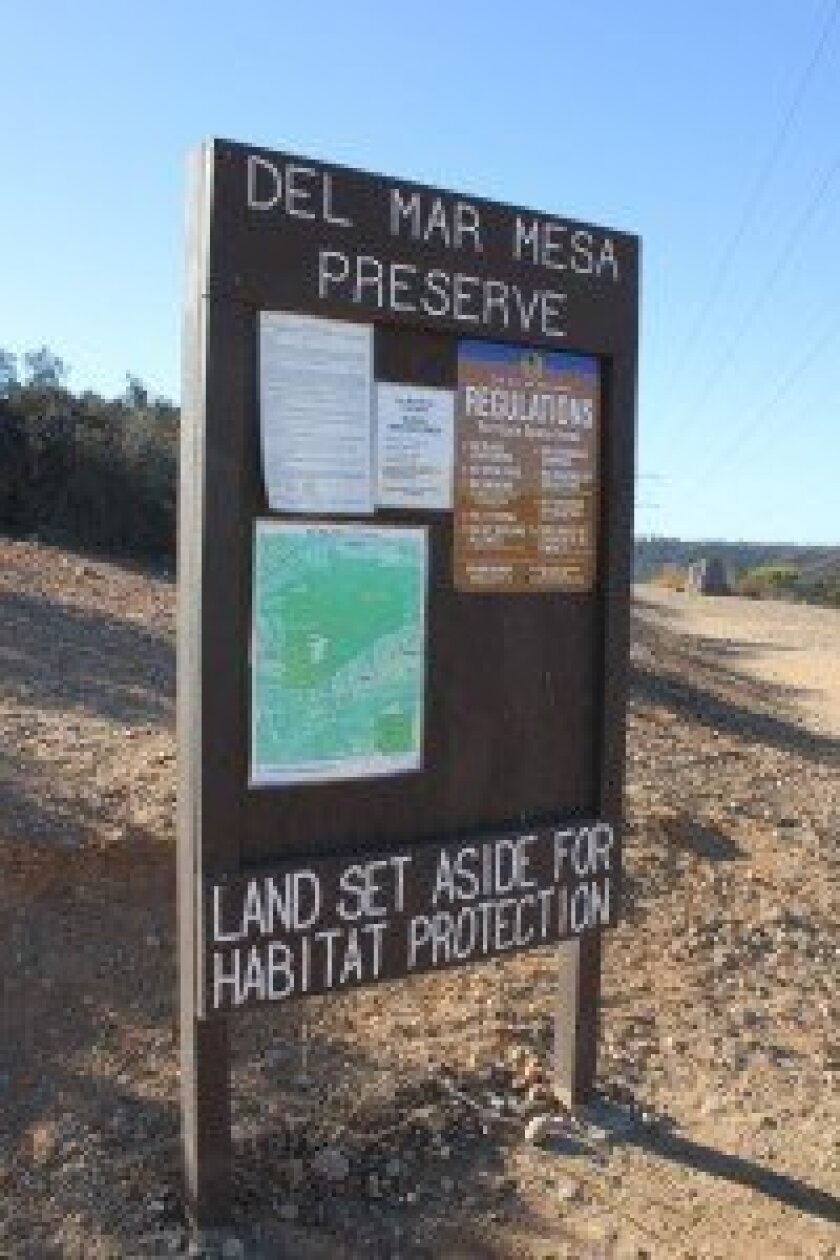 Andrew Kubik, a mountain biker and local attorney who has closely followed the trails issue, took issue with the recent "hard line" enforcement approach, and questioned why it has taken the city so long to approve the trails plan.
In spite of tight government budgets, "Somehow they're finding resources to criminalize recreation by local residents," he said.
On a recent Saturday morning, bike riders and hikers said more education about which sensitive areas to avoid — and not the issuance of tickets — is the best way to protect the preserve.
"I don't think that's the way to achieve their goal," said mountain biker Juan Ospina of Banker's Hill.
"I think it's stupid," said Greg Price of Mira Mesa, who was walking his two dogs on the SDGE access road, of the stepped-up enforcement. "Just walking along the trail is not going to disturb the animals. They're existing trails, an existing resource, why not use it?"
Erik Basil, an attorney and founding member of the Multi-Use Trails Coalition, was even more blunt in his assessment.
Those targeted with citations aren't building fires or illegally dumping on the land, but, "only people trying to enjoy one of the last places the city hasn't allowed to be bulldozed," Basil said. "It's shooting fish in a barrel. All the criminals they get to chase down are people wearing Spandex."
"The law-abiding public are prevented from accessing our public lands due to the inaction of the city and the brutal tactics of the California Department of Fish and Wildlife," Basil said.
The city is trying to accommodate recreational users, but, "We have an obligation to manage areas like this for wildlife purposes first and recreation second," said Chris Zirkle, the city's deputy director of Parks and Recreation.
The preserve is considered a core biological area and "includes a very rich diversity of plants and animals that are rare, threatened and endangered," Zirkle said. Those plants and animals include fairy shrimp that live in vernal pools, California gnatcatchers, horned lizards, Del Mar manzanita trees, short-leaved dudleya, wart-stemmed ceanothus and Orcutt's brodiaea, a perennial herb that produces a purple flower.
That said, Zirkle supports recreational use of the preserve. "I firmly believe legal use deters illegal use," he said.
While some in the mountain biking community may be convinced the preserve will eventually be developed, and therefore they might as well enjoy the trails unhampered until then, he said the city has a long-term commitment to maintaining the preserve as open space. "This is not going to get paved," he said.
He conceded that several years ago the city underestimated the amount of recreational use and an earlier version of the proposed resource management plan failed to include trails.
"There was a righteous uproar, people were not happy," he said. The city reworked the plan and a current version calls for 7.9 miles of recreational trails, including two "tunnels" trails that are especially popular with mountain bikers because they twist and turn beneath a canopy of oak boughs. Some 13.2 miles of trails would remain off-limits.
The city has held a series of public meetings, and most recently, completed an archaeological study of the preserve. As part of the habitat management and trails plan, the Del Mar Mesa Community Plan will also be amended, Zirkle said.
The next steps are to release the draft plan for public comment, then take the final plan to both the Planning Commission and the City Council.
"I hope that it is (approved) early next year," Zirkle said.
In the meantime, state wardens will continue to enforce the current access restrictions, said Lt. Mike Ference of the California Department of Fish and Wildlife.
Ference said multiple cameras installed in early summer in the preserve by Sandag documented 1,600 trespassing violations over a four-week period.
"It was so out of control something had to be done and that's kind of why we were brought in," Ference said.
Wardens began stepped-up enforcement in late July, said Ference, and since then have recorded 283 contacts on Del Mar Mesa, along with issuing 122 citations and 75 warnings. Anecdotally, trail users have complained of tickets for as much as $475, but Ference said a simple trespassing ticket carries a $50 fine. The penalty may be higher for those caught in a fenced, highly sensitive biological area, or who attempt to flee from the wardens, Ference said.
Ference said he's been surprised both by the "sense of entitlement" by some users in spite of the "no trespassing" signs, and the willingness of mountain bikers to flee in an effort to avoid a ticket. Wardens have caught high-ranking military officers, airline pilots and doctors trying to get away, he said.
The riders see CDFW peace officer who try to stop them, "and they will just take off on their bike and so we have to chase them," he said.
Wardens also confiscated the mountain bike of one man who had been contacted and warned to stay out of closed areas, "and he did it again," Ference said.
Keith Greer, a senior planner with SANDAG, said the current contract with CDFW is set to end this month, but is expected to be renewed.
As the trails plan works its way through the city bureaucracy, Basil said his group is asking the city to immediately open the designated trails on a trial basis as a "show of good faith."
The Multi-Use Trails Coalition believes the trails should be open to all non-motorized traffic, including bikers, hikers and equestrians, Basil said. "We believe the trails are for everyone."
---