Locals learn about nonprofit's work during trip to India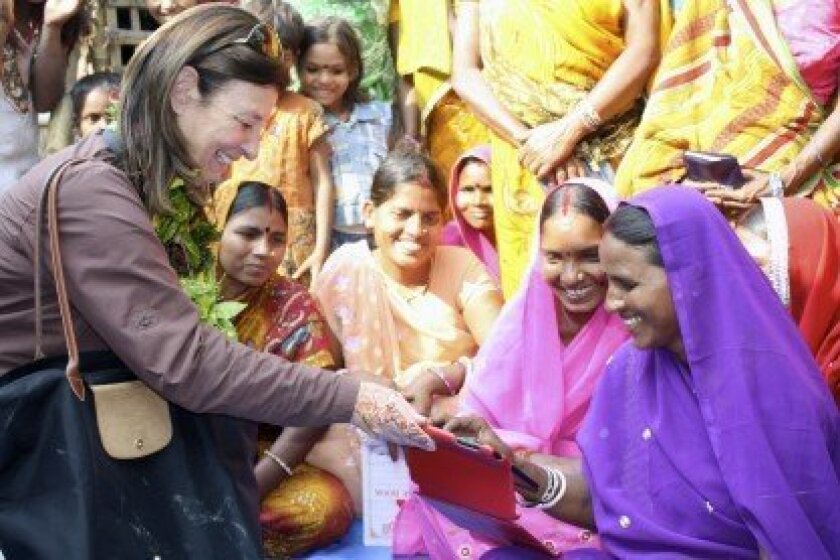 By Kristina Houck
Thousands of children sleep on the streets of Delhi every night. Project Concern International provides a safe refuge for these children.
"These are the kids who usually live on the train tracks and on the streets," said Rancho Santa Fe resident Jinda Schatz. She and 10 other local women recently traveled to India with PCI to see the organization's programs in action. "PCI has a drop-in center where these kids can go and learn a trade and get a warm meal. It's just a safe place for these kids to be, so they can be off the streets."
The United Nations Children's Fund estimates there are more than 11 million homeless children in India, about 100,000 in Delhi alone. Through its drop-in centers, PCI offers critical services for these children that include education, nutritional counseling and medical attention.
To share its programs with locals, PCI organized a 10-day "Vision Trip" to India in November. Led by Del Mar resident Uli Imhoff Heine, PCI's director of development, the group also visited a vocational training center in Delhi and a shelter in Lodi Park, among other destinations.
"I'm so impressed with the charity that I would like to become more involved with PCI locally and globally," Schatz said.
With her love of charity and India, Schatz said the trip was "a perfect fit."
A local philanthropist, Schatz serves on the board of Interfaith Community Services and on the grants committee for the Rancho Santa Fe Women's Fund. She is also a member of Women's Empowerment International's San Diego chapter.
She has previously traveled to India three times, but this was her first trip with PCI.
"This trip was really different because it was more of a hands-on trip," Schatz said. "I loved it. I got to see how a San Diego-based charity impacts people halfway across the world."
Funded by federal grants and private support, PCI celebrated its 50th anniversary in 2011. Headquartered in San Diego, the humanitarian organization currently operates in 16 countries, focusing on preventing disease, ensuring maternal and child health, improving food security and livelihoods, and providing humanitarian assistance.
"We have such an incredible charity right here in our own backyard, based in San Diego, and they are helping to feed and educate children in India," Schatz said. "I just think it would be great for local people to find out more about local charities that make an impact on the world."
For more information about PCI, visit www.pciglobal.org.
---