Longtime Solana Beach salon and barber shop a community staple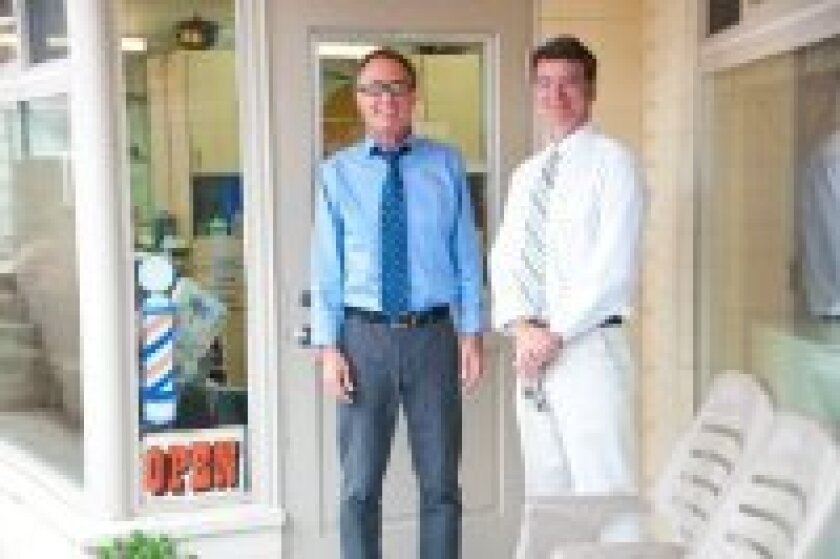 By Claire Harlin
editor@delmartimes.net
Decades ago, the local barber shop was the common gathering place for men of all ages. It was a cheerful place where men could get together, read the paper and talk about sports among other things.
This scene hasn't totally disappeared, however, and especially not in Solana Beach. One can always walk into the barber shop at Salon by the Cove, located at 128 South Acacia, and find that very atmosphere.
"We're absolutely run like an old-timey barber shop," said owner David Schenk, who has worked as a barber in the area for more than 25 years. "We always get together in the morning and read the paper and talk guy talk … We talk about sports and golf and, well, that's all I can tell you."
For those who have had their hair cut at the walk-in barber shop, which is adjoined by a ladies' salon, they likely remember longtime barber Jim Rogers, who retired about six months ago at the age of 91. Rogers began his career as a barber in the Marine Corps in the 1940s and he later opened a shop in Oceanside and then came to Solana Beach in 1982 to work full time.
"Basically everyone in the area who's picked up a pair of scissors or a razor, you worked for Jim Rogers," Schenk said.
Now the barber shop has three barbers, and Schenk has built a large following of regulars. He said he cuts the kids' hair of many men he remembers putting on the booster seat decades ago. He started his Solana Beach salon at a nearby location 25 year ago, and he moved to the current building, which overlooks Fletcher Cove, about seven years ago.
"Pretty much everyone who walks in the door I've known for at least 20 years," he said. "It's definitely a fun job. It's social and easygoing and relaxed."
Schenk continued, "Eventually it gets to where you know everyone in town."
Schenk said being a barber is a craft — "an art if you will, a skill." But in addition to having an eye for a good haircut, Schenk and salon manager Michele Catalano said communication is a vital part of running a great barbershop and salon.
"Ninety percent of the result comes from the experience a client has here," said Catalano. "You have to have the skill, but it's so much more than that."
For more information, call (858)755-3370 or visit www.salonbythecove.com.
---