Maki co-founder meets supporters for first time at Del Mar fundraiser
By Claire Harlin
Marisol Chancos Mendoza recently became a legal resident of the United States. She made the move from her native town of Ayacucho, Peru to New York City only a few weeks ago, joining her husband and 14-year-old son, Adrian, both of whom she hadn't seen in five years. She endured a long wait for her papers, and was even denied visitor visas during the process. However, for the first time this month she saw snow — and a hurricane — and she also attended her first parent-teacher conference for Adrian, who is now fluent in English and also learning to speak Chinese.
"My husband and I thought it was better for him to get accustomed early, but I remember it was so hard when I had to ask him if he wanted to come to the States and tell him he would have to come without me," said Mendoza. "He was only 9 and he said, 'Mom, don't worry. The first thing we'll do is get you there."
It wasn't an easy five years after her family left Peru, but Mendoza wasn't lonely — nor was she idle. Working as a volunteer coordinator for an international service organization, she crossed paths with Martha Dudenhoeffer Kolodny, a local resident who had come to Peru with the desire to make a difference.
Kolodny, with Mendoza's guidance, found her passion working with female prisoners in Ayacucho, and ended up returning several times to visit and bring materials for embroidery — a traditional talent Kolodny noticed the women had. Many serving time for drug trafficking they were forced into, the prisoners began creating intricate Peruvian textiles, which Kolodny sold in the United States to raise money for educational programs in the prison. Soon enough, the women's efforts grew into the non-profit Maki International, which not only brought solace to Mendoza while she was separated from her family, but uplifted her hometown, which is still recovering from a 20-year guerilla conflict that began there in 1980 and resulted in the deaths and disappearances of some 80,000 people.
"Maki was my salvation during that time. It kept me busy," said Mendoza, giving an appreciative glance to Kolodny during a Nov. 14 interview at Pannikin Del Mar.
Kolodny responded,"If you were busy, had you had your son there, Maki might not have ever happened."
Mendoza spent a week in Del Mar — her first trip to California — to attend a Nov. 13 fundraiser for Maki at the Powerhouse Community Center, where she met Maki supporters and shared first-hand experiences about life in Ayacucho.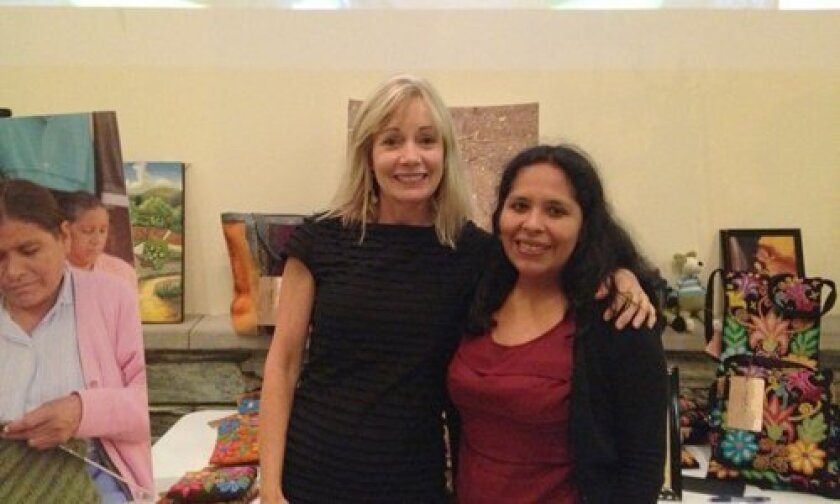 The prisoners who benefit from Maki's framework of creating, exporting and selling their work each have stories to tell, either of how they were forced into being a drug mule or how Maki's educational programs will keep them out of the drug trade upon their release. But many have also lived to tell the story of the decades-long genocide that was brought upon the Andean region by the Shining Path, a terrorist group that recruited thousands into its murderous insurgency.
This is also a story that Mendoza is all too familiar with.
"I remember when it started, the first time in my life I heard gunshots. I was 6," said Mendoza. "It was after that I started hearing of people killed on the radio every day. Every night there were bombings. Every single night. We wouldn't have power for days, months."
Mendoza said she remembers walking to school as a child and seeing dead bodies in the streets, often with dogs eating them or signs draped over them warning people not to cooperate with one side of the conflict or the other. She said she saw violent strikes and military raids. She saw car bombs often, but one of her most frightening memories was when she saw a child explode right in front of her. Whether a bomb was strapped to the child or thrown at the child, she said she is unsure.
"I remember so clearly what I saw. I want to forget, but it's hard to forget those things," she said. "It's like I was standing and everything was spinning around me. We just started running to school, crying."
Mendoza was sent by her family to escape the violence and attend school in Lima at the age of 15. She lived with and worked for a family and, in exchange, they paid for her education. She studied English.
Having worked for a living since she began selling cakes to make ends meet at the age of 6, Mendoza said she values hard work and is motivated to help those who need it.
"I remember all the people who bought my cakes, who helped me as a child growing up," said Mendoza. "Over the years I've met so many people who aren't my relatives but have helped me so much, like the families I lived with … What helps me now is being able to help all these women."
In particular, Mendoza said she is thankful for Kolodny.
"She helps me so much by giving me the opportunity and she is also helping all these women," she said. "She's like a mother and a sister and a friend. She means so much to me."
Kolodny helped Mendoza train her 31-year-old sister, Jessica, also of Ayacucho, to take over Maki operations at the prison in preparation for Mendoza being granted her immigration papers. The training took more than a year, Kolodny said.
"It's not an easy thing going in that prison," she said.
"It was like leaving our child with someone," said Mendoza, who has to stay in the States for at least a year under customs requirements to show residency. And even though she is now living happily ever after in New York with her own child, she's already thinking about what she's going to do when she's granted the right to travel legally.
"The first thing I want to do," she said, "is visit Ayacucho." For more information about Maki, visit www.MakiWomen.org.
---